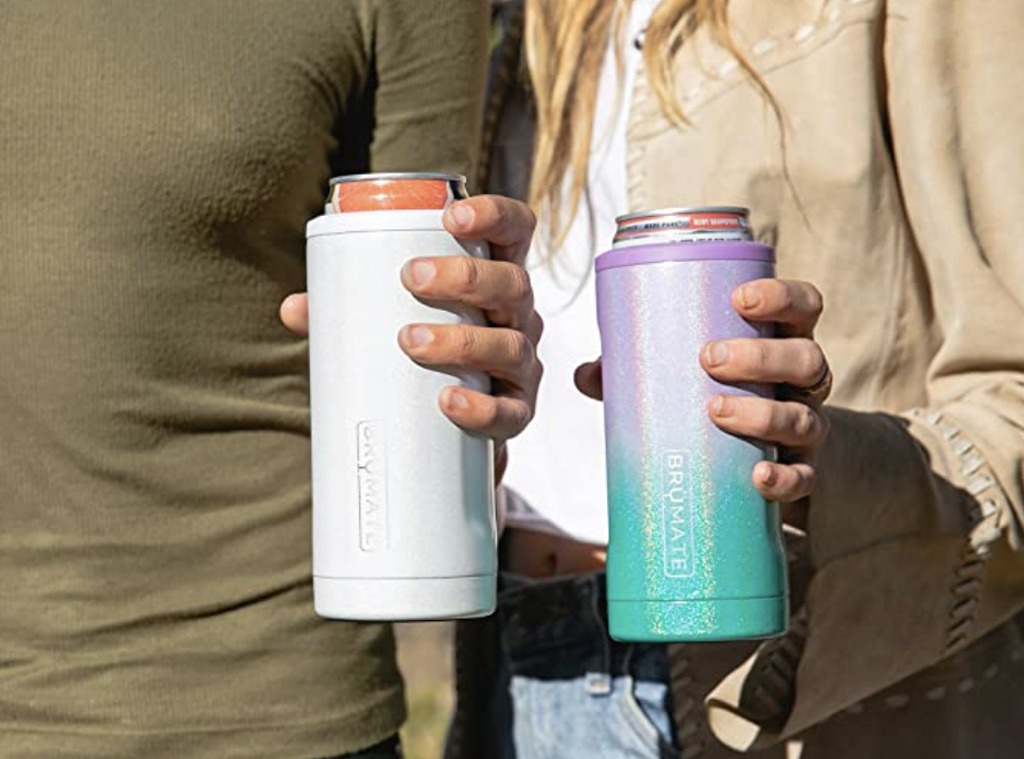 We independently selected these products because we love them, and we hope you do too. Shop with E! has affiliate relationships, so we may get a commission if you purchase something through our links. Items are sold by the retailer, not E!.
Can you believe we're already in August? Neither can we. If it was up to us, summer would last forever!
If you're planning last-minute summer vacations before school starts or you have to be back in the office, you're probably on the hunt for fresh fits and travel essentials. But, we have something in mind that will truly elevate any summer excursion whether you're at home or lounging on a white sand beach– BrüMate's Hopsulator Slim Can Cooler!
Featuring double-walled stainless steel and an extra copper layer, this insulated can cooler will keep your favorite summer beverages cold for hours. You can sip on popular drinks like White Claw, Truly, Michelob Ultra and Red Bull without worrying about it getting warm under the hot sun or the annoying condensation that often leads to slippage.
Oh, and our favorite part? The Hopsulator's bold colorways and prints will conceal your beverage from judgy grandparents at family functions!
As always, don't take our word for it. Try BrüMate's Hopsulator Slim Can Cooler for yourself or look at one of the 53,800 5-star Amazon reviews.
BrüMate Hopsulator Slim Double-walled Stainless Steel Insulated Can Cooler for 12 Oz Slim Cans
Say goodbye to warm beer or seltzers with this insulated can cooler. It comes in over 20 colors and prints to match your personal aesthetic.
Here's what reviewers are saying:
"Like to keep your beer cold? Get this. Slow drinker but don't want to let your friends on to how slow you're drinking? Get this. Want your White Claw/Truly to stay as cold as it was when you took it out of your fridge? Get this. I kid you not this thing keeps drinks cold like that's its job (because it is). Once I got mine and saw how effective it was, I decided all of my cold beverage loving friends and family will be getting one also."
"If you like to drink the slim cans, you totally need to pick up one (or two or three!) of these. This was my first BrüMate item, so I was very surprised at how durable it was and heavy (in a good way, not heavy in a bad way). It was SO effective here in Florida since it's still hot here even in winter."
"Perfect for tall slim beer cans! So I have tried to find the perfect beer coozie for a Michelob Ultra, Bud Lite Lime & Corona Premier tall slim can. This is the perfect fit!!!! The top unscrews & you slip your can in & then twist the top back into place to tighten. I also love how the both sides have a slight flat surface so you can hold the coozie easy with no slippage at all!"
"I bought the Hopsulator Slim in grey so me and my husband could share. We got it on Sunday and we're already fighting over it! It fits our energy drinks for the morning and slim can beers at night! (And don't say- no beer should have to stay cold that long, we have 3 kids and it keeps it ready for me through all 3 'bedtimes' plus second attempt bedtimes)."