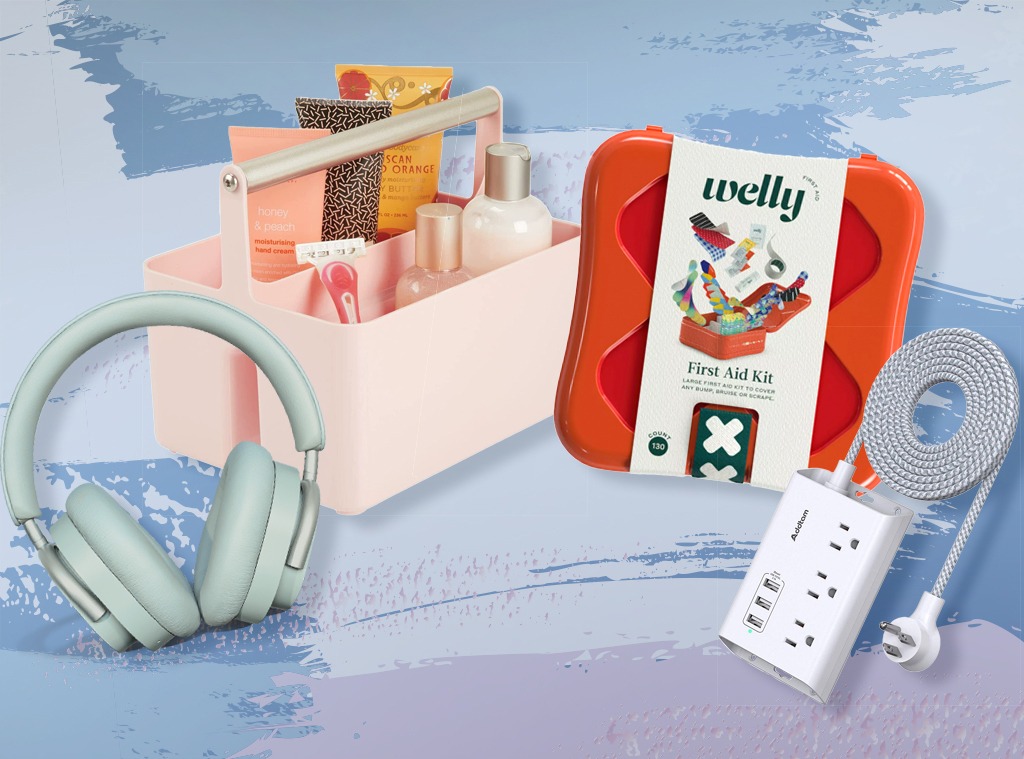 We love these products, and we hope you do too. E! has affiliate relationships, so we may get a small share of the revenue from your purchases. Items are sold by the retailer, not E!.
Are you or someone you know headed to college soon? 
Besides nailing down your dorm room's aesthetic, you're probably getting ready for this next chapter by picking up sheets, pillows, a coffee maker, storage containers and other necessities. But, there's probably a few things that aren't on your priority list that you'll definitely want to have as you settle in your new home.
To avoid a handful of trips to the store during move-in weekend, we rounded up dorm must-haves like noise-cancelling headphones, extension cords, shower shoes and ten other things that you might forget to pack. Take it from us, making your mom drive across town several times to the nearest department store is a real vibe killer.
For the dorm essentials you didn't know you needed, scroll below!
mDesign Plastic Portable Storage Organizer
A shower caddy is a must for dorm living. There's nothing worse than having to haul your shampoo, conditioner, body wash and other shower must-haves across your floor to the bathroom. This organizer will help you tote everything with ease. Plus, it is made of shatter-resistant plastic and has a durable steel handle. 
Equick Quick Drying Bathroom Sandals
Another bathroom essential you definitely wouldn't think to get is shower shoes! Since you're likely to be sharing showers with tons of people, it is best to protect your feet from bacterial and fungal infections.
Initially Yours Embroidered Purple Bath Wrap
This adorable bath wrap, which can be customized, will keep you covered during your trek to and from the bathroom. It also makes a great gift for college students!
Power Strip with USB
Since the number of outlets in dorm rooms are slim, we suggest picking up a few of these power strips that have 3 USB ports and outlets to help you keep your devices charged. 
Welly Expanded First Aid Kit - 130ct
Now that your mom won't be close by with her trusted first aid kit, you'll definitely want to get your own. This one includes hand sanitizer, anti-itch cream, burn relief cream, gauze pads, pain reliever, adhesive bandages, antibiotic ointment, a sterile pad and bandages.
Command Large Utility Hooks
Nails and push pins can be a no-no at certain colleges, so avoid the fines with these easy-to-use utility hooks to hang artwork, hats and jackets.
Calm Headphones
Sometimes you need more than an ear pod to cancel out noisy neighbors. Know Headphones' Calm model comes with adjustable hush active noise cancellation, ambient transparency mode and intuitive touch control to help you sleep and study without any distractions. Plus, they come in a bunch of fun colors!
Dokehom Slim Laundry Basket with Leather Handle on Wheels
While you might be gifted a canvas laundry bag or two for graduation, you're gonna want a laundry basket with wheels. There's nothing wrong with lugging a huge bag across campus or your building, but we suggest taking an easier approach and rolling your clothes to and from the laundry room in a chic basket. We love how this one fits into narrow spaces.
Honeywell Quiet Set Whole Room Tower Fan
Not all college students have the luxury of air conditioning, so come prepared with a quiet yet powerful tower fan that will keep the room from feeling like a sauna.
Travel Umbrella
If you're going to school in a new state, it's important to prepare yourself for all weather possibilities. Weatherman has a college collection featuring travel-friendly umbrellas that will allow you to rep your school when it's pouring outside.
The Everyday Set
Please don't be that person that causes the fire alarms to go off in your building because you didn't use microwave-safe dishes when making a snack. Safe yourself the awkward situation and picking up this set of four microwave-safe dishes.
Spa of the World™ French Lavender Pillow Mist
Sleeping in a new bed in a new building in a new state can be hard at first, so set yourself up for a calming sleep by spraying some of this French lavender mist on your pillowcases. We use this one every night!
-Originally published on Wednesday, Aug. 11, 2021 at 5:00 a.m. PST.