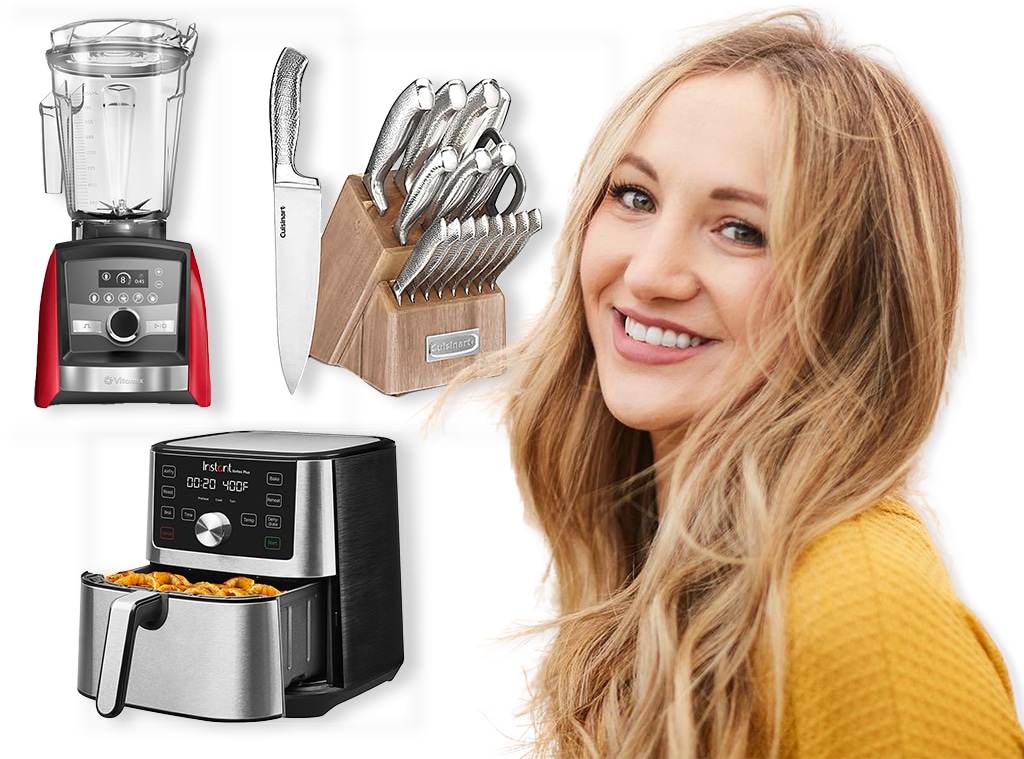 Alex Ashman/E! Illustration
We selected these products used by Nicole Pellegrino because we think you'll like her picks at these prices. E! has affiliate relationships, so we may get a commission if you purchase something through our links. Items are sold by the retailer, not E!. Prices are accurate as of publish time.
Everyone with a wedding coming up knows that there's just so much to do, especially in the midst of a pandemic, which has resulted in date changes, scaled-back guest lists, and possibly some drama. Well, at least, you get some presents, right? Oh, wait, registering for gifts is yet another wedding task that you have to get done. Picking out your own presents sounds fun and all, but that can get pretty stressful too.
Luckily, Betches Senior Marketing Manager Nicole Pellegrino has you covered. She hosts the podcast Betches Brides and she talked to E! News before her 2021 wedding. If you're looking for some wedding registry information for products you'll definitely use, Nicole is your girl. Keep reading to see her picks and why she chose each item.
Instant Pot Instant Vortex Plus Air Fryer
Nicole explained, "Okay so there's a reason quite literally everyone has been raving about air fryers non-stop since 2015. This thing is a game changer, especially for busy couples. It's the 6-in-1, meaning you can air-fry, roast, broil, bake, reheat or dehydrate your food. Basically, you can put just about anything in it (as long as it's edible, obvi), and it'll come out perfectly crisped and ready to eat."
Brooklinen Luxe Sateen 4-Piece Core Sheet Set
"The average person spends about one third of their life sleeping, so you deserve to give your bed an upgrade with luxury bedding," Nicole remarked. The Betches Brides podcast host raved, "My Brooklinen sheets have truly elevated my sleeping experience, making our bed that much more difficult to get out of in the morning."
Gravity Single Weighted Blanket
"After the sh-tshow of a year that was 2020, we all could use a hug. Luckily, there's a blanket that physically stimulates the feeling of receiving one. Weighted blankets can also increase serotonin and melatonin levels (aka the hormones that calm us down) while decreasing cortisol levels (aka the hormone that stresses us out)," Nicole shared.
Cuisinart Classic Stainless Steel 17-Piece Knife Block Set
Nicole declared, "Gone are the days of 'not having the proper tools' as an excuse not to cook." She explained, "This knife set happens to be amazing quality and affordable, so you'll actually want to get chopping in the kitchen."
Estelle Colored Glass Champagne Coupe- Set of 6
"If you've made it through planning a wedding (especially during Covid), you deserve a chic set of champagne glasses to celebrate your achievement," Nicole quipped. She remarked, "These colored coupes are way more fun than traditional champagne flutes. Pro-tip: put them on your registry early so you can toast with them at the wedding!"
Vitamix A3500 Ascent Series Blender
"I've always aspired to be that girl who wakes up every morning, goes to a workout class and then makes a green smoothie (could I be more basic?). Well good news is with the Vitamix Ascent blender, we all can be that girl. It even makes hot soups, juices, non-dairy milk and just about any other liquified food you can think of," Nicole shared.
Villeroy & Boch New Moon Dinnerware 12 Piece Set
Nicole recalled, "Someone once told me, 'All food looks better on white dishes.' Who knows if they're correct or not, but I believe it. This contemporary dish set from Villeroy & Boch is timeless and will go with everything else in your kitchen."
KitchenAid Pro 600 6-Qt. Stand Mixer
"Did you ever really have a wedding if you didn't put a KitchenAid mixer on your registry? No but really, there's a reason couples keep registering for this thing year after year. They have attachments such as a spiralizer, meat grinder, ice cream maker too so there's really something for everyone. The homemade pasta one sold me, tbh," she shared. 
MoMA Raawii Strom Ceramic Collection
Nicole said, "Yes, your wedding registry should be practical items that you'll use every day, but it's also a good idea to use it as a way to get dream home items that you'd never actually buy yourself, such as that overpriced vase collection set you've had your eye on. These Raawii ceramic vases are simple and timeless, and come in a bunch of colors to brighten up your space."
Furbo Dog Camera: Treat Tossing, Full HD Wifi Pet Camera and 2-Way Audio, Designed for Dogs, Compatible with Alexa
"Obviously this one is for the pet-lovers," Nicole said, explaining, "As people are heading back into the workplaces, this is a game changer for keeping an eye on your pet throughout the day while you're at work. The coolest part about it is that it physically tosses a treat to your pet on command (technology has really come a long way, am I right?)."
CharityChoice $100 Gift Card
"For those of you who want to use your wedding as a way to give back (you're the real MVP's), you can give your guests the option to donate to charity on your behalf. Zola has Charity Choice gift cards that let you choose specific charities for the funds to be equally split across," Nicole shared.
Zola Honeymoon & Cash Funds
Nicole kept it real, admitting,"Let's face it: sometimes we all just want cold hard cash (especially those of us living in 700-square foot apartments). Zola has cash funds so you can assign a dollar amount to a specific item (such as a dinner or activity on your honeymoon), and your guests can purchase it for you, thus making them feel like they gave you something tangible instead of just cash."
If you're looking for bridesmaids dresses, check out these sites with dresses that you'll actually want to wear again.
—Originally published Aug. 11, 2021 at 4 AM PT.