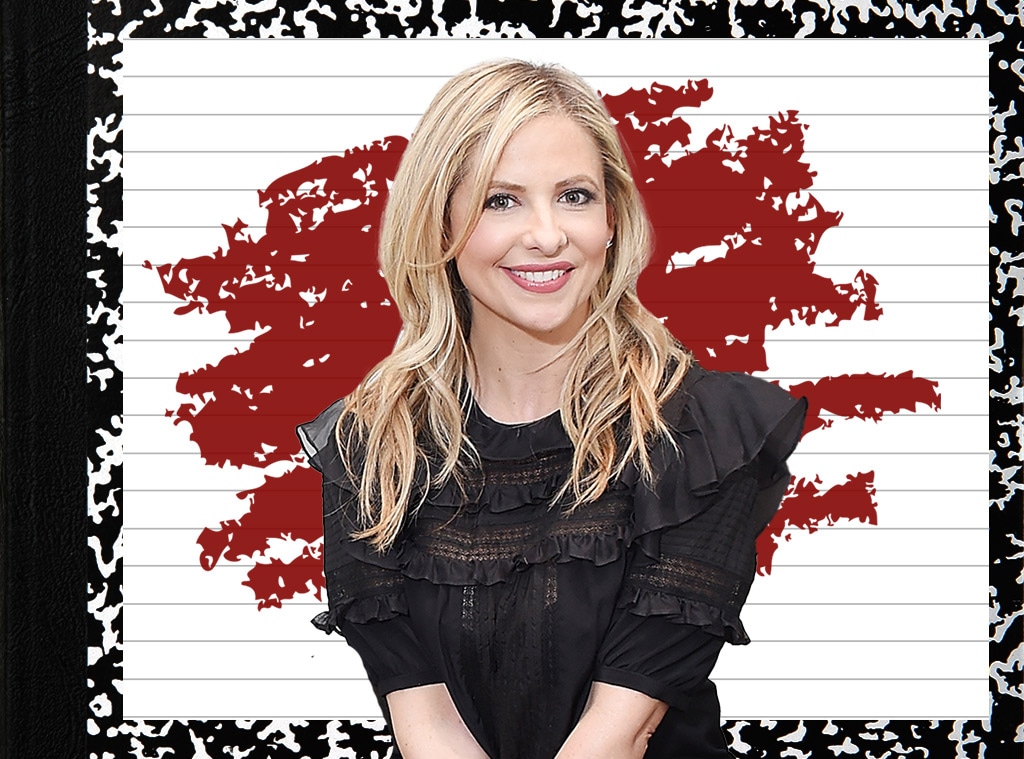 Getty Images / E! Illustration
We interviewed Sarah Michelle Gellar because we think you'll like her picks. Some of the products shown are from a brand Sarah is paid to endorse. E! has affiliate relationships, so we may get a commission if you purchase something through our links. Items are sold by the retailer, not E!.
There are so many reasons to enjoy back to school season. The world is opening up, postponed events have been rescheduled, and everyone is navigating their new "normal," especially this year. To us, that means we have another reason to shop.... well, many reasons to shop. It also means that we will have celebrity guest editors on hand to share their back to school insights, must-have products, and more with E! readers. Our first guest editor is the one and only Sarah Michelle Gellar. 
Sure, we all feel like we know Sarah because she has been a part of our lives through Buffy the Vampire Slayer, Cruel Intentions, Scooby-Doo, and her other projects, including her cookbook. Recently, she teamed up with Yellow Tail to bring us great wines at affordable prices. But, even with all of her years in the spotlight, there are still so many things we want to know about the actress. Keep on scrolling to see her responses to the 20 questions we've been curious about.
1. What was your favorite class or subject?
I loved anything having to do with reading. I still do. So, definitely English.
2. Who was your favorite teacher?
I had so many inspiring teachers, but a few that stand out are Bob Mason, who taught math, Katherine Tassi, who taught high school English, and all the librarians.
3. Did you ever have an awkward phase and what did it look like?
We all have awkward phases both physically and emotionally. Growing up is tough. I am just thankful camera phones did not exist then.
4. If you had a nickname growing up, what was it & why?
We had four Sarahs. I went by SMG a lot then and still do—also go by SMP.
5. What did you get in the most trouble for as a kid?
I was much more a rule follower but I did come home a few times past curfew.
6. If you had to enter a school talent show now, what would be your act?
Ha! I would host the talent show.
7. Your first kiss… who, where and when?
Ohhhhhh…… never kiss and tell
8. What's something from your childhood that you wish would be brought back?
I think the question should be what style should not come back since I think it's all coming back at the moment.  My daughter looks like me in the '90s, complete with chokers—which never look good on anyone since it chops off your neck.
9. What's a current invention you wish existed when you were a kid?
All the help with school and homework that is now available online—specifically with math formulas.
10. If this career didn't happen, what would you have been?
I always wanted to be a photojournalist and travel around the world.
11. Who do you text the most?
Postmates. Just kidding. My husband and my girl squad.
12. If you could only eat one snack for the rest of your life, what would it be?
Cheese and crackers. And chips and salsa. And fruit and veggies.  The list goes on...
13. What was the last thing you Googled?  
I love to experiment in the kitchen, so I'm always looking for new recipes to try at home. The last one I found and loved was a Greek chickpeas dish – it went really well with the crisp fruitful flavors of my Yellow Tail Pure Bright Pinot Grigio.
14. Pumpkin Spice Latte or Salted Caramel Mocha? 
I am old school. I like my coffee black.
15. What emoji do you use the most?
Laughing/crying face emoji.
16. What trend makes you feel old?
EVERYTHING. The worst is when my kids discover a "new" song that is just a cover of an old one.
17. What is your go-to karaoke song? 
It's been so long (thanks Covid).
18. What is the one beauty product you keep repurchasing? And why? 
Sunblock. Because it's the most important.
19. What's your favorite children's book to read to your kids?
Dr. Seuss' Oh, The Places You'll Go!. Luckily you are never too old for that book.
20. What was your superlative or what were you voted in your yearbook? OR What superlative would you be voted now? 
We didn't have a vote in our yearbook. Hopefully, it would be most likely to save the world...a lot.