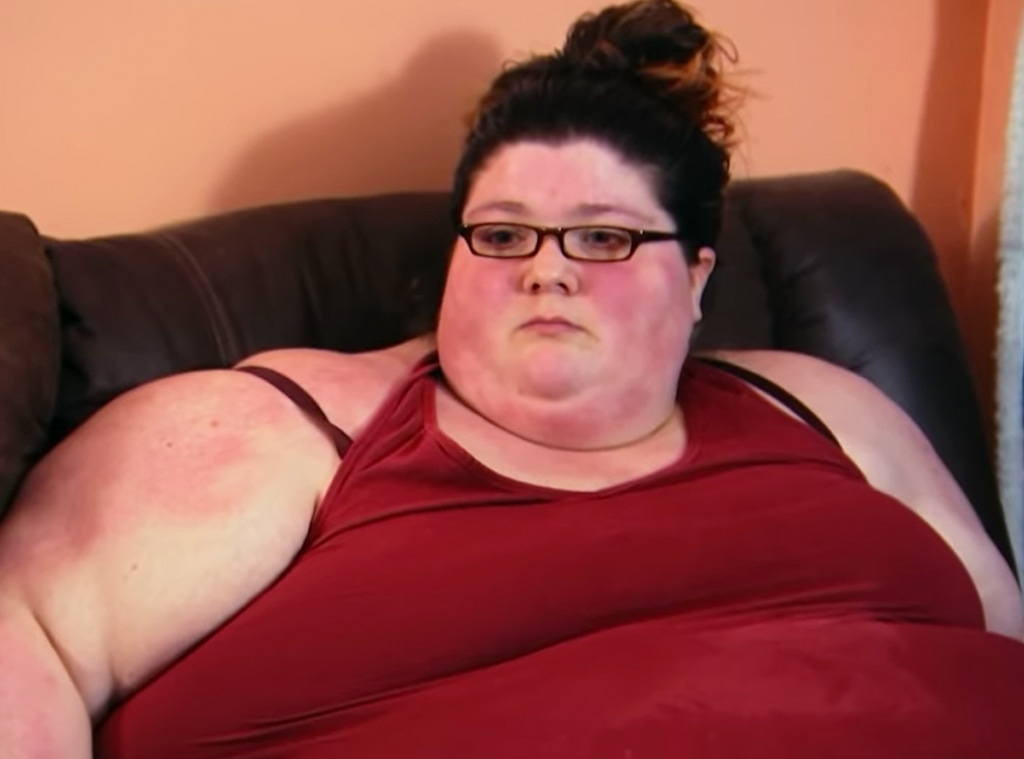 TLC
My 600-lb Life star Gina Marie Krasley had been embroiled in a legal battle for more than a year before her death on Aug. 1. 
Krasley sued filmmakers of the show in February 2020 to allege negligence and intentional affliction of emotional distress, according to the Texas court filing obtained by E! News. At 588 pounds, she appeared on episode five of season eight, which aired last year. She died at age 30 at her home in New Jersey, and her cause of death has not been revealed.
Last year, the reality star sued producers Megalomedia Inc and LLC, as well as parent company DBA Holdings and contracting company Mansfield Films, for more than $1 million. All defendants are owned by Jonathan Nowzaradan, who is the son of the show's doctor, Dr. Younan Nowzaradan (known as "Dr. Now"), per the suit.
She alleged Dr. Now put her on an extreme weight-loss diet for the TLC show. However, in order to support the producers' "narrative," they "required" her to eat "excessive amounts of food" on screen in order "to portray her as someone who could not follow a diet."
After Dr. Now expressed "disappointment" at her progress, Krasley was allegedly "not permitted" to proceed under his care, according to the lawsuit. 
Ultimately, her lawyer says she was "taken advantage of by the producers," who allegedly put ratings above her health and were "neglecting the welfare of those who appeared on the show."
Krasley also claims the producers breached their duty of reasonable care by failing to require a psychological evaluation before putting her on a diet, failing to provide adequate mental health services, causing emotional distress for the purpose of ratings and more.
She alleges filmmakers knew people going through extreme diets are "much more" prone to depression and suicide, yet their actions were "so extreme" that they went "beyond all possible bounds of decency." 
The producers responded to her lawsuit in March of last year, writing in a court filing obtained by E! News that they "generally deny the allegations." They said that any injuries she may have suffered were from her "own negligent conduct," and stated that Krasley waved the right to prosecute these claims in written agreements. They asked the court to deny her relief.
The defendants filed a motion to dismiss last April, citing 15 affirmative defenses. Krasley then requested a motion to be allowed to depose Toni Westberry (who is CFO at Megalomedia, according to his apparent LinkedIn) and Jonathan Nowzaradan (executive producer of My 600-lb Life) for more information.
She also tried to team up with some of her My 600-lb Life co-stars, who had separately filed five other cases against the same defendants. They all requested to consolidate their lawsuits, which make "similar allegations" about emotional distress, according to the motion to consolidate. The defendants filed a motion to oppose consolidation.
The case appears to be ongoing.
E! News reached out to TLC, Megalomedia, Krasley's lawyer and Dr. Younan Nowzaradan for comment and did not hear back.