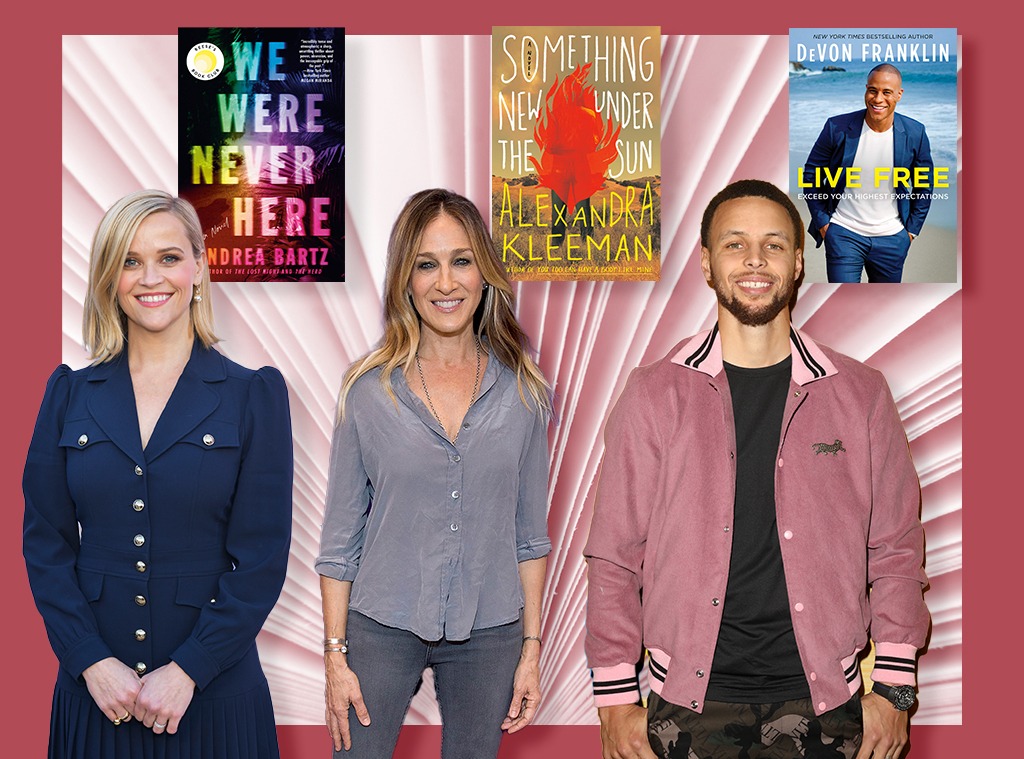 Getty Images
We independently selected these products because we love them, and we hope you do too. Shop with E! has affiliate relationships, so we may get a commission if you purchase something through our links. Items are sold by the retailer, not E!.
August is here, which means it's time to find an enjoyable book to read on the beach, in your backyard, in the comfort of central air conditioning, or wherever you enjoy spending time during the summer. With so many books to choose from, take the guess work out of researching your next read and just take a recommendation from your favorite celebs instead. This month, we are reading picks from Reese Witherspoon, Stephen Curry, Sarah Jessica Parker, Emma Roberts, Becca Kufrin, Emma Corrin, Jenna Bush Hager, Gwyneth Paltrow, Malala, Richard Branson, Elin Hilderbrand, and Roxane Gay.
We Were Never Here by Andrea Bartz
Reese Witherspoon shared, "This book is every suspense-lovers dream and it kept me up WAY too late turning pages," describing We Were Never Here as "a novel with crazy twists and turns that will have you ditching your Friday night plans for more chapters."
Reese elaborated, "The story centers around two friends, Emily and Kristin, who love to go on adventures around the world. This year they are in Chile and through a series of circumstances, end up in a room with a dead body… but here's the twist, it's not the first time it has happened to them! Coincidence? You'll just have to pick up a copy to find out...."
Something New Under the Sun by Alexandra Kleeman
"People are talking about this book. So am I, [Alexandra Kleeman]," Sarah Jessica Parker posted on Instagram. The Sex & the City star wrote, "And so happy to have a copy of this very anticipated title in my hands. Just opened late last night. And so now, it won't leave my side. Find it my fellow readers."
Build Your House Around My Body by Violet Kupersmith
Mermaid of Black Conch by Monique Roffey
The Crown star Emma Corrin shared her August 2021 pick via her book Instagram, someb00kswotiread. She posted, "It's been a while since I read fiction, mainly cause I've been enjoying reading biographies and [nonfiction] that I feel I'm learning things from. But so nice to be wrapped up in this incredible world that Roffey creates, to be reminded how much fiction can teach us too. Makes me think about how we receive strangers into our communities, a commentary on the lines between myth and reality, transformations, freedom. It's so good pls read!"
The Turnout by Megan Abbott
Jenna Bush Hager is reading The Turnout by Megan Abbott this month. She said, "This story tells the tale of two ballerina sisters, Dara and Marie, who inherit their mother's dance studio after losing their parents in a tragic accident. When suspicion rises on the onset of the studios annual performance of the nutcracker- the dance school falls under a chilling threat. I have been a fan of Megan's work for the longest time and I am honored to share this book with our RWJ community. Her compelling and dark writing will leave you enchanted!"
Live Free: Exceed Your Highest Expectations by DeVon Franklin
"What makes any of us 'underrated' in the first place? The expectations of others. They see us as 'too short' to become a ball player, 'too young' to excel at a skill or career, 'too' something to be successful a what we choose. So we get labeled from an outside perspective, not our own," Steph Curry shared via Literati.
The basketball star said, "DeVon Franklin's Live Free takes a hard look at expectations just like these, and shows us how to let them go to live the live we're meant to live, outside of other people's judgement. You know I wear 'underrated' proudly. You can flip the script when you bring your own expectations of yourself. Being your own energy and your own passion. Be Who you're meant to be. On your own terms."
Homegoing Paperback by Yaa Gyasi
Malala selected Homegoing for her most recent Literati book. She shared, "Homegoing spans centuries and continents to bring us the story of two sisters whose families are impacted by the transatlantic slave trade. Through either generation, Yaa Gyasi takes us from Ghana to Mississippi to Jazz Age Harlem and more, while detangling the long and wide effects of colonialism. This spellbinding debut novel has echoes of Toni Morrison, Edwidge Danticat and others - but in a thrilling, unique voice." 
Wind, Sand and Stars by Antoine de Saint-Exupery
"Wind, Sand and Stars reminded me that our greatest jos are realized through adventure. I've carried this belief throughout my life, from record -breaking ballooning trips to today's vision of Virgin Galactic - to open up space travel for the benefit of everyone on Earth. I gained a great deal of appreciation for the skill and craftsmanship required to fly, but this memoir also shifted my worldview," Richard Branson shared, per Literati.
There's a Word for That by Sloane Tanen
There's a Word for That by Sloane Tanen is Elin Hilderbrand's August 2021 Literati book pick. She said, "There's a Word for That is my favorite kind of novel - one that engaged you immediately with its surface energy, then draws you in by its smart writing and deeply imagined characters. This is a novel that will not only keep you entertained by the pool, but that finds humanity in even the most hopeless situations" 
Somebody's Daughter by Ashley C. Ford
"Ashley Ford's debut novel is sublime - beautifully written, searingly honest and deeply affecting. There is a real grace with which she writes about the people in her life and those who have harmed her. Her ability to see people for who they are without looking away is powerful. There are passages throughout this memoir that are simply perfect and I do not say that lightly. I was profoundly moved by Ashley's story and the clarity with which she reveals such intimate parts of her life," Roxane Gay said via Literati.
She elaborated, "This is a narrative about a childhood with an incarcerated father, a loving but rageful mother, a grandmother with an uncompromising worldview, and how Ford has to learn to make space for herself in the world. I found myself holding my breath aching for the young girl Ashley was, and marveling at the woman she has become. When this memoir ended, I only wanted more. I hope you will embrace this book, this woman's stories, and engage with its complexities. You won't regret the journey this book takes you on."