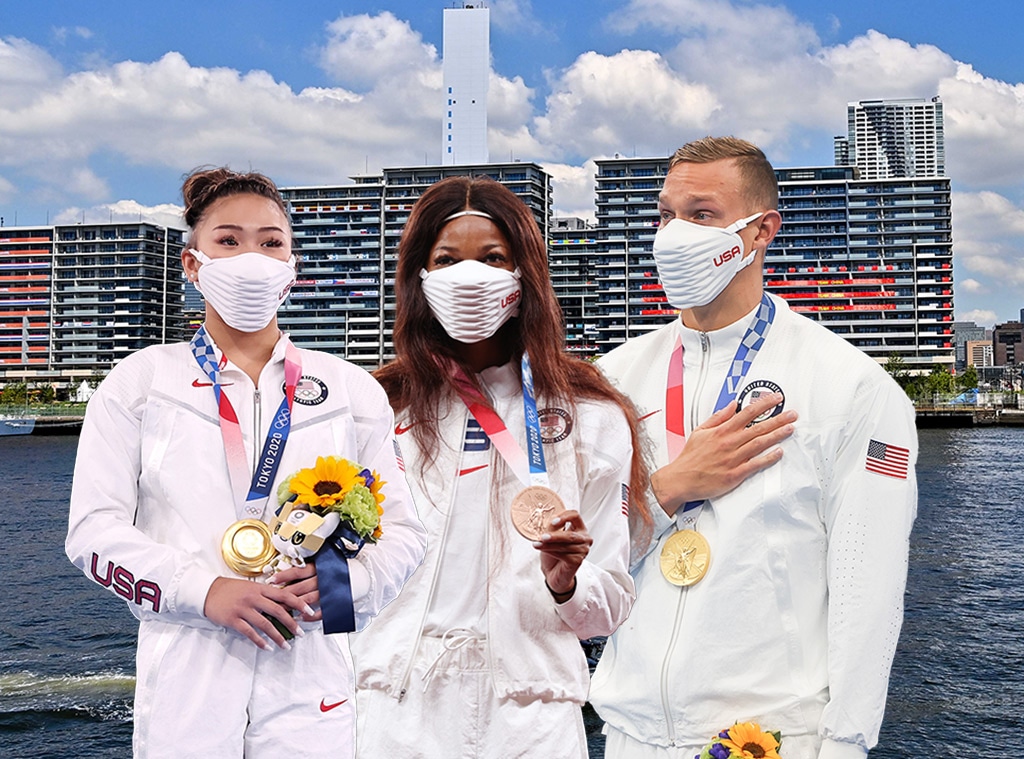 Getty Images/E! Illustration
Surely some athletes had sex in the Olympic Village during the past two weeks.
But no, that wasn't how any beds were destroyed. "We meant no disrespect, and just wanted to show off how effective and sturdy the beds are in the Olympic Village," Israeli baseball player Ben Wanger said apologetically after a TikTok video showed him and eight of his teammates jumping on a bed to disprove the other viral rumor that the rooms had been outfitted with flimsy cardboard sleeping set-ups to discourage any extracurricular marathons at the Tokyo Olympics.
"The bed in the video has since been recycled," Wanger said. "We actually enjoy sleeping on these beds, and think they are a great and sustainable option for future Olympics."
They were hardly the only ones who took to social media to demonstrate (all in G-rated videos) that the beds were sound. Nor were they—scolding they received from the Israeli Olympic Committee aside—the only athletes to have some fun amid what has unarguably been one of the strangest, most strictly governed and closely scrutinized Olympic fortnights ever due to the ongoing COVID-19 pandemic, which put Japan in a state of emergency just when the world was supposed to be getting excited for the international celebration of feats of strength and sportsmanship.
As the world has watched with varying degrees of joy, appreciation, skepticism and concern (sometimes all during the same event!), the competitors themselves, every one of whom trained their tails off for this moment and had to put their dreams on hold for a year when the 2020 Games were delayed, were still friggin' stoked to be in Tokyo.
Not every athlete, even in normal times, opts for the communal accommodations at the Olympic Village: The U.S. men's basketball team preferred a yacht docked nearby in Rio in 2016; skier Lindsey Vonn got her own place in Pyeongchang in 2018; and this year the U.S. gymnastics team stayed in a hotel certified by Tokyo 2020 organizers. But the village is still the epicenter, especially for first-timers, of the collegial atmosphere that automatically forms when more than 11,000 people from 207 countries converge to go for the gold.
"Once we got here we were so excited, [to] take pictures and all of that," U.S. softball player and first-time Olympian Ali Aguilar said on NBC's In the Village podcast. As some of the first to arrive, check-in was "really smooth," she said, and they were "first in line for everything"—until people started pouring in.
The two-story cafeteria features cuisine from all over the world, Aguilar shared, "and I think it's just pretty cool getting to eat, like—I don't eat all these different kinds of food at home, really. I eat chicken! So it's cool to have all those options...and the coffee, that's my favorite part."
Jinhee Lee/SOPA Images/LightRocket via Getty Images
Not that anyone could ignore the public-health-crisis elephant in the room, which required athletes to submit two negative COVID tests, one at least 96 hours beforehand and the other at least 72 hours before they were even allowed to board a flight to Tokyo. Then, they had to wait for a negative test result before they could leave the airport upon arrival.
Check-in at the main village in Tokyo and two smaller sailing and cycling villages was limited to five days before one's event began, making for a noticeably pared down parade of nations at the July 23 Opening Ceremony, which only a sprinkling of VIPs were allowed to watch from the largely empty stands—and which many athletes watched from home.
One of them was sprinter Gabby Thomas, later a bronze medalist in the women's 200 meters, who chronicled her three-hour Narita International Airport odyssey on her Instagram Story, then happily posed for the obligatory pic with the Olympic rings when she finally got to the village.
"So excited to arrive in Tokyo," the 24-year-old wrote, capturing the moment with high jumper Rachel McCoy. "Even better to be here with one of my favorite people and Olympic village roomie!"
Teammates from each sport did tend to flock together as they navigated the sprawling 21-tower complex, home to 3,600 rooms with bidets and 18,000 beds; a gym; a photo room for athletes to pose with backdrops that look like the famous Tokyo sites they weren't allowed to visit; a Relaxation House with massage chairs; a pirate ship-themed playground, and a "Fever Clinic" for all COVID-related matters, including isolation in case of a positive test.
"I didn't really get to be that close with all the other athletes [from other countries]," skateboarder Jagger Eaton, who won the inaugural gold in the men's street final in his sport's long-awaited Olympics debut, told E! News upon his return to the United States. Athletes had 48 hours to clear out once their events were done.
BEHROUZ MEHRI/AFP via Getty Images
"But, I mean," added the 20-year-old, "it was all love to everybody there and I think everybody was just worried about COVID, which is totally understandable. Overall my experience in the village was absolutely amazing."
Eaton, who's already thrown out the first pitch at an Arizona Diamondbacks game since being back, did get to take part in the Opening Ceremony, which he called "everything I thought of and more. It's something I've dreamed of since I was a kid and to be able to walk it with [fellow U.S. team skaters Jake Ilardi and Nyjah Houston], and the gals also, it was so cool." It was a bummer not to have a crowd, he admitted, but "shout-out, Japan, for making that whole event happen... They took care of the athletes so well and, yeah, we all had a blast."
Jinhee Lee/SOPA Images/LightRocket via Getty Images
Throughout the Games, the athletes' routines included masks, daily saliva tests and social distancing—though that last one inevitably fell by the wayside as COVID tests were passed, medals were won and raucous cheering and dancing had to happen. (Did organizers really think people would just be content to politely applaud?)
Considering so much emotion had to be channeled through screens this year, with families watching from home at all hours of the day or night (Tokyo is 16 hours ahead of Los Angeles, for example) and only the occasional parent-who's-also-a-coach along for support, it was impossible to begrudge any of these athletes their hugs and high-fives.
But not everyone kept their celebrations, or sorrow-drowning, low-key.
The Australian, the country's Daily Telegraph and more have reported that, following their quarterfinal loss, Australian rugby players trashed a room at the Olympic Village on July 28, the night before they flew out, and then the next evening rowdy rowers smashed a hole in a wall of one of the athlete's rooms. There was also reportedly an all-nighter July 31 during which 10 Australians partied with people from other countries.
Their subsequent extra COVID tests all came back negative, according to the publications.
AKIO KON/POOL/AFP via Getty Images
"Some young people made a mistake, they had left the rooms in a condition that was unacceptable," Team Australia chief Ian Chesterman told reporters Aug. 3, per Reuters. But the damage was "minor," he insisted, and it was "not the hardest thing to break the cardboard bed. The rooms were not 'completely trashed' in any way." Yes, there was a hole, he confirmed, but the walls were "flimsy" and "temporary" and the athletes had apologized for their behavior.
The country's governing bodies for rugby and football (a.k.a. soccer) are also investigating accusations from national team officials that certain players caused a drunken disturbance on their 10-hour Japan Airlines flight back to Sydney, with some vomiting near their seats and rendering a toilet unusable.
The accusations were met with indignation, one unnamed athlete telling The Australian, "Who cares who f--king threw up, it's not World War III! Why is rugby being dragged through the mud?" Another rugby player denied his team's involvement, telling The Australian, "Well, if you look at where the vomit was, it wasn't near our seating plan." Yet another sportsman protested, "We were rubbish on the field but we can hold our alcohol."
Meanwhile, there were 49 athletes from nine sports aboard the flight and they were all off to a Sydney hotel to spend two weeks in quarantine, as required for international travelers. Chesterman said, per The Australian, that he was "happy for people to finish their Olympics to have a celebration, while paying consideration to others in the team environment." The players who allegedly behaved badly were "good people" who had made "poor choices, as young people do from time to time".
Of course, just because village shenanigans are what make noise, world-class athletes all prepare and unwind in their own ways.
"I was trying to get to bed super-early," said swimmer Katie Ledecky, who now has 10 Olympic medals, seven of them gold, after adding four to her collection in Tokyo. "I was with my teammates and so we played a lot of games. And a big thing for us is, the night before a competition starts, we all shave."
Fittingly one of the 24-year-old's sponsors is Bic, so out come the Bic Soleil razors for "a shaving party, which is part of our routine," and then they played cards before turning in on the early side. But you know what they say: Early to bed, early to rise and kick ass in the pool. "I think that's the most important thing when we're in the hard training and I'm about to go into the toughest competition in the world," Ledecky explained to E! News, "we just try to keep things light and keep things fun, and just relax as much as we can."
Ultimately, she shared, "I couldn't really let my foot off the gas until my very last race. And even after my very last race I had a lot of media and drug testing and just all these different things," barely enough time to grab a PB&J sandwich at the village at 2 or 3 p.m. She did get to celebrate her third consecutive Olympic gold medal in the 800 meters that night with a burger, and she plans to "let this sink in and enjoy time with my family and friends" before she starts training for her next aquatic triumph.
ROB WALBERS/BELGA MAG/AFP via Getty Images
Pita Taufatofua, who's now made splashes in three straight Olympics as Tonga's reliably shirtless flagbearer (including at the Winter Games in 2018), told E! News that the highlight of Tokyo for him "was seeing the world come together." He even thought it was "amazing" that Vanuatu's flagbearer had co-opted his glistening oil game.
"Just seeing each country represent their national cultural heritage, that's been something special for me," said the 37-year-old Taekwondoin and cross-country skier, who's considering dipping his oar into kayaking for Paris in 2024. "Sitting down in the dining hall with athletes who are going through tough times, that's been special for me. I get to share some of my experience in the motivational coaching space with them and I get to hear their stories as well. A few tears have been dropped...It's an honor just to even be here at this Olympics."
Maybe leaving a hole in the wall was actually a metaphor.
—With reporting by Alli Rosenbloom and Amanda Williams