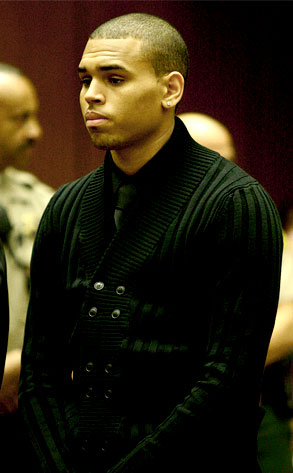 Damian Dovarganes-Pool/Getty Images
Chris Brown's lawyer keeps insisting on more time.
Defense attorney Mark Geragos on Tuesday petitioned the California Supreme Court to postpone his client's upcoming preliminary hearing on assault charges until after a judge has ruled whether the defense can have access to the LAPD's records of its investigation into the Rihanna photo leak.
The state appeals court denied the same request last week.
Rihanna has been subpoeaned to testify at the June 22 hearing and her attorney, Donald Etra, says she's planning to comply with the prosecution's wishes.
Brown is accused of hitting and threatening the 21-year-old singer after a pre-Grammy party in February.
Taking the edge off what could be some major awkwardness at their legal-themed reunion, both Rihanna and Brown were in attendance for game four of the NBA Finals in Orlando last Thursday. Not sitting together, but still.