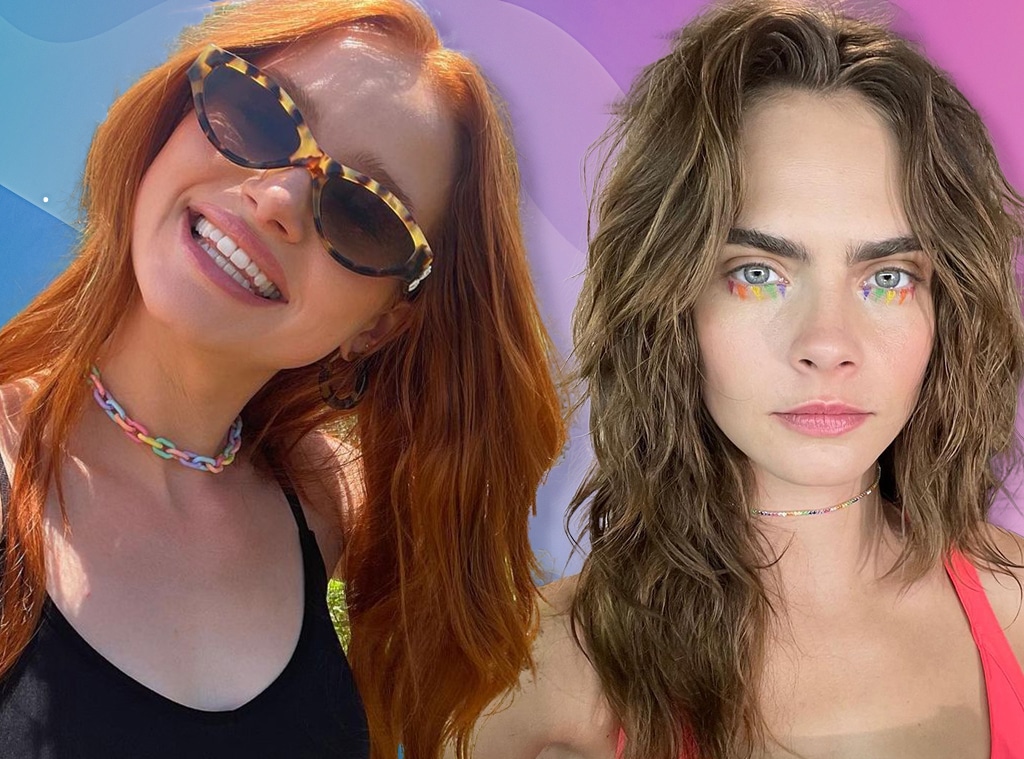 We interviewed this celebrity because we think you'll like their picks. Some of the products shown are from the celebrity's own product line. E! has affiliate relationships, so we may get a commission if you purchase something through our links. Items are sold by the retailer, not E!.
Looking for celebrity-approved bling on a budget? Adina's Jewels has you covered!
Since its launch in 2015, the uber-popular online jewelry store has garnered dozens of celebrity fans like Madison Beer, Addison Rae, Cara Delevingne, Cardi B and daughter Kulture. Whether you can't leave the house without a stack of gold necklaces or you fancy colorful statement pieces, Adina's Jewels has budget-friendly styles for every type of jewelry lover. 
Recently, E! News was lucky enough to catch up with the visionary behind Adina's Jewels, founder Adina Kamkhatchi, to discuss how her thriving business came to be and the trending jewelry pieces you should add to your collection!
E!: How did Adina's Jewels come to be?
AK: I was a 19-year-old student struggling to find my way and help my family as we faced financial challenges. My immigrant parents- mom from Israel and dad from Syria- moved to America to provide better education and opportunities. My brother Mayer and I watched our parents work diligently to give us the best life- we were determined to build a future that would pave the road map for our future generations.
That summer, I decided to start my own brand and would make jewelry from leather and pearls. At first friends & family from the local community showed up to buy my jewelry and then I started to sell my jewelry in the back of my local swim store.
As my clientele continued to grow in the neighborhood, my brother Mayer, who was 17 at the time, invested everything he had into launching our online store in 2016. His efforts have led to Adina's Jewels becoming one of the leading online jewelry stores in the country today.
Pastel Colored Chain Link Toggle Choker
E!: What does the brand stand for?
AK: Named after my grandmother Adina, the brand has been a labor of love from the very start. Not just a brand, but Adina's Jewels is a lifestyle with jewelry that inspires confidence and self-expression. Since its inception, Adina's Jewels has conquered the market through fashion-forward and attainable luxury at affordable prices.
I wanted to create a world in which everyone is free to express themselves, and as the person evolves, Adina's evolves with them. Everyone can wear what makes them unique, change up their look when they want, and follow their hearts. People want to be different, and I want to help them play with their personal style and take risks with confidence.
Figaro Choker
"The ultimate stacking pieces that make for the perfect fluff pieces to add in with other jewels that are trending at the moment."
E!: Who was the first celebrity to wear your pieces and what was your reaction?
AK: Madison Beer was really the first person of influence with a major platform that has supported us from the start. Both of us were up-and-coming and she had the mini name plate choker, which she wore and tagged us on Instagram. That post made the brand known to so many more people and the collection sold out online.
We are so thankful for her and her mother, Tracie, who was so sweet and supportive. She loved my story and has been a staunch supporter ever since we started working together. Madison has reached amazing heights of success since, but her loyalty to the brand has been unwavering.
Rainbow Ring
"A total classic even though it has a major pop of color. Surprisingly pairs well with any rings you'll be wearing whether it's an engagement ring, a wedding band, silver jewelry or gold jewelry."
Herringbone Necklace
"Comes in so many different sizes and is perfect to wear as a stand-alone item or to match with other gold or colored necklaces."
E!: What is your biggest source of inspiration?
AK: "I've always been a keen observer of high fashion and the trends seen on the runways each season. Also, being born and raised in New York City; the people and their style is a constant source of creative inspiration."
Neon Multi Charm Beaded Necklace
"This item is definitely meant for the warmer months. However, it's the best summer piece and can be worn alone or with other pieces. So perfect for this trend of color and beaded jewelry. This is my personal favorite from the entire collection and was the first piece I made when creating this collection."