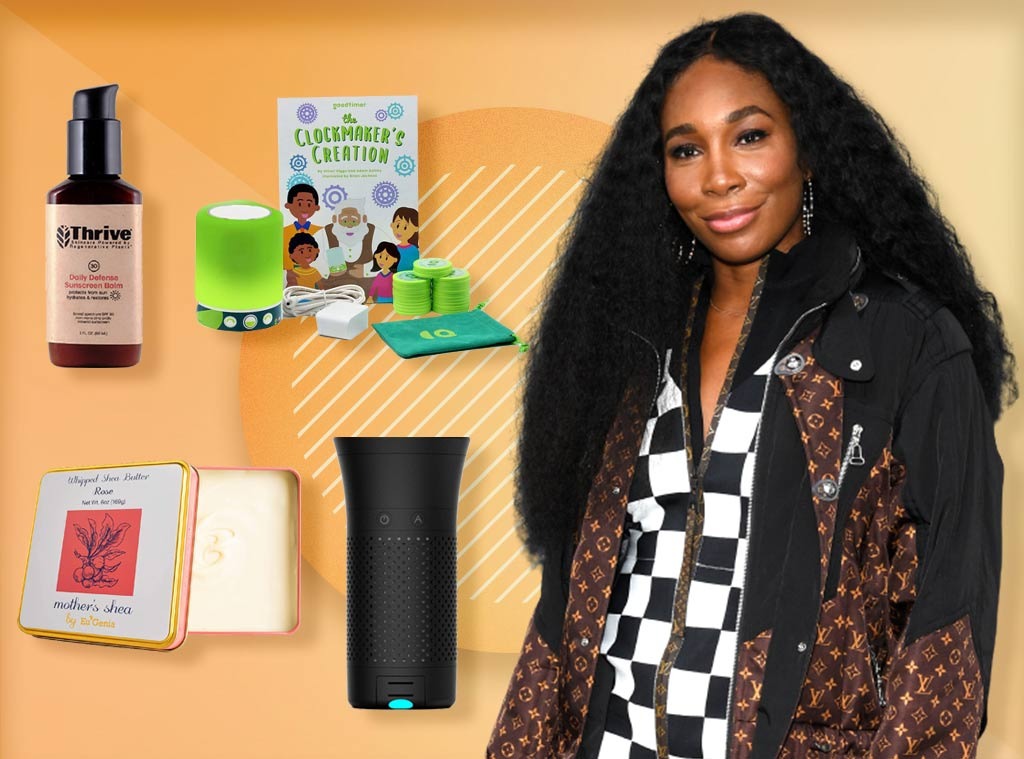 E! Illustration/Getty Images
We interviewed this celebrity because we think you'll like their picks. Some of the products shown are from a brand they are paid to endorse. E! has affiliate relationships, so we may get a commission if you purchase something through our links. Items are sold by the retailer, not E!.
Venus Williams is used to winning on the court, but when she's not playing tennis, she's all about uplifting others and helping them succeed. That's why she teamed up with Amazon Launchpad, which gives small businesses increased visibility on Amazon with a mission to "provide expertise and support for small brands, entrepreneurs, and startups to help them overcome many of the challenges associated with launching new products." Venus told E! News, "As a business owner myself, I'm a big fan of Amazon Launchpad's mission to provide expertise and support for small brands, entrepreneurs, and startups."
The tennis legend explained, "Business owners face many obstacles when starting from the ground up. I'm so excited to team up with Amazon Launchpad because of the amazing support the program provides through its resources and guidance to lead small businesses to success. As part of this collaboration, Amazon Launchpad and I will be celebrating the unique small businesses and startups that have been awarded Amazon Launchpad's Innovation Grants since the start of the program in December 2020."
August 2021 is Innovation Month, with a goal to drive awareness around the program and celebrate small businesses and startups. Venus shared, "Customers can shop all of the great products from the monthly grant winners and vote for your favorite brand for Innovator of the Year! The winning brand will be awarded up to $100,000 in prizes from Amazon Launchpad, and casting a vote enters you for a chance to win one of three product packages from our innovators, worth up to $500 each." Customers can cast their votes through 8/20.
E!: As a business owner yourself, what do you think is a critical piece of advice for small business owners?
VW: I believe it's pivotal to trust in yourself. I remind myself of this all the time because uncertainty can get the best of each of us, but as a small business owner, you cannot afford to let self-doubt creep into your decision making. You must remain confident in yourself and your business.

E!: What are your favorite features of Amazon Launchpad?
VW: One of my favorite features for customers is the "Meet the Launchers" page. Here they can discover the people behind the brands and shop by categories such as women-owned, social good, black-owned, sustainability, latinx-owned and family-owned. For the brands, I think the Premium A+ content is very cool, it lets brands build out their page on Amazon to help showcase their products and story. 

E!: What qualities does a great innovator need to have?
VW: Creativity is crucial, as well as the ability to recognize a need for something. I found that over the past year it was important to deliver a product that wasn't just wanted, but necessary and that's what I strive for with both EleVen and VStarr. As I said above, self-confidence is another big one. You cannot expect anyone to believe in you and your business if you don't first believe in yourself, so this is a necessary first step to success.
Check out five products from Amazon Launchpad businesses below.
Thrive Natural Moisturizing Mineral Face Sunscreen SPF 30 with Clear Zinc Oxide & Antioxidants
Thrive Natural Care's Daily Defense Sunscreen Balm has SPF 30 and is great for everyday wear. All of Thrive's products are formulated with plants from regenerative farms and include three key ingredients: Juanilama, a citric-scented herb with potent germ fighting properties for skin restoration & protection, Fierrillo a rainforest vine with potent antioxidants to help combat irritation, redness, & stress impacts on skin and Coralillo a jungle shrub with anti-inflammatory properties used by indigenous Costa Ricans to heal skin."
Mother's Shea by Eu'Genia Whipped Shea Butter in Rose Scent
Mother's Shea is a women-owned brand. Mother's Shea makes such great quality raw shea butter, sustainably sourced and extracted from pure African Shea Nuts in Ghana. Another reason why I love this brand is because they are dedicated to fair wages and opportunities for their female workers in Ghana. In addition to rose, there are vanilla, eucalyptus, and lavender scents. 
GoodTimer's Positive Reinforcement Chore Chart
GoodTimer's Positive Reinforcement Educational Toy is great for young kids. It combines traditional children's educational elements with an innovative twist. The goodtimer includes a speaker, glowing segments and a token dispenser to use as reinforcement. The goodtimer provides a "game" element that young kids won't be able to resist!
Shore Buddies' Stuffed Animal Toy
Shore Buddies is another great one. The brand makes soft stuffed plush animal toys all made from 100% post consumer, recycled plastic bottles. Their mission is to reuse these bottles to avoid them ending up in the ocean. It takes six plastic bottles to make one Shore Buddy stuffed animal.
Wynd Plus Smart Personal Air Purifier with Air Quality Sensor
WYND created a smart personal air purifier that monitors air quality and sends you alerts with the help of an app so you can easily monitor and clean the air in any space for a happy and healthy home.
If you're looking for more Amazon shopping picks, check out these must-have beauty items that The Bachelor alum Hannah Ann Sluss recommends.