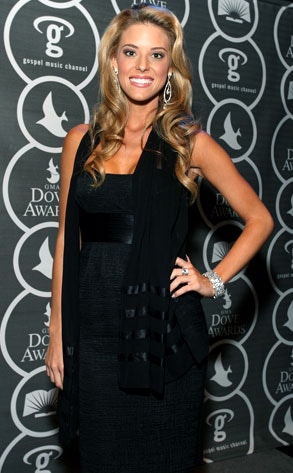 Frederick Breedon/Getty Images
Fallen pageant queen Carrie Prejean isn't finished playing the blame game.
The former Miss California's lawyer, Charles LiMandri, is going on the offensive against state pageant organization and director Keith Lewis, claiming to E! News that Lewis plotted Prejean's downfall by knowingly sending her lists of events and opportunities that were beyond the typical expected duties.
"There was really a lack for trust and a lack of respect," LiMandri says. "He was trying to set her up. Keith Lewis and Shanna Moakler wanted her out, pure and simple. They finally found a way to get their way."
Lewis, who tells E! News he has already "moved on" from the scandal, has said that Prejean skipped out on upward of 30 appearances and that her inability to live up to the terms of her contract was the reason she was fired.
As for that Playboy spread and Prejean's possibilities for legal and tell-all vindication?
"She had just gotten a request to do a Playboy shoot with partial nudity—this was several days after [Donald] Trump reinstates her," LiMandri says. "[Lewis] knew she wouldn't do that stuff, and he was trying to set her up, saying, 'You can pick your photographer. You can pick the photos.' And then he'd be able to fire her for sure."
Additionally, LiMandri claims Lewis sent Prejean a list of Hollywood events recommending that she try to attend some, though her presence was never requested by the event organizers.
"Some of the things were such short notice, like that day or the next day, that they couldn't expect her to do it anyhow," he argues. "When I read through the list with her, she said there was a lot of stuff she would like to go to, but it's not 'Miss California' stuff."
During her various television interviews last week, Prejean declared she wasn't just "Miss Hollywood." According to her representation, she wanted to do more outreach events throughout the state.
"What we expected her to be doing…it's community service events, it's charitable organizations, rotary conventions, avocado festivals, fairs," LiMandri says. "When she got the Hollywood list she said 'OK, but what about from Sacramento to San Diego?' "
One specific event Prejean rejected was in blatant opposition to her politics: a movie premiere about same-sex marriage.
"[Lewis] wanted her to go to the debut of a docudrama supporting same-sex marriage," the attorney claims. "The people [who] produced it were going to be there explaining their journey as gay men toward same-sex marriage. She said, 'I'm just not comfortable doing that.' I wrote back to [Lewis'] attorney saying, 'She won't do the pro-traditional marriage stuff as Miss California. But don't ask her to do the pro-same-sex marriage stuff either.'"
LiMandri also insists that if Lewis and the Miss California organization do not stop speaking ill of Prejean, he will have no choice but to file a lawsuit against them.
"We think she's got a great case," LiMandri tells E! News. "She just has to weigh her other options and see if that's what she wants to be doing for the next couple years—being involved in litigation—as opposed to taking advantage of these other offers or opportunities that are presenting themselves to her.
"At the same time, she doesn't feel that she can just stand by and let herself be continually defamed by Keith Lewis, saying things that are not true."
LiMandri suggests a tell-all book about her time as Miss California may be one of those current opportunities.
"It's basically her opportunity to tell her side about what happened," says LiMandri. "She really never had a chance to address those issues. People really don't know how badly she's been treated."
Lewis, meanwhile, appears unfazed by the possibility of a legal battle.
"I'm so happy that we've moved on," he told E! News Tuesday. "We've closed a chapter, and for me, I think there's no reason to look back."
Having Tami Farrell as Miss California has "been a dream," Lewis said.
"You know, she gets it. Because she was a national title holder, she was Miss Teen USA, she's been in the limelight before. It was a challenge the last couple of months, and it's just so nice to be back to the business of beauty."
As for Prejean's Playboy allegation and other claims, Lewis said he didn't want to "get bogged down in the minutiae or the negativity.
"And I think that what we've done and how we've represented ourselves speaks for itself," he continued. "Mr. Trump wouldn't exactly be making a decision to fire someone if there wasn't just cause, especially after the controversies. So, I feel real confident that we made the right choice, and I think you can see that with Tami."
—Additional reporting by Lindsay Miller
(Originally published June 16, 2009, at 2:20 p.m. PT)