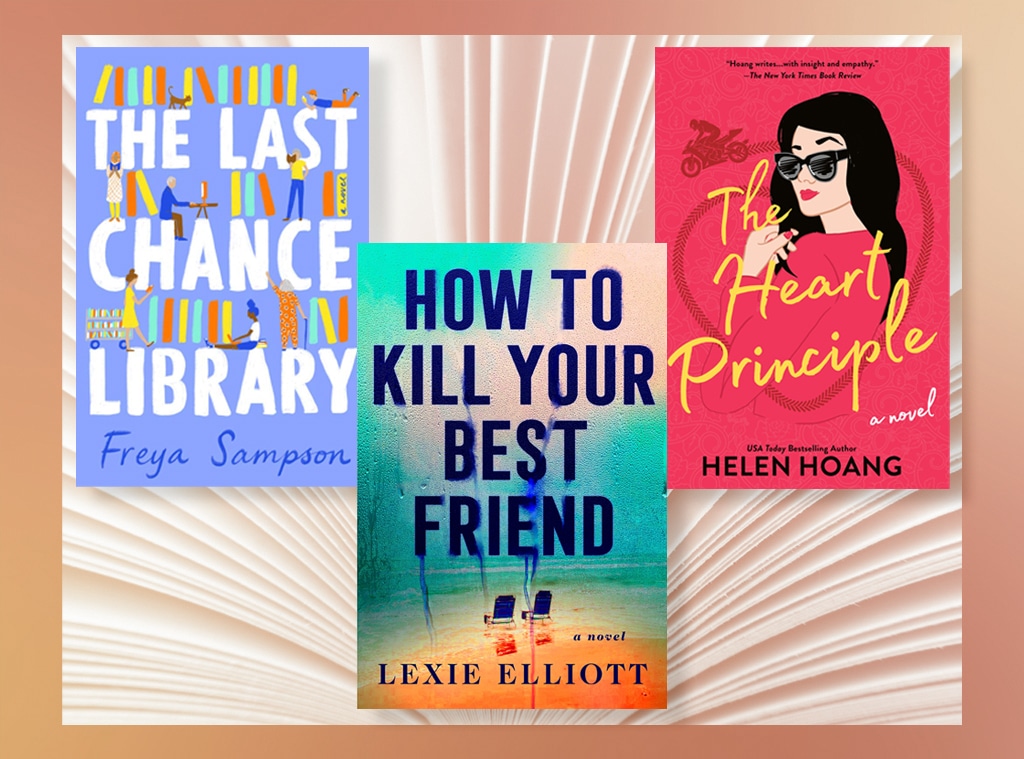 We love these products, and we hope you do too. E! has affiliate relationships, so we may get a small share of the revenue from your purchases. Items are sold by the retailer, not E! 
Give us a beach and we'll demand a read.
It's officially August, which means we're in peak summer book season. Is there anything better than spending a long day getting lost in the pages of a new novel while lounging underneath an umbrella? If that sounds like your idea of literary heaven, we've got over a dozen new releases from August to add to your pile or device, including several swoon-worthy love stories and a few irresistible thrillers that might just keep you up at night, promising yourself the next page will be your last. (We all know how that goes, but isn't that what giant sunglasses are for?)
So go ahead, grab an iced coffee, a beach towel and some sunscreen and start reading after shopping physical copies of our picks or—because, you know, technology—pulling them up on Kindle Unlimited or through a free trial of Audible.
Here are the 18 books to throw in your beach bag this month...
The Husbands by Chandler Baker
Leave it to Baker to deliver yet another pulse-racing thriller. In her latest, the bestselling author offers up a gender-swapped Stepford Wives. Successful attorney Nora finds herself entrenched in a community of high-powered women with supportive husband when she agrees to take on a resident's wrongful death case. Consider The Husbands a modern exploration of motherhood, marriage and the myth of having it all. (August 3)
If The Shoe Fits by Julie Murphy
The Dumplin' scribe is back with another heartwarming rom-com that delivers a reality TV twist on the classic Cinderella fairy tale. When aspiring fashion designer Cindy unexpectedly finds herself becoming a popular dating show's first and only fat contestant, she becomes a body-positivity icon overnight. Then, as the shoe-obsessed Cindy finds herself actually falling for the suitor, she begins to wonder if she can actually make it through the process without breaking her heart or heels. (August 3)
The Turnout by Megan Abbott
Sisters Dara and Marie Durant have been trained by their glamorous mother at their family-run ballet studio since they can remember. And after their parents' tragic death, they begin running the school together, along with Dara's husband Charlie. While the trio have seemingly perfected the routine to keep their business afloat, one suspicious accident just before their annual performance of The Nutcracker threatens everything they've worked for since they first put on their slippers. Prepare to be Abbotted yet again. (August 3)
The Guilt Trip by Sandie Jones
Three couples travel to Portugal for a wedding. Only five of the guests return and all of them are suspects in the sixth's disappearance. Yep, we're pretty sure that got your curiosity, but Jones' penchant for twists and turns will grab your attention and not let go until the final page. (August 3)
Once There Were Wolves by Charlotte McConaghy
Estranged twin sisters Inti and Aggie are reunited in the wilds of the Scottish Highlands, tasked with leading a team of biologists who are reintroducing fourteen gray wolves into the habitat. But when a farmer is killed and the town blames their wolves, one of the sisters has to make a reckless decision to protect them while also wondering if the man she's falling for may just be the real murderer. Dating really is hard everywhere. (August 3)
So We Meet Again by Suzanne Park
This charmer gives you not one, but two delightful kinds of love stories, one between Jessie Kim and her meddling mother and the other between Jessie and her childhood rival Daniel, whom she reunites with when she moves back home to Tennessee after being laid off. PSA: Daniel may just ruin all other modern literary men for you. (August 3)
Her Heart for a Compass by Sarah Ferguson
Yes, the Duchess of York really did pen this story about a young noblewoman's coming-of-age that richly details both high society and low in Victorian England. (Something she might know a little about.) And yes, it's actually quite good, shining a light on the harsh repression women faced—That's the actual conundrum Georgie and Bronwyn face until their swim team pal Lissa dies suddenly. Instead of feeling unburdened, though, and still do—and offering a surprising story of self-discovery dressed up as a regal costume drama. (August 3)
Mrs. March by Virginia Feito
Cancel your plans before diving into Feito's gripping story that's already being adapted into a movie starring Elisabeth Moss. The psychological drama centers on proud wife Mrs. March slowly becoming suspicious of her celebrated author husband after a shopkeeper suggests his latest novel's deplorable protagonist is based on her. Cue a spiral into a psychosis so compelling that we already have goosebumps imagining Moss' performance. (August 10)
How to Kill Your Best Friend by Lexie Elliott
If your best friend murdered someone, would you help her keep the secret? That's the actual conundrum Georgie and Bronwyn face until their swim team pal Lissa dies suddenly. Instead of feeling unburdened, though, they can't help but find it strange that the strongest swimmer among them drowned. And when they gather on the island Lissa owned with her husband for the funeral only to find themselves trapped due to the weather, revelations about the past come faster than the tide. (August 17)
The Family Plot by Megan Collins
With a name like Dahlia, it makes sense that this gothic horror's protagonist is haunted by her past, having been sheltered by her true crime-obsessed parents after her twin brother disappeared when they were just sixteen. A decade later, however, she makes a gruesome discovery following her father's death: Her brother's body is buried in the family's plot. Was it a serial killer that had terrorized their secluded island? Or is one of her surviving family members harboring a dark secret? (August 17)
Velvet Was the Night by Silvia Moreno-Garcia
This sexy and simmering noir story centers around Maite, a quiet secretary searching for her secretive art student neighbor who disappears under mysterious circumstances in 1970s Mexico City. But she's not the only one searching, as an eccentric criminal has also been tasked with finding the missing woman, but finds himself unable to stop watching Maite. We told ya it was sexy and simmering. (August 17)
Getaway by Zoje Stage
What was supposed to be the perfect weekend away for three friends—reuniting to hike deep into the Grand Canyon's backcountry—turns into a literal nightmare when tensions from the past creep up and they slowly realize their secrets aren't the only thing stalking them in the woods. And this is exactly why we don't do nature! (August 17)
A Million Things by Emily Spurr
Spurr's gut-punch of a debut details 55 days in the life of 10-year-old Rae, who must look after herself and her beloved dog after her mother disappears. Warning: Stock up on Kleenex and prepare to feel all the feelings in this heartfelt story of resilience. (August 24)
A Slow Fire Burning by Paula Hawkins
Rejoice, lovers of The Girl on the Train, Hawkins is back with another mystery that will have your pulse racing and fingers itching to turn the page to discover the big twist. In A Slow Fire Burning, a trio of women find themselves at the center of an investigation after a young man is found gruesomely murdered in a London houseboat. All three have connections to the victim and all of them are simmering with secrets and filled with rage and resentment that threatens to engulf everyone around them. (August 31)
The Last Chance Library by Freya Sampson
A cozy story about a shy librarian who comes out of her shell to save her beloved library in the sleepy English village she grew up in, only to bond with a merry assortment of locals and reconnect with a handsome old school friend? Make this into a Netflix series a la Virgin River and add it to our queue ASAP! (August 31)
The Heart Principle by Helen Hoang
Burnout is real. Just ask violinist Anna Sun who accidentally achieves career success with a viral YouTube video and can't seem to recapture the magic. So, when her longterm boyfriend decides he wants an open relationship, Anna decides to embark on a string on one-night stands. Naturally it leads her to the most unexpected of suitors who helps her learn to embrace the unknown. You'll want to devour this delicious dessert of a love story from The Kiss Quotient author. (August 31)