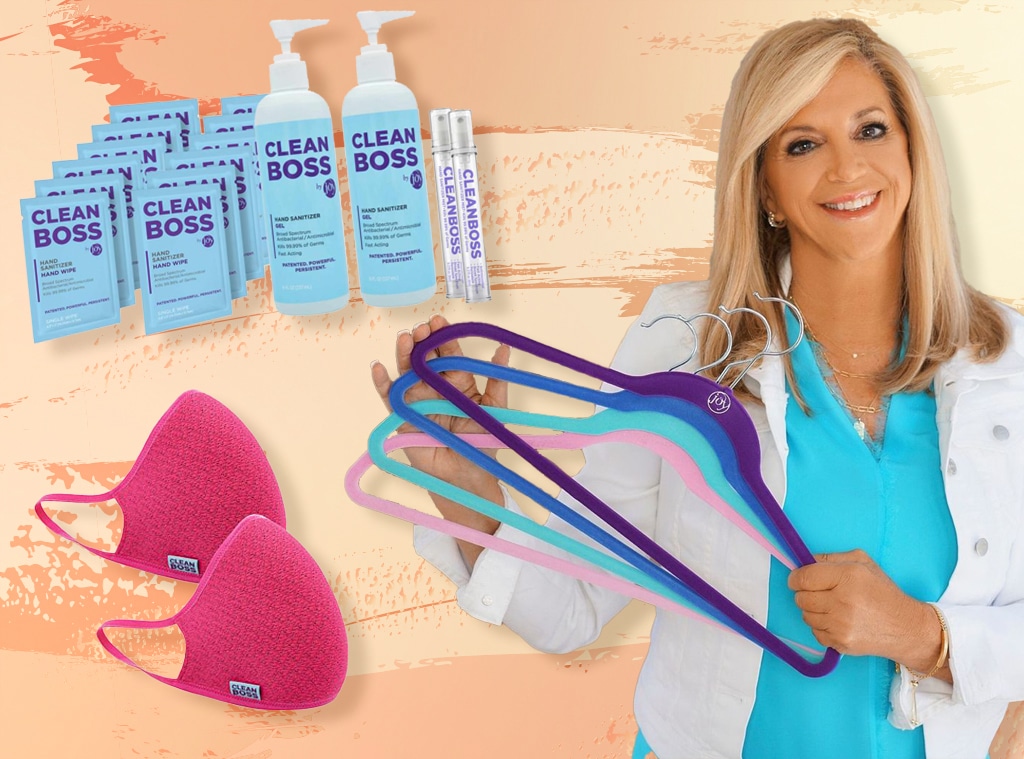 Matt Hoke; E! Illustration
We interviewed this celebrity because we think you'll like their picks. Some of the products shown are from the celebrity's own product line. E! has affiliate relationships, so we may get a commission if you purchase something through our links. Items are sold by the retailer, not E!.
Welcome home, Joy Mangano. 
After much anticipation, the world-famous inventor and entrepreneur is returning to the Home Shopping Network on Saturday, July 31 with a brand-new Today's Special as well as various items from her CleanBoss line. 
"I love appearing on HSN because it's the very platform that enabled me to reach customers and explain the features and benefits of the products I create and how they are designed to make their life easier," Joy exclusively shared with E! News. "Now, I am able to tell the story behind CleanBoss and it's an opportunity to talk directly to my favorite people in the world (after my family of course!)—my fans and customers—my JoyStars! We've always had an incredibly special relationship—I listen to them as much as I talk to them—and I do everything I can to make their lives better & brighter."
As it turns out, this is only the beginning!  
Joy is also working on a new fall TV show for USA Network titled America's Big Deal. "I am making it my personal mission as an inventor and businessperson to lift up America's greatest inventors and small businesses and try to give them the same opportunity that launched my own business," she teased. "I want to provide the chance for them to make the biggest deal of their lives, and extend my help and expertise to up and coming inventors."
Until then, get an early sneak peek of Joy's must-have products coming to HSN below. 
The JOY Hangers 60-piece Premiere Anti-Microbial CleanBoss Set
"My original velvety hangers are near and dear to my heart—and to now make them even better in these crazy times to me is priceless," Joy shared with E! News. "The new JOY Hangers are breaking the mold by now having CleanBoss anti-microbial, anti-odor technology! Its silver ion technology—that has been used by the military and astronauts and even in hospitals —is infused into the surface of each and every hanger so that they can fight any mold or bacteria build up! And they are still that virtually unbreakable slimline design so they can double or even triple your closet space! To me, it's a game changer!" 
CleanBoss by Joy Anti-Microbial Light & Foamy Pump Soaps 2-Pack
"This launch will have some completely new products being introduced on HSN to you for the first time!" Joy teased about her shows on Saturday, July 31. "It's going to be so exciting! You have to watch!"
CleanBoss by Joy Multi-Surface Disinfectant Spray Pens 2-Pack
These handy spray pens kill household germs in 60 seconds on hard non-porous surfaces. It's an all-in-one solution for glass, stainless steel, wood, granite, cabinets, walls, bath, shower, kitchen and more. It also helps remove stains from carpet and couches.
CleanBoss by Joy 2-Pack Triple Layer Anti-Microbial Face Coverings
"It's constantly attacking germs and bacteria," Joy previously explained when praising her CleanBoss face coverings that come in multiple colors. "The most amazing thing about it is that it is the lightest, most breathable and comfy mask."
CleanBoss by Joy 16-piece Hand Sanitizer Set
"It was so important to me to make the safest, strongest group of cleaning products out there with technologies backed by science and powered by Mother Nature," Joy shared. "So, having said that, I'm so proud of my new brand, CleanBoss, which consists of a full slate of game-changing products to make cleaning, disinfecting, sanitizing, deodorizing and organizing every part of your life easier and family friendly."