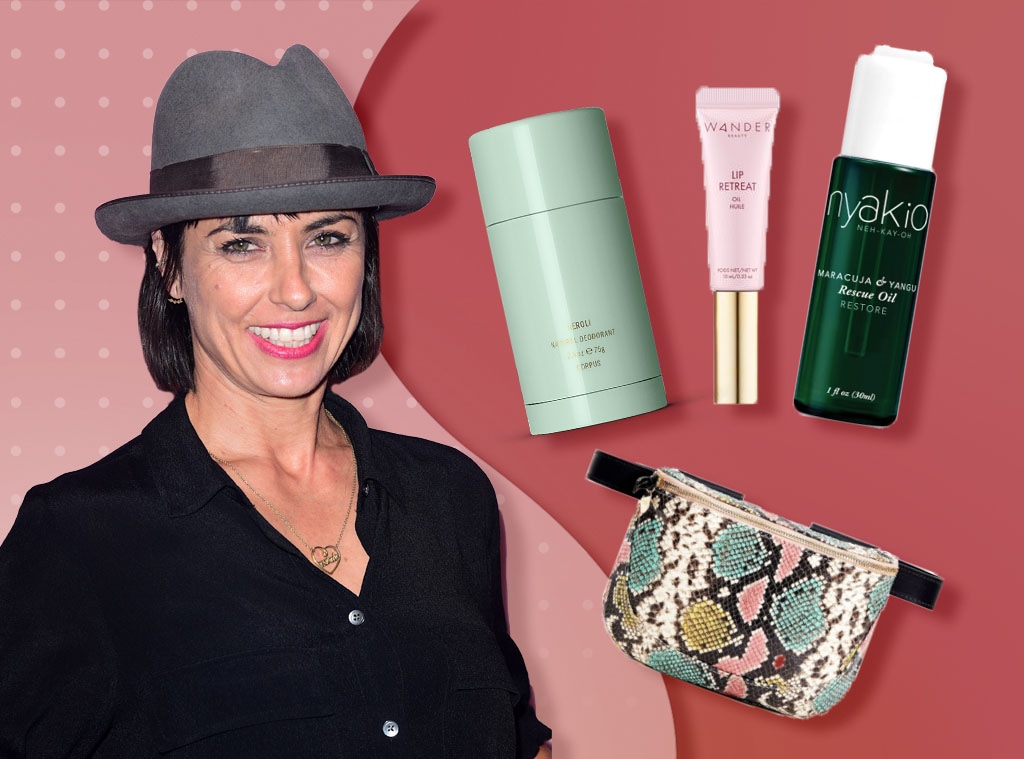 Aurora Rose/Patrick McMullan via Getty Images/E! Illustration
We interviewed this celebrity because we think you'll like their picks. E! has affiliate relationships, so we may get a commission if you purchase something through our links. Items are sold by the retailer, not E!.
It's Wednesday, which means we're halfway through the week, and we can finally watch a new episode of Freeform's Good Trouble! And as if that wasn't already the best news, Constance Zimmer, who plays Kathleen in the show, is sharing her must-haves with us. From mentos and jumpsuits to fanny packs, vintage Rolexes and hydrating facial mists, the UnReal actress has her priorities straight.
"This past year and a half has taught me there are lots of things I can actually live without, as long as I have my friends and family nearby," the actress explained. " But, here are a few things I really, really love having in my life."
For Constance's must-haves, scroll below! And don't forget to catch her in an all-new Good Trouble episode tonight at 10 p.m. PT/ET on Freeform!
Clare V. Fanny Pack
"Not just for your fannies! I always have to carry something to hold all my things, but I like to have my hands free and Clare's fanny packs can be worn as a cross body or around your waist, so it's two purses in one and I love that. I have more than a few of hers, but my go-to right now is the rainbow python fanny pack—goes with everything."
Mentos or Junior Mints
"I need to have candy or gum on me at all times. Mentos are better for the summer months as they don't melt in the heat, but frozen junior mints are the bomb and fulfill my sweet tooth on all levels."
Wander Tinted Lip Retreat Oil
"I can't leave the house without something for my lips. Wander makes one of my favorites, this tinted lip oil is incredible."
Corpus Neroli Natural Deodorant
"This natural deodorant not only smells incredible (Neroli is my favorite smell so far), but works the best for me, my husband and our teenage daughter also loves it, so it's become a staple in our house. (Their travel-sized ones are perfect!)."
Jumpsuits
"Is it possible to have too many jumpsuits? When I travel I always pack at least two. Madewell makes one of my favorites. You can dress it up; you can dress it down. I love the color, the fit, the style. It's something else I would wear every day if I could. My current vintage favorite is from Golden Age here in LA."
Vintage Rolex
"I've always worn a watch, and have been wearing this watch for over 20 years. I feel naked without it, and I don't like having to look at my phone to check the time."
Hats
"In particular, I found this vintage grey hat at a thrift store in NYC years ago, and if I could wear it every day I would. I love hats and when it's summer I get bummed I can't wear it. That's when I switch to one of my fun Clare V. trucker hats."
Nyakio Maracuja & Yangu Rescue Oil
"Honestly, all of Nyakio's products are my staples, but her rescue oil is the one I use the most, sometimes even twice a day. All the ingredients are natural and everything about her and her line inspires me and makes my skin look and feel great."
Aloisia Beauty Aloe Gel Mist
"I obsessively spray my face a few times a day, so I go through a lot of sprays. Right now my go- to is Aloisia Aloe Gel Mist. Love the added aloe, which makes it feel a little bit more substantial."