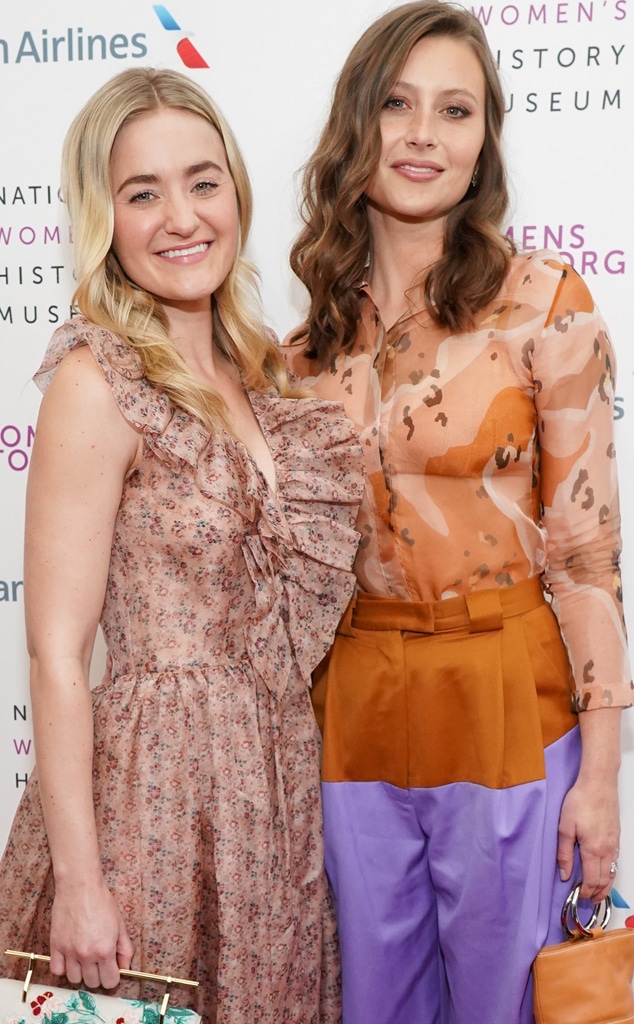 Rachel Luna/WireImage
Aly & AJ are all grown up, and you can hear it in their music.
Not that they didn't always pour their hearts into singing, but now, "We've actually experienced a lot of things that we've written about," AJ Michalka told E! News in a recent interview from Denver, where she and big sister Aly Michalka were busy working on new material in between coffee and snack breaks.
Really healthy snack breaks, thanks to co-writer Jorge Elbrecht, who apparently prefers to stay fueled with bee pollen and kale chips. "Everything's delicious," noted AJ, short for Amanda Joy. "Lots of matcha." Added Aly, "I mean, it's good, it forces us to not be eating like junk. But yeah, I'm like, 'Where's the chips? Where's the popcorn?'"
Yet the inspiration has flowed all the same, the duo having tapped a wellspring of experience that simply wasn't there yet when, in between acting jobs, they started recording in their teens.
"A lot of stuff that we wrote about when we were young we hadn't really gone through, a heartbreak or living on our own or traveling abroad," explained Aly, now 32. 
"So I think that's probably the largest change... and then I would also say, on top of that," she continued, "I think we've just gotten more comfortable with just being in a room with a co-writer that we've met, you know, once, and we just kind of dive into writing. Whereas I think when we were younger, we were a little more timid in our ideas or even just feeling like we could be completely ourselves in a session. And I think that now we've gotten to that point where we kind of throw us in with anybody and we'd be able to kind of hold our own, I feel like."
Watch:
AJ Michalka Talks Barry & Lainey Reunion on "Schooled"
They worked with a number of writers, including Elbrecht, for their fourth studio album, A Touch of the Beat Gets You Up on Your Feet Gets You Out and Then Into the Sun, which dropped in May—almost 14 years after the release of their last album—to strong reviews.
And before they embark on their A Touch of the Beat Tour of the U.S. and Europe in 2022, they'll enjoy a return to performing in front of a massive audiences on the main stage at Lollapalooza, which returns July 29 to Chicago's Grant Park after last year's festival was canceled due to the COVID-19 pandemic.
When the lineup was announced, "I think we were the only artist trending, which is hilarious," A.J. said, acknowledging that the last time they commanded such a perch, "trending" on Twitter wasn't really a thing yet.
While concerts were on hold, the sisters were busy in the studio, noting upon the latest LP's release that they spent a year and nine months putting the finishing touches on it.
In a statement when A Touch of the Beat... came out, the sisters said that they "weirdly held an unnatural confidence over the recording & writing process this year... like we were meant to make this music regardless of the world falling into the abyss because it was the record we were always born to make."
AJ, 30, told E! News, "I think for us it's just a matter of our taste changing and evolving and growing. The music we listen to now as opposed to what we were listened to when we made the first album [2005's Into the Rush] is wildly different."
She explained, "I think we're more fearless with like, alright, if this is something that speaks to us, great. We're not trying to write radio, we're not trying to write for a specific platform—we're writing for ourselves and our fans. And I think that's key."
Aly agreed with the notion of being more fearless in pursuing a sound they might have steered away from in the past, saying, "Whether that's in a musical choice or production choice, you know even yesterday we were writing and we kind of looked at each other and we're like, 'Alright, I guess we're going down this road on the song.'" 
Aiming for a more timeless sound on A Touch of the Beat... ("When I listen to our old records, I'm like, 'Yeah, these records were made in 2005, 2006, it's pretty f--king obvious, which is fine," Aly noted), they found themselves in rock territory. And liking what they found, they decided to stay.
"It has hooks but it's not at all like a pop record," Aly said of their latest. "And so I think that we're embracing that even more." This album is more "Americana, kind of alternative rock music," she added. "And yes, you can sing along to the melodies and they have these hooks and stuff, but they feel like classic songs. It's not like, 'Oh, that song was made in 2018 because it kind of sounds like the song from 2018. I just don't want our music to sound that way anymore."
Relaxing in a hotel room, Aly & AJ also talked to E! News about their biggest influences, going viral on TikTok with a 14-year-old song, their Disney days, how they navigated teenage fame and more. And yes, the sisters often finish each other's sentences.
Sean Zanni/Patrick McMullan via Getty Images
E!: You mentioned earlier that obviously your tastes have changed. Who do you guys love now that are inspiring you?
AJ: People like Saint Vincent and the lead singer of Wolf Alice [Ellie Rowsell]. I love Angel Olsen, I love Haim. There are some women that are really making great music. And Aly and I are also really inspired by male-lead rock bands, My Morning Jacket, War on Drugs, The National, Ray LaMontagne. And that was all music that we just weren't listening to back when we were younger because, A: Some of those people hadn't even really come out yet, and also like, we just weren't savvy to that kind of music. Growing up, it's so interesting once you leave the nest, you get introduced to a whole new world of sounds that you weren't introduced to when you were a kid. 
Aly: And that's in response to what your friends are listening to, or who you're dating or even just the producer that you're working with who's like, 'You should check out this band.' So I think our tastes change a lot just because of that. And then there's obviously the bands that we always enjoy listening to that were on in our house, whether that's like listening to a Heart record or Fleetwood Mac, or The Police.
In 2020, "Potential Breakup Song," a 2007 single off of Aly & AJ's third studio album, Insomniatic, went viral after it was discovered by TikTok users, leading to more than 60 million streams on Spotify. In December Aly & AJ released a new version of the song with more explicit lyrics.
E!: It must be nice, that your fans have grown up with you and they're still dedicated—and there are also new fans. And TikTok! Were you surprised by the reemergence of "Potential Breakup Song" on the app? Talk me through your thoughts on this TikTok generation.
AJ: Well, it's crazy. It kind of introduced our music to Gen Z.
Aly: A younger generation. They probably didn't know who we were, or maybe they did from a sibling, but, like, were newly introduced?
AJ: But a lot of people thought it was a new song, too. 
Aly: It's hilarious.
AJ: It's crazy when it's 14 years old and we ended up basically just saying, 'Well, let's embrace this moment and let's re-record it, and just completely redo the vocals and remaster it and remix it. And I think the song is actually better now, truly. But that moment was bizarre, I mean that was the end of last year.
Aly: And we had already kind of been in the mix of putting out new music. We just dropped, I think, "Slow Dancing" at that point and it really started to have this momentum. I mean, it was a great coincidence. You probably couldn't have planned it better.
Tim Mosenfelder/Getty Images
AJ: Friends just started sending us viral videos on TikTok of people using "Potential Breakup Song" as their main song. And weeks went by where this was happening and it wasn't stopping, and we were like, "This is wild."
AM: We were like, "This is really weird. Why is it this song and why is it happening now?" And maybe it was a mixture of the pandemic, people wanting to feel nostalgic in some way. But it was a happy accident. It was.
AJ: It was and I think it only kind of informed people that Aly & AJ are back and they're making new music, you know? I think it just kind of helped move everyone to the new direction.
In 2009, the sisters left Hollywood Records and renamed their act 78violet. They released a few singles, including the Hellcats theme "Belong Here," but they changed back to Aly & AJ not long after the album they'd been working on was leaked online.
E!: This isn't the first time a big break has gone by in between albums. What do you remember of that time and what did you learn from it?
Aly: I think we were in a weird moment of, like, knowing what kind of artists we wanted to be and still not knowing how to get there. I think it was us trying to position ourselves in a new way in the industry by not being attached to the idea of "We're Aly and AJ and we come from this past." But the unfortunate part behind that is that people then don't know that now you're a new band, so a lot of those fans don't hop on the bandwagon and follow you the rest of the way.
So you're like, Well, I guess there is power behind the fact that we've been doing this for this-many years, and there is a certain level of importance behind the Aly & AJ brand. So that was a terrible idea and we just said, forget it, let's go back down to Aly and AJ. I just remember it being not our best moment in terms of our self-confidence as artists. We were still writing with people we really cared about and really respected, and I think it was important for us to make that record to get to the records that we make now. It also just showed us that the partnerships that we make with our producer are very important. And I think that that was a perfect example of working with a producer that we really respected and very much looked up to, but we also let him take control of the project in a way that then got away from us.
E!: It must be nice to have that camaraderie when you agree on something and you're going up against the producer, but what happens when you two maybe disagree on things?
Aly: It's rare, I feel like.
AJ: It's rare when it happens because we're so in tune with each other and we both have very similar tastes and style that things end up kind of passing for both of us and we are very...
Aly: I would say like 80 percent of the time we're on the same page.
AJ: And then other times, it's like being in a relationship where you have to compromise and say, "OK, you don't love this idea but I do so, like, can we at least try it?" And if it doesn't work at the end of the day are you willing to kind of say, I'm going to let go of this, maybe it doesn't fit the sound of the record and this song maybe doesn't need to stay in the zone...Maybe we hang on to it for a later day. We try to not make things too definite where it feels like, Oh my gosh, we just lost out on this and my sister just denied me of this thing that I love. Instead, it's like, this isn't dead, this will always be around, but maybe this doesn't fit the record now.
Aly: And then we table it.
Tim Mosenfelder/Getty Images
AJ: And then you listen to the record and you go, "Well, yeah, my sister was kind of right. Like, this doesn't really fit. "
Aly: Yeah, I think as we've gotten older, I think we've gotten more forgiving on that. Whereas I think when we were younger, we were a little bit more hard-headed like, "No, this is the lyric," and we're just ready to die on the spot for it. But now we're not nearly as precious about it. And then I think when we do feel really strongly, then that's taken very seriously because it really shows that you really, actually, truly care about that.
AJ: And we now have this kind of rule that we stole from The National, whereas like we each get one opportunity to say, "No, I'm dying on the hill for this idea." And we each get our one moment—me, Aly and our producer—to say, "Sorry guys, this is happening, I'm using my one card." What do they call it? It's a three-letter…
Aly: Can't be argued, CBA.
AJ: Nice! Can't be argued, CBA. We each get one and that's it. But most things we're really in agreement on.
Aly: Thankfully we're on the same page most the time and I think that if we weren't, it would cause a lot of strife with the band. And thankfully there's only two of us. I can only imagine bands with four or five people, like how you guys all agree on one thing? That gives me anxiety just thinking about.
AJ: I can't imagine. Five people have to all come to the same agreement? This is why bands break up!
Kevin Winter/Getty Images for Radio Disney
E!: Disney is very much part of where you guys came up from. How do you feel your experiences have been different from others like Miley or Demi or Selena?
AJ: It's weird because everyone went off and did their own thing like, we truly don't know any of those people anymore. As kids we all kind of knew each other. But, as adults, not really. And I'm looking forward to Lollapalooza because we get to open for Miley, and I haven't seen, we haven't seen her in years, and I'm excited to just congratulate her on the new music and I really think she's found her sound. Other people like Demi and Selena we never even really got to know. But it's interesting. How are we different?
Aly: I think we didn't have the global success of those artists, not nearly. So I think that our journey was just different in that way. 
AJ: We also took a really big break and everyone else kept just chugging along.
Aly: It's really hard sometimes at the age that we all started out to just continue to, like, grind like that. But I think we all had positive and negative experiences. Because I think you're a kid and you're very sensitive and emotional at that age, and you're kind of working like an adult. So I think that it's a mixture of, there were great moments that we enjoyed that we were able to experience because of the [Disney Channel]. And then there were other moments where it was frustrating because we were having to defend our art or talk to like, 50- or 60-year old guys about lyrics that we had written that were for our fans and they were criticizing that. And that just feels yucky....[So you have] to kind of like find your space for yourself.
AJ: And figure out your self-worth beyond what other people tell you so that you feel…
Aly: You feel like a complete person outside of other people's... 
AJ: Judgment.
Aly: Yeah, judging you or even putting you up on a pedestal because you're an item to them or whatever.
AJ: The one thing we all do have in common is nothing any of us did at such a young age is really normal. Like Aly said, we were really young in an adult world and it's not really normal to be, even though we all loved it and we were like, "This is exciting." If I have kids in the next 10, 15 years, I probably would tell them this isn't something you should do until you're like 18 or 19. Because it's really kind of bizarre and you do have to grow up really fast and you're protected as much as possible by your parents, but it's a very weird world to be in at such a young age.
Aly: And I think some people handle it better than others because of the parents they have, the support system they have, the management they have. I think it helped that we had each other. That we were like this duo together and then we had another sibling that was in the industry at the exact same time going through it. I think that, if anything, that was like our superpower. 
(This conversation was edited for length and clarity.)
A Touch of the Beat... is on sale now. Aly & AJ will be performing on the main stage at Lollapalooza on Thursday, July 29.