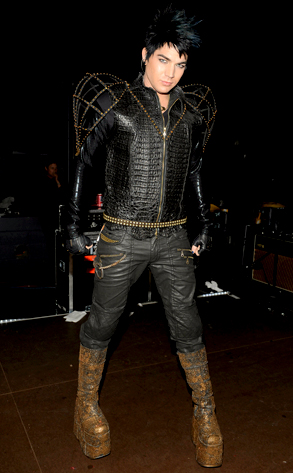 F Micelotta/Getty Images
Adam Lambert may have just revealed all personally, but he's apparently putting on a poker face for his professional debut.
Living up to his American Idol reputation, and nickname, Glambert has sought out the musical services of hit-making producer RedOne, the man behind Lady Gaga's two biggest hits and the person frequently credited—aside from the teacup-loving singer herself—with the recent resurgence of glam rock.
Sources tell E! News that Lambert spent the weekend holed up with the "Poker Face" and "Just Dance" producer in a Los Angeles recording studio.
While a label source said Lambert's debut will be heavy on "Queen-inspired" sounds, the guylined rocker has teamed with the Swedish-Moroccan producer (who has also produced for Akon, Enrique Iglesias and Michael Jackson, among others) to look "for a new sound that goes beyond what he did on Idol."
Lambert's debut album is due out this fall on RCA Recordings.
______
Follow us on Twitter @eonline and get our free iPhone app