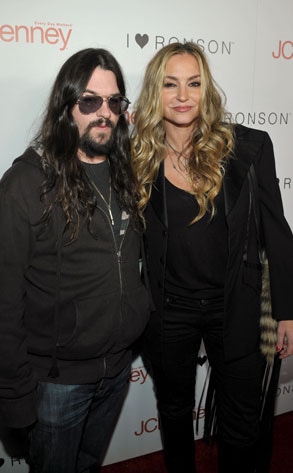 John Shearer/Getty Images
Drea de Matteo never made it to the altar for her Sopranos dream wedding. Here's hoping her real-life nuptials take a more pleasant turn.
The Emmy-winning actress and her baby-daddy beau, Shooter Jennings, are engaged, becoming betrothed during the alt-country star's concert in upstate New York on Thursday.
"Asked drea to marry me on stage tonight. I'm a lucky man. I'll never forget Utica, Ny." Jennings, son of the late legendary country outlaw Waylon Jennings, tweeted shortly after the deed was done. "Hands off motherf---ers she said yes but she's mad."
Mad in the best possible way, we're sure.
De Matteo, 37, and Jennings, 30, have a daughter, Alabama Gypsy Rose, who was born in 2007.
"She is a sorceress and I am her jester," Jennings said of his longtime ladylove in a follow-up Twitter post. "Thanks to all of you for your kind words!! Rock and f---in roll!"