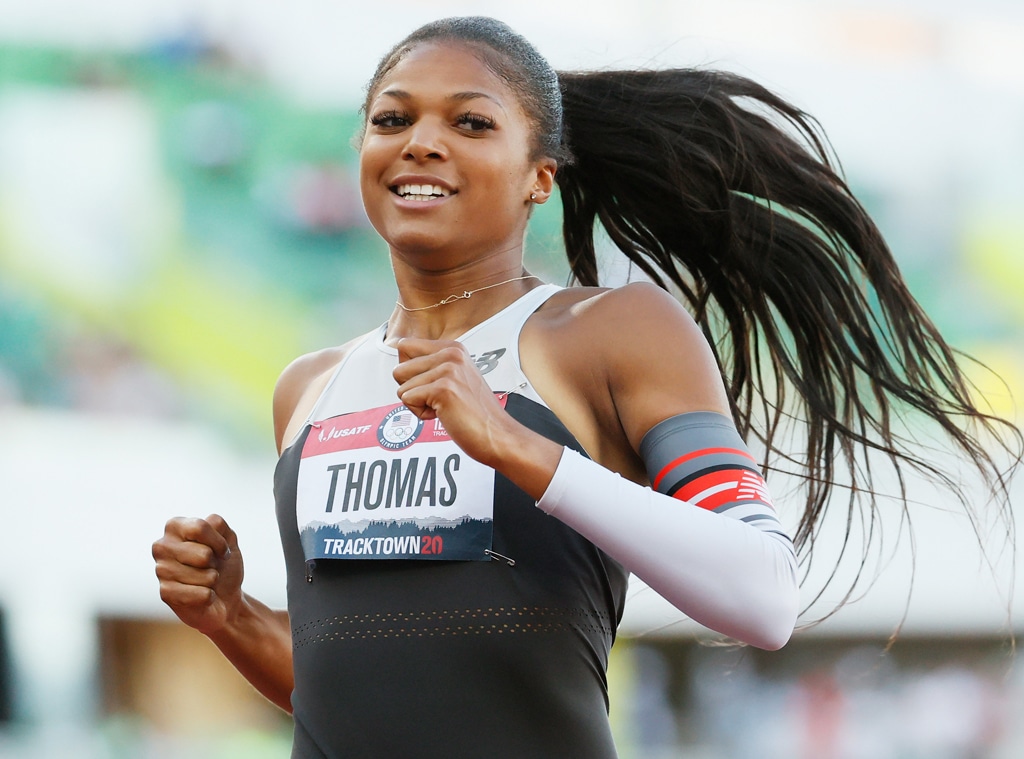 Steph Chambers/Getty Images
Second place isn't where Gabby Thomas wants to finish. But it isn't the worst place to start.
The American sprinter is charging into the Tokyo Olympics as the second-fastest woman ever in the 200-meters, having left her competition in the dust at trials last month with the winning time of 21.61 seconds. That puts her behind only the late track and field legend Florence Griffith Joyner, who still holds the top two times in the 200m, including the world record of 21.34 seconds set at the 1988 Olympics in Seoul.
"I blacked out during that race," Thomas told NBC Sports afterward. "I know beforehand I wanted to focus on accelerating through the first 100 and keep the momentum—come off the turn feeling really good. I am still in shock. I can't believe I put up that time. Definitely has changed how I view myself as a runner."
Qualifying for her first Olympics at 24 is going to change a lot of things for the Harvard graduate and decorated NCAA athlete, who received congratulatory tweets and messages from the likes of Gabrielle Union, Kerry Washington, Ashton Kutcher and Serena Williams' husband, Alexis Ohanian (wishing her well on behalf of the whole family).
"It's funny to see that happen," Thomas told the Daily Hampshire Gazette about all the A-list accolades. "I felt like I didn't belong in these spaces. I was overwhelmed. Nobody knew who I was. Now they're like 'that's a plus.' I really appreciate it. I love, love, love the support I've been getting. It makes me so happy."
And while it's all about going for the gold at the moment ("It's set in because my goal has immediately changed to now not only am I going to the Olympics, I want to win a gold medal"), her plans for life off the beaten track deserve yet another round of cheers.
Having earned her bachelor's degree in neurobiology, Thomas decided when the COVID-19 pandemic put a halt to competition last spring that it was exactly the right moment to start pursuing her master's in public health at the University of Texas, focusing on epidemiology and health care management.
"It's studying how to prevent diseases, in short," she said in May 2020 on close friend and former Harvard teammate Ngozi Musa's Aesthetics & Athletics podcast. "It's important to me just because I really want to focus on preventative medicine and making sure that people are able to take care of themselves in all aspects of their lives, starting from healthy dieting and nutrition habit and then to actual diseases."
So perhaps after these Olympics she'll also be key in warding off another pandemic down the road and fixing a broken health care system that still tends to discriminate along racial lines as well as between the haves and have-nots.
On NBCLX's My New Favorite Olympian podcast last month, Thomas recalled learning about the Tuskegee experiment—a 40-year program during which syphilis was allowed to spread unchecked in 399 Black men, who were told they were being treated through a government program, so that the progression of the disease could be studied by the Centers for Disease Control and U.S. Public Health Service.
"It really changed my life and shaped my time at Harvard," she explained, "because ever since taking that course [called "Sick and Tired of Being Sick and Tired"], I thought of everything that I was learning kind of in that lens—even wanting to go and work in health care, just making sure that I had that lens and thinking about the perspective of the United States health care system from an African-American perspective, because it is very different."
And pioneering changes to a broken system may just be almost literally a hop, skip and a jump for Thomas, who got used to being the first at major accomplishments while she was in school.
In March 2017, as a sophomore she became the first Ivy League sprinter ever to advance to the finals of an indoor NCAA Championship race, the 200m. She finished eighth—a.k.a. last—and it only propelled her forward. The following year, the junior—who was inspired as a youngster watching four-time Olympian Allyson Felix fly down the lane—set the collegiate record, meet record and facility record with her personal best 22.38-second finish in that indoor final.
That landed her on The Bowerman Post-Indoor Watchlist, the first Harvardian to make the list of 10 stellar collegiate track and field athletes from around the country. In 2017 and 2018 at the Outdoor Ivy League Heptagonal Championships she won gold in every event she entered: 100m, 200m, long jump, 4x100m relay and 4x400m relay. In the 4x400m in 2018, she ran the anchor leg and made up a 2.8-second deficit to lead her team from fourth to first.
Talking to The Harvard Crimson in 2018, Thomas said she'd spent the year since her last-place 200m finish at the NCAA championships "mentally preparing and focusing on the discipline" to outpace the competition the next time.
Jamie Schwaberow/NCAA Photos via Getty Images
Disciplined, methodical, intense: All characteristics that have been attributed to the Atlanta native—who moved with her family to Florence, Mass., when she was in high school—over the years.
Also a soccer player (and softball player, and gymnast, and swimmer, etc.), she got into running when she was 13, encouraged by her college professor mother Jennifer Randall, who was a high jumper in high school. "And then in junior year of high school I realized that I had potential to do well in track, and that's when I began to think seriously about it as something with a future," a then-freshman Thomas told Harvard Magazine in 2016, back when she was taking pains to correct a stride that was too long.
"To get, like, one-tenth of a second better, that's hours and hours of work," she said. "Because it's short sprints, so it's not like you have any room to mess up and make up for it."
Kebba Tolbert, Harvard's sprints, hurdles and horizontal jumps coach, explained, "The blessing is, you can achieve at a high level. The curse is that sometimes you don't realize all the work it's going to take to get to the next level, because the level you're at came fairly easy."
While researching which college to attend, Thomas shared on My New Favorite Olympian that she reached out to all the "power track" schools—but "they weren't interested." Still wanting to develop as an athlete, however, she narrowed her none-too-shabby choices to Harvard and Duke—the latter of which was her mom's alma mater.
"I couldn't even understand why it was such a thing," Randall recalled on the podcast. "Like why are we even engaging in this conversation?" Of course her daughter would run for the Blue Devils!
But Thomas thought Tolbert could get her where she wanted to be on the track, and the Cambridge, Mass., university would provide the education she desired. Randall eventually got on board.
Talking to Musa, Thomas admitted feeling overwhelmed and as if she was "kind of drowning" when she got to Harvard after pretty smooth sailing both athletically and academically up until then. "I didn't have time to be the perfect athlete and also the perfect student and also, like, the perfect friend," she explained. "I wasn't able to just be social all the time. I wasn't able to get my work done as quickly as everyone else was, and then also balancing track. So I was really struggling with, like, getting the sleep that I needed. Nutrition-wise, I was really struggling with that, and it took me a long time to [adjust]. And also I felt stressed socially, as well, because I was being stretched so thin all the time as a freshman.
Her schedule was usually classes from 9 a.m. to 2 p.m., practice from 3 p.m. to 6 p.m., and then a sprint to the dining hall to eat dinner before it closed at 7 p.m. After receiving a bad grade on a chemistry exam, she remembered calling her mom crying, worried that she'd never pull herself out of the academic quicksand.
Randall remembered thinking that she just needed to guide her daughter back to "a good place, to be calm, to get her to understand, first of all, remember who she is and that she is outstanding—and that she can do this."
As a professor, Randall called what Thomas was experiencing "the overwhelm," and she advised that the teen just needed to take a step back and breathe. Moreover, she reminded her daughter, one bad grade wasn't going to sink her for good. "She was absolutely right," Thomas said, but she knew that competing and studying at the Ivy League, NCAA Division I level was going to take more work than she'd ever had to put in before.
"Just finding time for myself, finding some type of calmness amid all that chaos that's happening your freshman year was really important, but [I didn't find that] until much later," she told Musa. "It was a big adjustment but I eventually got it."
Thomas tried really hard to close her laptop not too long after midnight, putting a priority on sleep, and she took up meditation as well as other very relatable self-care rituals, such as listening to calming music, taking Epsom salt baths and painting her nails.
After winning 22 Ivy League titles in six different events over three years and setting still-standing Harvard records in everything from the indoor 60m dash to long jump, Thomas forwent her final year of eligibility and turned pro, signing an endorsement deal with New Balance. 
Doug Stroud/NCAA Photos via Getty Images
"I think I just really underestimated how challenging that would be," she told Musa of going pro, remembering how she initially thought it wouldn't be any different from three years of competing for the Crimson. "You have to decide: 'Today, am I going to be a college senior or am I going to be the professional New Balance athlete?' And you have to make those hard decisions, and sometimes you make the right ones and sometimes you don't. It takes a lot of emotional maturity that I had to develop, and I had to grow as an athlete and a student—and just overall as a person."
And her struggles did affect her performance. "I ran really poorly," she said of her first professional season. "I was not focused the way I needed to be focused, I felt very uncomfortable with the setting that I was in, so mentally I don't think I was there where I needed to be, and physically I definitely don't think I was. So when it was time for me to graduate and get on the circuit, I was not prepared."
"That takes a mental toll," Thomas continued, "when you're trying to do your sport and do what you love and do what you're good at, whether it's sports or anything else, and you're not doing a good job. That takes a lot out of you mentally, and it's really scary and you start to feel a little defeated. But for me, I did end up overcoming it and it took a lot of soul-searching...I had to sit myself down and decide, What do I want to do?"
ALAIN GROSCLAUDE/AFP via Getty Images
It was then that she decided to uproot her life and move to Austin. And after reinvigorating her focus, she did—as she put it—get "back on track."
In Texas, Thomas joined "the Bailey Bunch"—the Buford-Bailey Track Club founded by Olympian Tonja Buford-Bailey. "A training group of all Black women who are all so inspirational and driven and motivated and succeeding… it's very empowering," Thomas told My New Favorite Olympian host Ibtihaj Muhammad. "We all have experienced similar struggles… it's just really nice to have that support system."
Training during the pandemic, she told Runner's World last month, "The toughest part was not knowing if or when we were going to compete. We're doing these really hard workouts, and we're like, 'I don't know if this is even worth it,' but we pushed each other through." (Thomas was provisionally suspended in May 2020 by the Athletics Integrity Unit for allegedly missing three anti-doping tests in a year, but was reinstated two months later after she presented evidence that she was where she was required to be on a testing date and "the doping control officer simply failed to locate me and failed to follow proper protocol," she said in a statement at the time. Thomas told Runner's World, "I do take responsibility for not being super diligent about it" and it was "a good learning experience.")
Meanwhile, the work-study balancing act is still going to be tricky, track being a year-round sport, but her four years at Harvard definitely prepared her for this next chapter of being, once again, an athlete and a student.
In fact, she told the New York Times last month, "Being in school really makes me appreciate what I'm doing on the track. It makes you appreciate the time. When I go to the track, this is my time to be on the track and be free." Leisure time these days includes hanging out with her rescue pug Rico, hiking, volunteering and sampling the good food to be found around Austin—though she's been trying to whip up more healthy meals for herself. ("I don't love cooking, especially for one person, but I bought an air fryer, and it's been my best friend," she told Runner's World.)
The last time a Harvard alum won Olympic gold in a track and field event was in 1896, when James Connolly won the triple jump. And he never graduated, so Thomas would be the first Harvard grad to to achieve the honor if all goes well in the 200m.
Which, considering she reached a new personal best in every round of the trials, culminating in her first national championship and a spot on the U.S. Olympic team...
It just might.
Thomas credited "the Bailey Bunch" with being the support system she needed to get to this level. "Being with them, day after day… It's the reason why I ran as fast as I did," she told Muhammad. "I would not be here without joining that group."
Thomas also happened to qualify for her first Olympics on her mother's 47th birthday, an even better example of a full-circle moment than a speedy lap.
"She is kind of, like, just a wonder woman," the athlete told Musa of Randall, who raised Thomas and her twin brother, Andrew, on her own and got her PhD in education along the way. "Just watching her throughout my childhood just work so hard and do so much with her life, it really inspired me."
Since her daughter didn't have time to get her a present, Randall had told her a national championship would suffice. "And she came through," Randall told the Boston Globe. "Yeah, her good fortune. Otherwise, she'd be hearing about that gift for a very long time, seriously."
Thomas also beat her idol Felix, who came in fifth in the 200m but did punch her ticket to Tokyo—her fifth Olympic Games and first since becoming a mom—by finishing second in the 400m. Felix called Thomas' performance "amazing" and the joyful first-timer said that being on a team with Felix "makes me want to cry."
"It has been a dream of mine for a very long time now," Thomas told CBS News. "It's such a long journey, and so many days and hours of mental and physical preparation. And it just all came together in that one moment." She added, "I never thought that, me, like, I would be an athlete sandwiched between Flo-Jo and Marion Jones. I just didn't think it was something that was physically possible."
And while raising her arms in unabashed triumph as she approached the finish line may have added a hundredth of a second or so to her time, she had reason to have even more spring in her step than usual. In May she was undergoing treatment for an injured hamstring and a MRI on her lower back found a tumor in her liver.
"At first I wasn't too worried about it, but the more I kept talking to doctors they kept saying cancer," Thomas recalled on My New Favorite Olympian. "Fortunately, they found out it was benign just a couple of days before I left. I remember telling God that if I am healthy, I am winning trials."
Patrick Smith/Getty Images
As for running faster than she ever had before, she told the Globe, "I was like, 'I'm just happy to be here. I'm going to kick ass because I'm healthy.' Maybe that was part of it. Part of my relief, it showed in how I raced."
She still plans on making the world a healthier, more equitable place, but she'd like to do so with a gold medal from the Tokyo Olympics on display next to her degrees. (Or two, having also been named to the women's 4x100m relay team since the trials.)
"Now I'm just going to have to map out a different trajectory for my life," she said on My New Favorite Olympian. "My dream was to make the Olympic team, not to even win the Olympic trials—not even to break the meet record. Now that I've accomplished those as well, I'm just going to set higher goals and I'm excited about that."
Asked if one of those higher goals included a world record, which would make her second-to-none in the 200m, Thomas replied, "I don't want to say no. I don't want to put a limit on myself. I'm not going to say it's unattainable."
That attitude bodes well both for the U.S. track and field team and countless other people.
"What we're seeing with COVID, and what we saw with COVID, was nothing that I was surprised by, it just really solidified that I wanted to do what I was doing," she told CBS News of her public health aspirations. "It's time to make a change and I think everybody's on board. So, I'm happy to be a part of it."