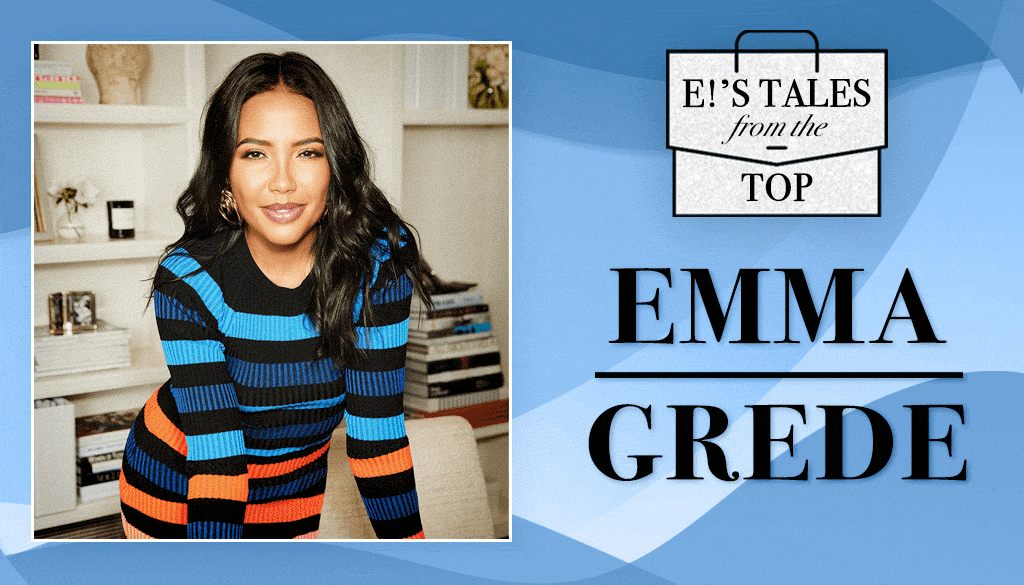 Courtesy of Emma Grede; E! Illustration
Welcome to E!'s Tales From the Top, our series on women who are leaders in their fields and masters of their craft. Spanning industries and experiences, these powerhouse women answer all the questions you've ever had about how they got to where they are today—and what they overcame to get there. Read along as they bring their resumés to life. 
No, Emma Grede doesn't have makeup on yet. 
"But I did have a workout," she notes, "and I did get into the office early." It's a Monday and Emma is quite candidly pulling back the curtain on why that impressive in theory, but seemingly impossible in practice notion that women can do it all is truly a fantasy. Well, at least in her world. 
"The idea that I do everything—it's just not true," she says frankly. "I didn't take my daughter or son to school this morning. I came in the office because it's Monday morning and I like to get a head start." This leads the entrepreneur into her next point, "which is about giving yourself some space and room and knowing that you might be able to have it all, but not all the time," she advises. "It comes down to this idea of dispelling the myth that you should be the most brilliant career woman while raising children and running home to cook and present the most amazing dinner and back in the office and ready for a workout. That's not real life."
And she's living proof. "I'm often asked, 'How do you balance it?' I don't. That's just the honest truth. My life is not balanced," she confirms, "and I think that as women, we just need to be much less hard on ourselves."
Hearing these words from anyone is a gift, but when you consider Emma's impressive list of titles—CEO, co-founder, mother—and it feels like we've cracked the code to a vault of secrets on what achieving success really entails. Because this woman knows about success.
If you've bought jeans over the last five years, you've likely heard of her. The London-born entrepreneur has had a hand in some major brands: Does Khloe Kardashian's Good American or Kim Kardashian's SKIMS, ring a bell? She's a co-founder of the former and a founding partner of the latter. Adding to her star-studded professional roster, Grede is also in business with Kardashian matriarch Kris Jenner having launched their cleaning product brand, Safely, with Chrissy Teigen (who has since stepped away from the company) in March. Topping off her many titles, she's wife to Frame co-founder Jens Grede. The power couple, who also work together, share 5-year-old daughter Lola and 7-year-old son Grey. Phew, we're tired just talking about it.  
Watch:
Khloe Kardashian Adds Bodysuits to Good American Line
So, how does one get into business with three of the most influential women of our time? Judging by Emma's story, it certainly doesn't happen overnight. In fact, her resume began with delivering newspapers as a teenager in England. As she quips, "It's the only job you can get when you're 13."
Quite a few steps followed before the 38-year-old was making deals with the reality stars and Emma, careful not to paint an "overly rosy picture," wants that clear. "I've made an enormous amount of mistakes. In fact, I'm finding success relatively later in my career seeing as I started work when I was 13," she says. "When you're an entrepreneur, you put yourself in a lot of situations where you're exposed and you're going to make mistakes and luckily for me, I did that kind of all on my own time and my own dime, so to speak, but it definitely hasn't been like a linear, simple journey."
With an early passion for fashion, Grede studied business at The London College of Fashion and got a memorable professional taste of the industry in show production. But looking back, it wasn't quite the dream her childhood self may have envisioned. "It's a little soul-destroying when you spend four months working with a designer and with teams of people in marketing, creating and concepting and then building this beautiful fashion show experience and then it's like up and down in 10 minutes," she says. "You literally were just locked out of whatever you created—you were on the wrong end of it, watching models walk out and never actually seeing it."
While she deemed it "probably the worst job" she ever had, it gave her something valuable. "I'm a behind-the-scenes person," she says, "but that level of behind-the-scenes just didn't feel very good."
Instead, she found a way to actually see the fruits of her labor while using her skills in an inventive way. "I was very, very early in the idea of celebrity alignment with brands. And I realized very, very quickly how working with talent can really accelerate a business," she explains. "I started an agency when I was 24 years old and I had clients all over the world and that was my job. My job was really to partner them with talent, and so, I really saw firsthand the power of celebrity influence."
While that work was a clear precursor to the world of influencer marketing we know today, it was also a logistical building block in her path toward the Kardashians. "When you worked in my businesses," she says, "it was your business to know all the managers and the agents and the publicists in Hollywood." When it came to Kris, though, their meeting spot was in Paris. "She would be at fashion week with one of her daughters," Grede explains. "I would meet and tell her what my clients were looking for, and we would have a business meeting."
So, when it was time for Emma to pitch an idea of her own for one of Kris' clients, it was business as usual. "It didn't feel like a scary thing," she recalls. "It was, like, this is a person that is always open to opportunities that might be good for her clients-slash-daughters and so, it wasn't something that I felt particularly fearful about pitching to Kris in the beginning."
As Emma says of the famed momager, "She's such an amazing woman and she's really so smart, so I thought, 'Of course she's going to love this idea. It's a brilliant idea.'"
Five years later, that idea is now the fully fledged Good American brand—swimwear, shoes and celebrity fans included. As for Emma, her plate has only gotten fuller as she tackles one type of customer after the next. "I think the common thread in everything that I do," she says, "that we're looking at products and saying, 'Well, how can we do that much, much better?'"
But, remember, she doesn't do it all, nor at the same time. Below, dig into her vast pockets of wisdom: 
On not questioning herself: 
"I don't suffer from imposter syndrome because I think that everybody brings something different to the table and I think this goes back to my upbringing a little bit," she says. "My mom really, really taught me that if you work hard enough, you can do anything and that I wasn't better than anybody else, but nor was anybody better than me and so, I come from a place where I had real self-assurance, real confidence in my ideas and what it is that I bring to the table. But, by the same token, I know what I don't know and I really consider that a superpower to surround yourself with really smart people, people that know things that you don't, that do things and fill into your weaknesses."
On the reality of not doing everything herself: 
"Within my businesses, anything that I'm involved in, we have people that are experts in products and experts in e-comm and experts in warehousing and logistics and finances and HR. It takes an army just like it does when you're raising children. You need help and I'm just not afraid to outsource. It's really an important part of it," she explains. "It goes back to this idea of intrinsically knowing your value and your own worth and what you're good at, and then being brave enough to outsource the rest of it and to think about building a team. I think it's one of the best parts of being involved in so many things. I have incredible people around me and I always thought about employing people and building a team and ultimately making what I do and myself better and stronger, right? It's not a weakness of mine that I'm super dyslexic and I'm not that great at finance. It's a strength that I'll just go out and find the best CFO ever...It's very rarely a one-man band that makes these things happen."
On what people miss about negotiation: 
"It isn't to beat the other side. It's to find a mutually advantageous middle ground," she says. "Something that you can live with and something that the other side can live with and so, I often start by thinking about—What is the other side thinking about all of this? What's their argument? And then that just naturally leads you to a place of better reasoning. Once you understand the other side, you come in with a more realistic viewpoint of what it is that you're trying to do and what the realistic output is."
On the importance of moving on to another job: 
"Sometimes you've got to know when to go," she says. "I see a lot more career movement with the men in my businesses than I do see the women in my businesses," she points out, noting women's tendency to feel loyalty to a business. "I think if you're not able to get what you want, then you might have to move on in order to get that."
And always remember that you are your own best advocate. "We all have this idea," she continues, "that the companies that we work for are there to further our interests and look after us and the reality is that the business is there to serve the interest of the business. You have to look after yourself and so, that may mean that you have to get up and find something else and that's fine, too. We're not supposed to be stagnant in life. That's like the human condition—we're supposed to move on."
To learn more about and purchase the full Safely line, go to getsafely.com.