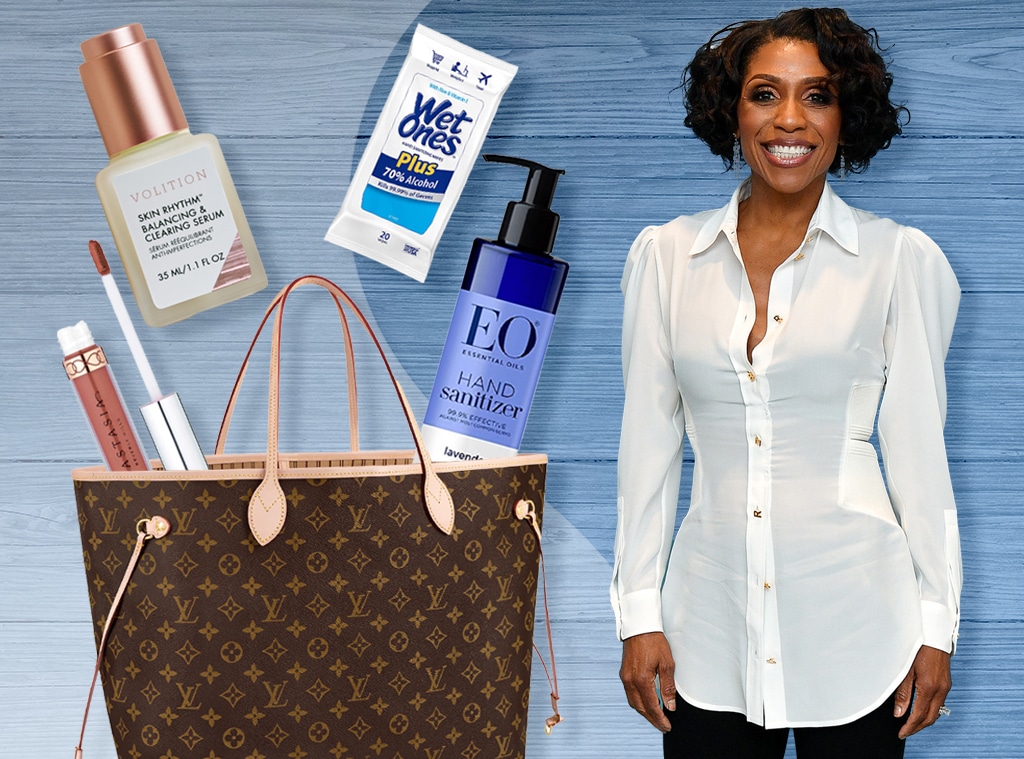 Getty Images; E! Illustration
We interviewed this celebrity because we think you'll like their picks. Some of the products shown are from the celebrity's own product line or a brand they are paid to endorse. E! has affiliate relationships, so we may get a commission if you purchase something through our links. Items are sold by the retailer, not E!.
Married to Medicine viewers know that Dr. Jackie Walters has a true passion for women's wellness.  She is an award-winning OBGYN and she owns Wow Medi Spa in Duluth, Georgia. Recently she partnered with Volition Beauty to create the Skin Rhythm Balancing & Clearing Serum. She wrote a book called The Queen V: Everything You Need to Know About Sex, Intimacy, and Down There Health Care. And, of course she makes the time to film for Married to Medicine. To say that Dr. Jackie is "busy" doesn't even do it justice. 
If anyone knows about time management and taking the best care of yourself, it's Dr. Jackie. During a recent interview with E! News, she emphasized the importance of "prioritizing your health." Specifically, she shared, "I want to empower women to educate themselves and be their own best advocate when it comes to their health. Make sure to make your appointments for your routine check ups!"
The Bravo fan favorite feels the most beautiful "when her skin is glowing naturally, and she's wearing minimal makeup." No wonder she is creating her own skin products now. Of course, that product is a part of her regular regimen. In addition to the serum, Dr. Jackie shared the other products that she keeps in her bag.
Volition Beauty Skin Rhythm Balancing & Clearing Serum
"I co-created this formula as a solution for women, including myself, who are dealing with hormonal changes in their skin. With key ingredients such as a unique trio of Salicylic, Azelaic, and Mandelic Acids alongside powerful antioxidant CoQ10 and Niacinamide, the Skin Rhythm Balancing & Clearing Serum regulates, soothes, and clears imperfection caused by hormones."
Joly Powder Puff for Makeup Face Powder (3 Pieces)
"Velour powder puffs are great to have in my bag to blot my skin in case I get oily. Especially great in the hot summer months."
Anastasia Beverly Hills Liquid Lipstick
Almonds & Water
"Your diet plays one of the biggest parts in your overall health. Staying hydrated and eating healthy snacks helps me stay energized and feel good."
EO Botanical Hand Sanitizer Gel, Lavender, 8 Ounce
Wet Ones Antibacterial Wipes- 100 Count
"It's important to have these and face masks on hand, especially as a doctor."
Mont Blanc Pen
It's always a smart call to have a reliable ballpoint pen in your bag.
The Queen V: Everything You Need to Know About Sex, Intimacy, and Down There Health Care
"I wrote this book last year as a feminine health guidebook for women to bring wherever they go. I cover everything relating to STI's, contraceptives, fertility, menopause, libido, menstrual cycles and more.  I also include the top 'Door Knob Questions' in the book. These are the questions my patients may be too embarrassed to ask, and then right as I'm about to leave the room, they say, 'Dr. Jackie I have one more question for you.'  I cover everything you've ever wanted to know about your Queen V!"
Louis Vuitton The Neverfull GM tote
This is the bag that Dr. Jackie relies on to carry all of her essentials.