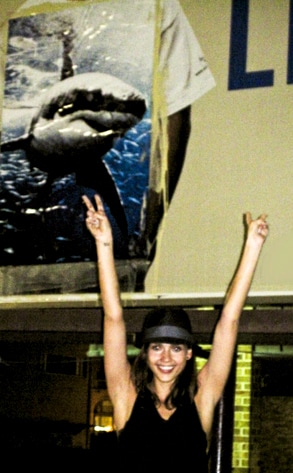 thelostogle.com
Honor Marie can rest easy—looks like mama won't be doing hard time in the OKC.
Oklahoma City police tell E! News that it's doubtful Jessica Alba will face any criminal charges for her shark attack, because the locals seem just too nice to press charges.
"Right now the investigation is still open. Nobody has been interviewed, but we're talking with the property owners to see if they're interested in pressing charges," Oklahoma Police Sgt. Gary Knight tells E! News. "That's typical in something like a vandalism like this; we'd interview the owners and go from there."
Alba could be charged with a felony and face jail time if the total damage caused by the vandalism exceeds $1,000. But, says Knight, "in most cases like this, if the victims are certain they don't want to prosecute, then we usually don't and the case is closed."
Alba went on what was supposed to be a secret mission to put up posters meant to raise awareness for the plight of the endangered great white shark. Trouble is, photographs quickly surfaced online of the Fantastic Four heroine papering over a United Way billboard and the jig was up. She has since issued an apology for her "spontaneous and ill-advised" stunt.
"We find it unfortunate that Ms. Alba chose to vandalize a United Way billboard. A local media partner, Lamar Advertising, donated the board to us and we feel badly that their contribution has been damaged in this way," says Robert L. Spinks, president and CEO of United Way of Central Oklahoma. The damages were said to be around $235.
"We are certain that she didn't mean any harm as she has since apologized," he continues, adding, "We remain focused on our work rather than this minor distraction."
The same goes for Oklahoma City's Parks and Recreations Department, which had a traffic box defaced with a shark posting and which filed a police report triggering the investigation.
"We're not pressing criminal charges against Ms. Alba," spokeswoman Kristy Yager says. "She has provided an apology to the United Way and that was the most important thing to us and we're glad she did that. I fully suspect she had no idea what types of problems this would cause."
The adhesive Alba and her cohorts used was so strong that Oklahoma Gas & Electric needed to bring in a sand blaster to remove the signage from a pad-mounted transformer.
"I can't say we are planning to pursue any type of criminal charges," Brian Alford, spokesman for the utility company, tells E! News. Though he did express hope that Alba and company would pay OG&E for the clean-up.
"Granted the city property and our property were damaged, but at this particular point we're willing to put this all behind us and move forward. I think a valuable lesson was learned as a result."
A publicist for Alba did not immediately return calls seeking comment on whether the actress is willing to pay for the damages.
The 28-year-old thesp was in town to shoot the film The Killer Inside Me, costarring Kate Hudson and Casey Affleck.