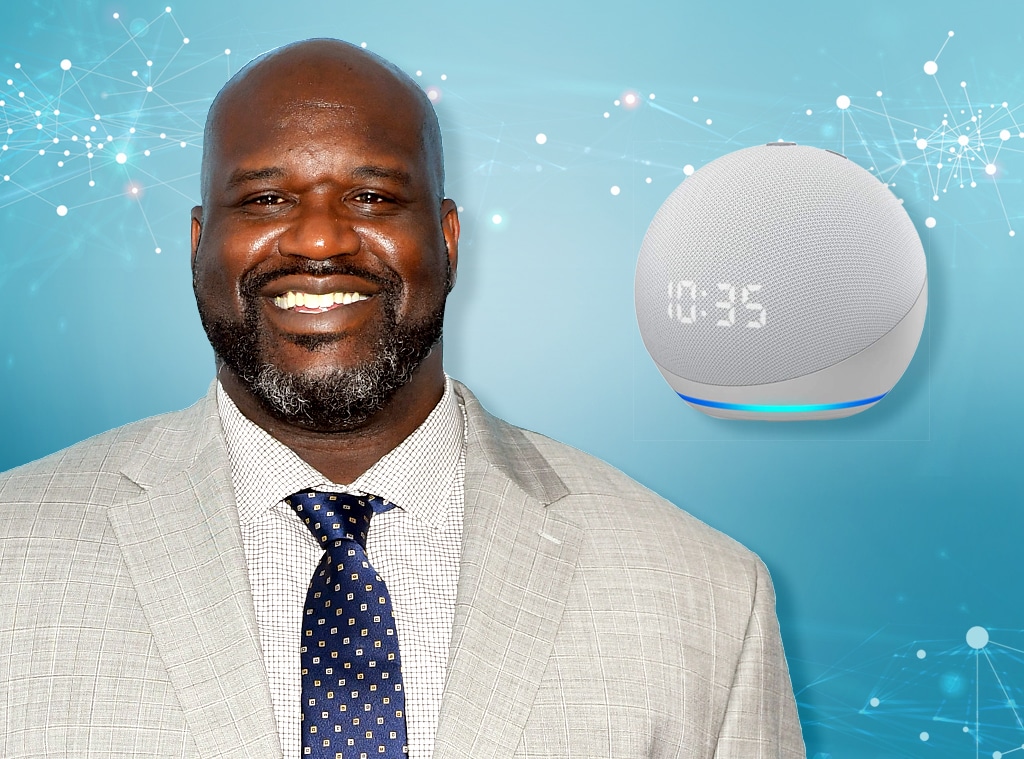 We interviewed this celebrity because we think you'll like their picks. Some of the products shown are from the celebrity's own product line or a brand they are paid to endorse. E! has affiliate relationships, so we may get a commission if you purchase something through our links. Items are sold by the retailer, not E!.
Have you ever wanted to have a conversation with Shaquille O'Neal? You can now. Well, sort of. You can get Shaq's voice on your Alexa device and you can hear the NBA legend tell you about the weather, set recipe timers, tell jokes, share sports scores, and more.
All you have to do is download this Alexa "Skill" one time and you can say "Hey Shaq" to hear his voice from now on. Previously, Alexa users could hear Samuel L. Jackson's voice in this same capacity. Now, Shaq and Melissa McCarthy are the latest celebrity voices that you can add to your daily life via your Alexa devices. 
Recently, Shaq spoke to E! News about becoming a voice for Alexa, his favorite Alexa features, and he even shared his pick for the next celeb who should lend their voice to the Amazon device next.
E!: What was your initial reaction when you were asked to be a voice for Alexa?
Shaq: I was amazed, I was flabbergasted. I know my voice will add extra personality to the Alexa experience. I heard is Samuel L. Jackson's one. I wanted to be as good as his was.
E!: What's your favorite Alexa feature?
Shaq: I'll wake you up in the morning, for dinner - I've got you covered, I can give you the weather, tell you a story, I love all the features. I heard a prototype the other day, it was pretty awesome.
E!: You've been open about your culinary journey on Learning to Cook with Shaq. What are some ways you've used Alexa to cook?
Shaq: I definitely use the timers, especially when I'm watching the games. I use it for recipes and to learn how to cook, definitely.
E!: Are there any other celebrities who you think would make a good Alexa voice?
Shaq: Yes, Charles Barkley. Because he's weird.
E!: What do your kids think about you becoming one of the new voices for Alexa?
Shaq: I don't think they know. I don't really talk to them about my projects. But I'm going to tell them to ask Alexa, 'Hey let me talk to Shaq' and I think they're going to be surprised.
Echo (4th Gen) With premium sound, smart home hub, and Alexa
Why do you need an Echo in your life? This device is great to control smart home devices (including light bulbs and locks), play music, set alarms, make calls, get sports scores, check the weather, play the news, answer questions, and play audiobooks. If you have multiple Echo devices in different rooms around the house, you can even announce that dinner is ready instead of yelling to get your family's attention. You can even set up the Amazon Guard feature to detect the sound of a smoke alarm or glass breaking when you are not home.
And now you can add Shaq, Melissa McCarthy, and Samuel L. Jackson's voice.