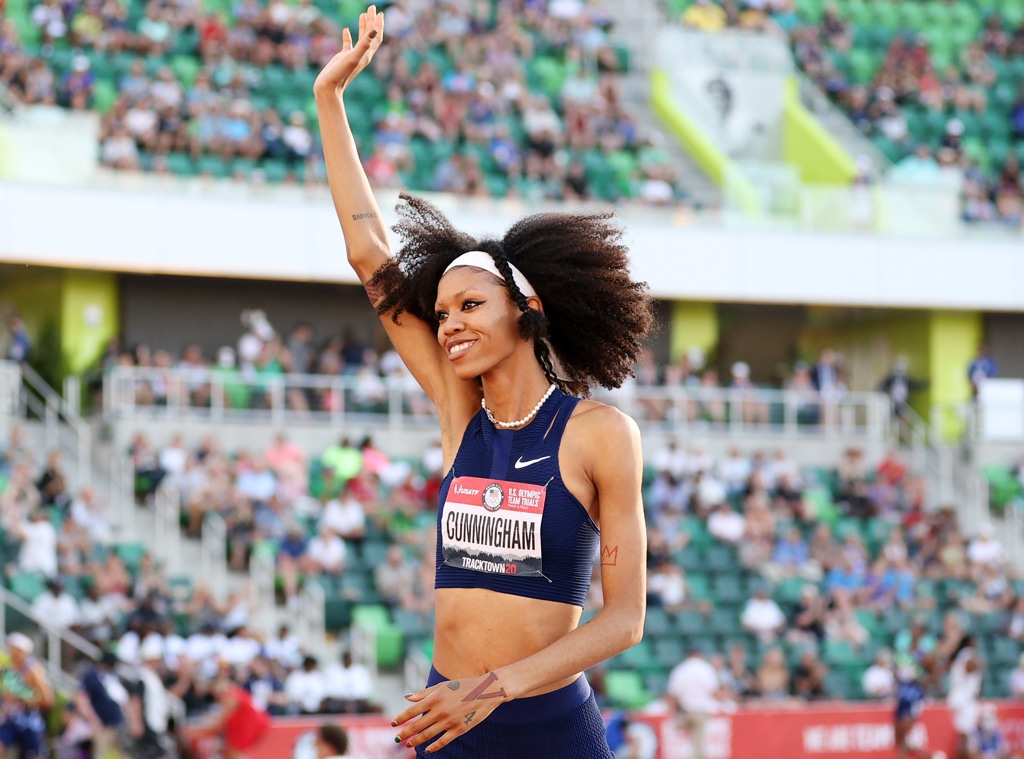 Patrick Smith/Getty Images
Asked for three words she'd use to describe herself, Vashti Cunningham went with "long," "different" and "confident."
At 6-foot-1, the Olympic high jumper's lithe, graceful limbs can attest to "long," Vashti having studied ballet as a kid but finding it too sedate, the urge to run and compete proving too strong for tights and tutus.
In terms of "different," it's fairly obvious both upon observing the athlete in action and chatting with her during a rare free moment in her carefully calibrated training schedule that she does her own thing. The 23-year-old is No. 4 in the world at her sport, which entails moving in a way that most humans could only achieve with the help of CGI. But she doesn't forget to have fun, rocking a diamond-encrusted Hello Kitty ring on recent jumps, her nails always done and her eyelids dusted with glittery shadow. 
And as for "confident"? 
Well, devoting one's self to an event that demands peak physical performance while also requiring the utmost concentration and calculation can't help but require a certain amount of faith in one's abilities. And considering Vashti out-jumped the competition at the U.S. Olympic track and field trials in Eugene, Ore.—which doubled as the national championships—in June, after a year-long postponement that she used to recalibrate her technique and clear her mind...
She's feeling pretty good heading into the Tokyo Olympics, coverage of which begins July 23 on NBC.
"It's just really a surreal moment, you know, going and actually winning the gold at the U.S. championships," she told E! News in a June 28 interview from Santa Barbara, Calif., where she headed after the trials in Eugene, Ore., to chill out for a bit after securing her spot on the U.S. Olympic team eight days beforehand. "I've been thinking about that gold medal since 2016 so it was just really exciting for me to actually go and continue to be consistent in my jumping and, you know, have a good card throughout the whole meet."
Jumping 6 feet, 5 inches into the air, Vashti didn't match her personal best of 6 feet, 7 1/2 inches (2.02 meters), which she set in May at the Chula Vista Field Fest—but that just means she knows she's capable of soaring higher in Tokyo.
Charlie Riedel/AP/Shutterstock
And heading into her second Summer Olympics, she's looking nowhere but up since finishing 13th in the high jump in Rio in 2016. Just 18 at the time, she made the team barely a month after her graduation from Bishop Gorman High School in Las Vegas, where she also played volleyball, wearing No. 4 (the numeral, her lucky number, is tattooed on her left hand).
Asked how she had evolved as an athlete and a competitor in the five years since her Olympics debut, Vashti turned her thoughts skyward, singling out her faith as the foundation on which she's built a fresh mindset.
"First, I think that my relationship with God has gotten much stronger since I was a teenager going to the Olympics," she explained. "I understand what it's like to pray and study and just devote my time to Him going into any competition, and just having full faith and full trust. So I think that's been the biggest maturity growth for me, but also maturing my mind and, you know, becoming more confident and more comfortable in my approaches and just my jumping."
At 18, she recalled, she'd propel herself over that bar and rely on her dad and lifelong coach, former NFL quarterback Randall Cunningham, to pinpoint why something didn't work. Now, she can sense it herself.
"I feel like this year I have gotten really comfortable high-jumping and feeling what it's like to go over the bar," she said. "It's more of a familiar feeling now and just something that I'm more aware of, so I can take a jump and understand what I did wrong and then try to actually fix it in the next jump. Whereas in 2016, I would have to go to my dad and ask him what's wrong, instead of now I'm telling him, 'OK, this is what I think.'"
Not that Randall, who was behind the wheel chauffeuring her from a workout while she hopped on our Zoom chat from the passenger seat, isn't still her go-to wellspring of wisdom and support. Moreover, as her coach, he's the only family member who gets to accompany Vashti to Tokyo, the ongoing state of emergency in Japan due to the COVID-19 pandemic strictly limiting who gets to make the trip.
Patrick Smith/Getty Images
That also means she's skipping the opening ceremony this year, since the women's high jump doesn't begin until Aug. 4 and athletes can't check into the Olympic Village until five days before their events—and then take off no more than 48 hours after the finals. Which in Vashti's case would be Aug. 7, so she isn't planning on attending the closing ceremony, either (though even in normal times far fewer athletes stick around for that than walk in the opening "Parade of Nations").
So she'll basically be in town for what amounts to a quick business trip, but feels lucky to be able to have her dad with her, calling it a "real blessing" because he's "the only one that I really rely on when it comes to high-jumping and training." And, she said, she's been inspired by her U.S. track and field teammates, shouting out friends like Fred Kerley (100m), Noah Lyles (200m) and Anna Cockrell (400m hurdles)—all of whom punched their tickets to Tokyo last month.
"I'm just really proud of this team and happy for everyone that competed," Vashti added. 
While she started out dancing like her mom, former Dance Theater of Harlem ballerina Felicity De Jager Cunningham, it soon became apparent that it wasn't using up all of Vashti's energy.
She was "always running and jumping and flipping and cartwheels and all that," Randall, who competed in high jump in high school before focusing on football at UNLV, told NPR's All Things Considered in 2016.
Asked if, between her mother and father and older brother Randall Cunningham II, a two-time NCAA high jump champion at USC, there was any chance that she wasn't going to become an athlete, Vashti—who's one of five siblings—laughed and shook her head.
Ballet "was just not fast-paced enough for me," she told E! News. "Like I remember being in class, just getting in trouble for goofing around and doing too much because, you know, I wanted to go into sports, I wanted to be running, I wanted to be competing against people. So I don't think there was any moment in my life where I thought—or that anybody else thought—that I wasn't going to be an athlete. Since I remember, as far as time goes back, I can just remember competing with my brother."
Even at Monopoly, which, if Randall II was winning, Vashti would insist on playing for hours into the night until she turned the tables.
"My dad doesn't play games because of his competitiveness," she shared.  "And I'm like the same way, I do not like to play games—like, I don't even have games on my phone downloaded because it's too frustrating to me to lose all the time to the computer or whatever, or whoever's playing against me." Even when her best friend asks her to play cards, "I'm like, 'No, girl. I can shuffle them and hand them out.'"
Though Felicity worried that her daughter might get burned out by going pro straight out of high school (which entailed forgoing college for the time being), Randall sensed that Vashti was ready.
"I used to wonder why I couldn't be going out to parties or why I couldn't be hanging out with my friends late at night," she told All Things Considered, "and then it kinda just clicks in my head when he keeps explaining it to me: 'You're not at the same level as some of these kids, and you have to act like a pro now. You have something to do. Now go get your business done.'"
Not that getting serious about her sport early on didn't have its perks. For instance, in 2015, Randall promised his daughter he'd buy her a new car if she broke the U.S. high school record of 6-feet, 4 inches that year.
When Vashti won the Pan-Am Junior championship in 2015, clearing 1.96 meters and setting the under-18 world best performance mark, the 17-year-old told her dad, "You owe me a Mercedes." Soon, she had her own white S550. (Up until about a year ago she had her sights set on a Mercedes G-Class SUV, but after riding in a friend's she realized it wasn't roomy enough for her tall frame. She's quite happy with the BMW X6 she's been driving, she told E!, but is sold on the Tesla Cybertruck once it's available.)
Red Bull is a longtime sponsor and Nike signed her in March 2016, the day after she won the World Indoor Championships, again with 1.96m. She also won her first national indoor championship that year, came in second at the Olympic trials, and went on to win the high jump at both the USA Indoor and Outdoor Track and Field Championships every year starting in 2017 (minus the outdoor meet in 2020, canceled due to COVID).
After qualifying for the Tokyo Olympics on Father's Day last month, she told USA Today, "The feeling is just amazing. I was looking at pictures of us over the years, I sent them to him and I was like, 'Happy Father's Day!' I know that making him happy makes me feel so good. I was blessed to have my family here and my dad—I'm happy it was on Father's Day."
And you know what they say about a father knowing best: When gyms all over the country shut down at the onset of the pandemic, Vashti was set because Randall built their own training facility near the family home in Vegas ages ago. (Though she does have her own place, 24/7 togetherness not entirely conducive to the best father-daughter bond possible.) 
Serhat Cagdas/Anadolu Agency via Getty Images
"I was hearing from a lot of athletes that it was difficult to find places to train," she told E! News. "Especially like with track workouts, it's not like we go and utilize every machine that's in, like, a normal gym. There's drills and boxes and hurdles—there's a lot of things. So it was really a blessing for my dad to have this idea years ago to build our own facility—and then something like [the pandemic] happens and we're really able to just be continuing on the path that we've been doing instead of having to look around for places. So it's been really a blessing."
And after earning bronze at the 2019 World Championships, held in Doha, Qatar, that fall, the unexpected extra year to get ready for the Tokyo Olympics ended up being exactly what she needed.
"I got a lot of time to actually rest my body," Vashti explained. "It was a really, really quick off-season, and I was like just a little nervous going in [to 2020]—not really nervous, but it was on my mind a lot, like, 'Wow, I haven't gotten any time off, I haven't gotten to relax,' and so that whole year happened, and I was able to take a lot of time relaxing and just regrouping and collecting myself, and I was also able to train."
Vashti added some running to the mix, competing in the 60-meter dash, the 100m, 150m and 200m at USA Track & Field's Back to the Track Series last August in Prairie View, Texas, before returning to her signature event in February in Fayetteville, Ark., setting her new indoor-best height of 6 feet, 6 1/2 inches. And then she "PR'd"—set her personal record, outdoors—at Chula Vista in May, sporting her now very lucky Hello Kitty ring.
"It ended up helping me in the end," she said of the pause in the action, "because I've never been more ready for a season than this season, and just more focused and more excited about a track meet, and about [having] so many meets. So I think that time off was beneficial for me."
When she isn't vaulting into the air using only her own powerful legs as springs, Vashti loves a vintage designer outfit (Vivienne Westwood is a favorite) and a well-cooked steak. Dinner at Ruth's Chris two days before a meet—"relaxing before the storm," she called it—is a father-daughter ritual she has no plan to give up anytime soon.
She buys 10 tubes of Chapstick at a time so, should she misplace one, she's got a new one at the ready, one of her skin-softening must-haves, along with vitamin E oil. And her ideal day would start with a smoothie or green juice, followed by reading her Bible, training and some light therapy, which is considered a mood booster. Then she'd head to downtown Vegas to her friend's clothing boutique to consult on his designs, and maybe head to a vintage store to sell a few pieces from her own sizeable wardrobe.
"Or I'm just home for the whole day," she added with a smile, because sometimes no plans are the best plans. 
Reflecting on how, more often than not, her mind tends to go blank during a jump (a not-uncommon observation among the high jumpers), Vashti said she's been working on becoming more aware in the moment—which isn't easy when the moment is over within seconds. She would usually listen to rap to get pumped, citing Kodak Black as a favorite, but lately, she's been lifting herself up in both senses of the word with worship music.
"High-jumping is definitely a very mental event, 'cause if you think about it," she explained, "there's no lane that you run between, you don't have guidelines. You kind of just have to know your approach and know where your plants are and everything. And that's just one part of it. That's just the first thing you have to do, speed, angle, arm—just everything. Everything plays a part."
Patrick Smith/Getty Images
Staying present is another challenge altogether, one that only recently she's been determined to rise above.
"Actually this year I've been starting to be more aware when I'm jumping, so that's like the growth that I was telling you," she noted, referring to how she's now able to tell her father about what she's experiencing during takeoff and mid-jump, and why.
"But it's a very true thing," Vashti said of the tendency for the mind to empty out for those pivotal seconds. "With high-jumping, it's like a moment of just quiet calmness when you're in the air, and you don't really know what happens...You roll over once you land and you look at the bar, like, 'Is it up?' And then sometimes it is—most of the time!"
And just in case the quiet calm wins out in Tokyo, there will at least be many eyes and many cameras to capture the moment for posterity. Not to mention, a medal around her neck will serve as perfectly sufficient proof that she got it done.