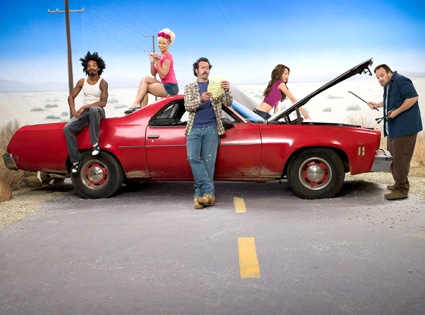 Mitchell Haaseth/NBC
Update, 3:21 p.m.: My Name Is Earl show runner Greg Garcia just emailed me directly, "Yeah, we're done. Couldn't make it work." Sad face.
All hope is lost for My Name Is Earl. The comedy series, which aired on NBC for four seasons, is now well and truly canceled.
20th Century Fox Studios just released a statement verifying that talks to take the show to TBS for 13 more episodes have fallen apart.
Why didn't it work out? Here's what we know:
According to Fox, "Greg Garcia's brilliant My Name is Earl kept America laughing for the past four seasons and certainly deserved to continue for many more. While we had hoped to find a way to produce additional episodes for TBS, in the final analysis we simply could not make the economics work without seriously undermining the artistic integrity of the series. As none of us, Greg included, want the show to go out on anything but a high note, we regret that we must put to rest any speculation that Earl will continue. We are grateful to everyone at TBS for their enthusiasm for the series and wish to offer our heartfelt thanks to the cast and crew of My Name Is Earl for their incredible work."
The news that TBS was not going to be Earl's knight in shining armor first appeared on Twitter. Star Ethan Suplee (aka Earl's brother Randy) tweeted last night: "TBS isn't TheBestStation for reviving Earl. Good news is I'm now available to play Shia Laboof's better looking brother in Transformers 3."
How do you feel about this development? Share your feelings and say good-bye to the Hickeys in the comments below...