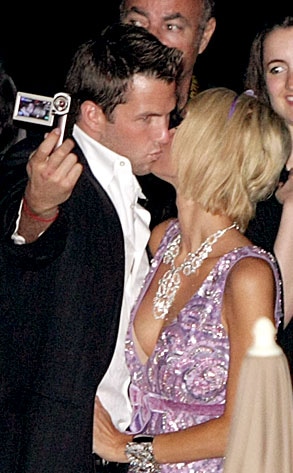 ANG/Fame Pictures
Are you all just dying that Paris Hilton and Doug Reinhardt have split? Despite the fairly certain marriage plans coming from both parties, we can't say we're all that shocked it's over (how many times has Paris gone through that bustup status?). After all, what future can two people really build off of sneaky bathroom get-togethers anyway?
Well, get ready for some major he-said, she-said drama about why the split actually happened:
Team Paris went on the offensive yesterday, confirming the breakup while Doug was still busy blabbin' that everything was "fine" between them.
Score one for Ms. Hilton.
One big theory from camp Doug is that she went psycho on his ass. Remember how we told you early yesterday that Brody and his crew (including Doug, too, we were later informed) were at Darkroom when a slew of skanks rolled in?
Apparently, Paris decided to pop in on "guys' night out" and was all but pleased about the scantly clad blondies vying for all the Hills dudes' attention. Sources at the bar tell us Paris was "a raving lunatic" and threw a "handful of limes" at the girl talking to Doug, shoving her against a wall.
Once the fight was broken up, Paris then started scratching and beating on Doug. He then called Paris a "f--king crazy bitch" before everything calmed down.
Don't mess with a Hilton scorned! Doug's friends hightailed it out of there, and Paris and Doug left at the same time to "figure things out."
Meanwhile, Paris & Co. not only deny this account—provided to us by Darkroom witnesses—but they also claim that she dumped Doug after realizing he was a "publicity hound," which left poor Dougy crying at her guarded gate.
Oh the drama.
Most likely, the fight at the bar happened, Doug realized he wouldn't get his picture taken, like, ever again if he didn't take Paris back and then she refused him. But that's just an Awful Truth-issued scenario, mind you! What's yours?
Either way, we hear that Nicky, Conrad, Barron and the rest of the Hilton clan are thrilled D is finally out of the picture. We told you forever ago how much they all hated him, and nothing ever changed.
So brace yourselves, all you eligible Hollywood bachelors because Paris is ba-a-ack. She already seduced Cristiano Ronaldo last night. We used to think he was hot, now not so much. Jeez, who's next? Lance Bass? I mean, come on, aren't gay men just about the only inappropriate man-field Paris hasn't mined yet? Oh, wait, totally forgot, she's already taken care of that arena, too! (Guess who, don't sue.)
Oh, and Ronaldo sure is humming a diff tune for a guy who was totally denying Paris shenanigans last summer. But hey, how many times can you pass up free sex? Either way, get ready for a long, mildly damp, debauched Hilton summer. 
Bet those Hilton fireworks don't even pop—girl's gonna be so saturated in rebound moistness come the Fourth.
—Additional reporting by Natalie Abrams