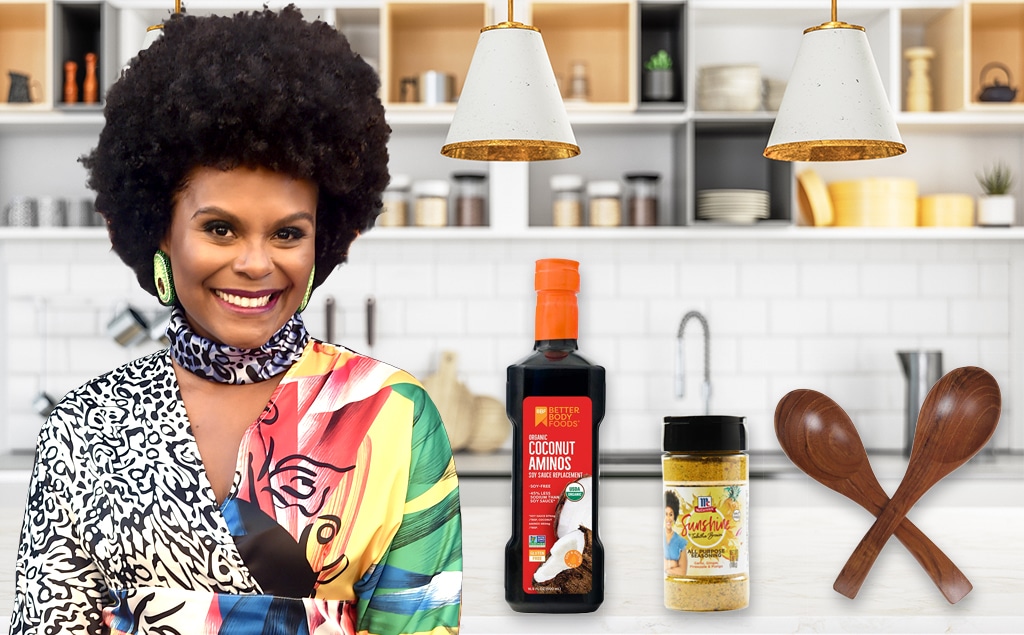 We interviewed this celebrity because we think you'll like their picks. Some of the products shown are from the celebrity's own product line or a brand they are paid to endorse. E! has affiliate relationships, so we may get a commission if you purchase something through our links. Items are sold by the retailer, not E!.
If we've learned anything over the past year while spending more time at home, it's that cooking doesn't have to feel like a chore nor does mealtime have to be boring. One person who has inspired us to make our meals more colorful and full of flavor is actress Tabitha Brown!
Whether she's showing her followers how to whip up a delicious vegan nacho dip or properly cut a jackfruit on her YouTube channel, "The Chi" actress has some pretty great tips for creating plant-based meals that the whole family will love.
"My kitchen is where I take care of my family," the vegan foodie explained to E!. "I cook for them and the rest of the world. It's place I go to help feed souls!"
Today, the actress took her love for cooking to a new level with the release of her very own spice with McCormick called the "Sunshine All Purpose Seasoning." The Caribbean-inspired blend will give an otherwise simple meal a flavorful kick thanks to a mixture of garlic, ginger, pineapple and mango. To no one's surprise, the highly-anticipated blend sold out within 39 minutes this morning! But you can sign up for a restock alerts here.
Although we will have to wait a bit to try out Tabitha's seasoning, the actress shared her kitchen must-haves to keep us inspired in the meantime. Scroll below for her picks!
Organic Coconut Aminos
"Coconut aminos help give a soy sauce, meaty flavor with a hint of sweetness to all my vegan dishes."
Always Pan
"Our Place pans never stick when I'm cooking and they are cute while we do it!"
McCormick Sunshine All Purpose Seasoning
Power Air Fryer XL 5.3 Quart
McCormick Classic Garlic Powder
Avocados
"Avocados really needs no explanation. Honey, avocado toast and guacamole, need I say more?"
Sheena Cooking Spoon
If you're looking to refreshen up your utensil arsenal, Tabitha does all her cooking with the Sheena spoon!
Kelly's Gourmet Vegan Cheezy Parmesan
"Kelly's Parmesan helps you realize you don't need dairy to have good cheesy flavors!"