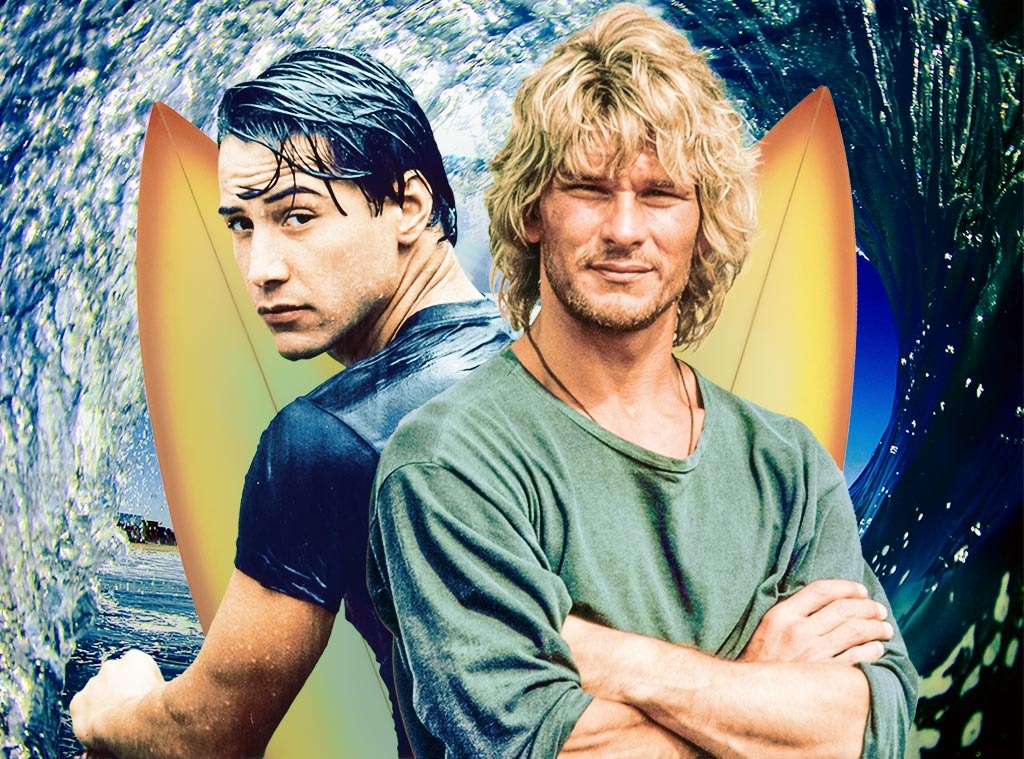 Shutterstock; Getty Images; Melissa Herwitt/E! Illustration
Kathryn Bigelow always admired classic action films and the directors, from Sam Peckinpah to James Cameron, who made them, stories with "high impact" and "emotional involvement."
She also said in a 2009 interview with the Los Angeles Times, "I love B-movies...There is a wildly chaotic rawness to them. And they're not self-important."
Is there a better way to describe Point Break?!
The original 1991 classic is easily the most-watched, most-quoted and most revered-by-the-masses movie (no offense, Best Picture winner The Hurt Locker) in Bigelow's impressive body of work, thanks to what in hindsight was a fairly magical combination of casting, timing and genre, a heist flick half in the ocean, a true L.A. story. 
Starring the late, great Patrick Swayze as a wisdom-spouting charismatic surfer who moonlights as a ruthlessly efficient bank robber and Keanu Reeves as the FBI agent sent to take him down but who can't help but get swept up in a wave of conflicting emotions, Point Break was a modest hit upon arrival. But thanks to VCRs and endless cable repeats, it became nothing short of a cultural touchstone.
Asked on a Japanese talk show what the theme of the movie was, a then 25-year-old Reeves replied in his soon-to-be signature meditative fashion, "I guess it's the breakdown and restructuring of a man and a belief system, and also the discovery of himself."
Added Swayze, then 39, "It makes a statement about our society, in the United States, of giving up on yourself and becoming part of a system rather than staying an individual."
Watch:
Keanu Reeves Almost Wasn't Keanu Reeves
Bigelow explained to The Guardian at the time, "It's a little more complicated when your good guy—your hero—is seduced by the darkness inside him and your villain is no villain whatsoever, he's more of an anti-hero."
And we took the task of breaking down the secrets of Point Break for you no less seriously. Prepare for the ultimate ride (but no need to pay the ultimate price):
But it all started on the beach in Malibu.
"You know, all of the time I run into people who are like, 'Point Break!'" Reeves said in a live conversation at the Toronto International Film Festival in 2017. "And I'm like, 'Yeah, it's great,' you know." The audience laughed. "And they're like, 'Yeah, yeah, yeah, but that's not what I meant!' And I'm like, 'OK, well, what do you mean?'"
They'd tell him, "'I started jumping out of airplanes because of Point Break, I started surfing because of Point Break.' It really changed people's lives, you know. Just like it did mine."