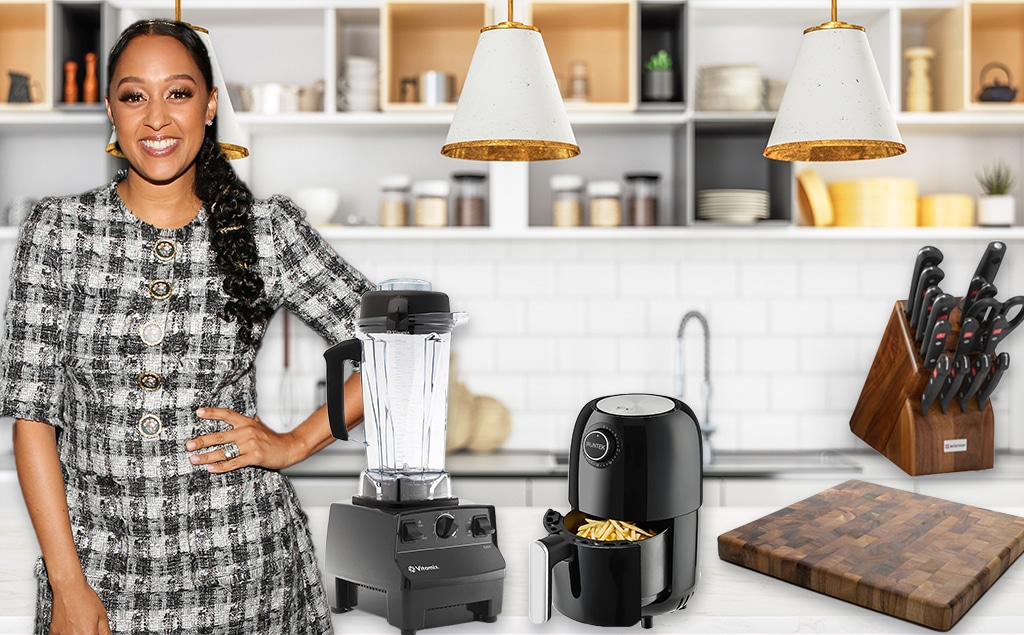 Getty Images
We interviewed this celebrity because we think you'll like their picks. Some of the products shown are from the celebrity's own product line or a brand they are paid to endorse.  E! has affiliate relationships, so we may get a commission if you purchase something through our links.  Items are sold by the retailer, not E!.
In the past year and a half, many people find themselves spending more time in the kitchen than ever before, finding more comfort and fun in cooking meals at home with and for their families. Actress, cook, and mom Tia Mowry is one of those people. The cookbook author told E!, "My kitchen is special to me because it brings everyone together! There is a lot of noise outside – whether it's anxieties or being overwhelmed by day-to-day activities – but when everyone comes together at the dinner table, you forget all about that, even if it's only for an hour or so. You can just focus on the laughter, sharing memories, and good, clean fun together!"
This summer, she combined her love for cooking and family time for a collaboration with LACTAID and Sesame Street. Through the partnership, Tia will share fun, dairy-filled recipes that are also lactose-free, including Elmo Overnight Oats, inspired by the iconic TV character. In addition to dishing on her love of LACTAID, Tia shared her must-have kitchen items below.
U Brands Magnetic Chalkboard, 30 x 20 Inches, White Wood Frame
"I refer to my chalkboard as my vision board! Every year, the family gets together, and we write aspirations and goals on the chalkboard. When we achieve a goal, we check it off. Any goals we did not achieve, we simply transfer to the next year!"
iRUNTEK Mini Compact Air Fryer
"I love it because it's a healthier alterative to frying foods. We air fry a lot of chicken in there and it's so quick and easy to use."
Delano Wood Square End Grain Chef's Board
"I have several [cutting boards] in different sizes and shapes. I love to buy thick, wooden ones as they are stylish but also practical. 
LACTAID Whole Milk, 64 fl oz
"Whether I'm cooking, making a smoothie, or just enjoying the classic pairing of milk and cookies, LACTAID Milk is always in my fridge. LACTAID is real milk, just without the lactose allowing my whole family to enjoy all the delicious benefits of dairy milk, minus the stomach discomfort."
Vitamix 5200 Blender Professional-Grade, Self-Cleaning 64 oz Container, Black
"I can make delicious smoothies and butternut squash in there as well as delicious sauces. I make a smoothie with LACTAID Milk every morning using my Vitamix."
Wüsthof Gourmet 16-Piece Knife Set
"I love this collection because each knife is very durable. The collection also has a lot of variety which is so useful."
The Quick Fix Kitchen: Easy Recipes and Time-Saving Tips for a Healthier, Stress-Free Life: A Cookbook by Tia Mowry
"My cookbooks are extremely purposeful and I love them all! They are truly my babies! My latest one, The Quick Fix Kitchen, comes out on September 28th and I'm excited for everyone to cook along with me."
Wolf Stove 48' Range Stove
"I love this stove because of all the burners it has. One of my favorite things to make on the stove is pancakes – yum!"
RH Farmhouse Wooden Dining Table
"My dining table is a place where everyone gathers, eats, laughs, and shares stories. This past Father's Day, my family gathered at the table to play Uno, eat chips and salsa, and catch up – it was so wonderful!"