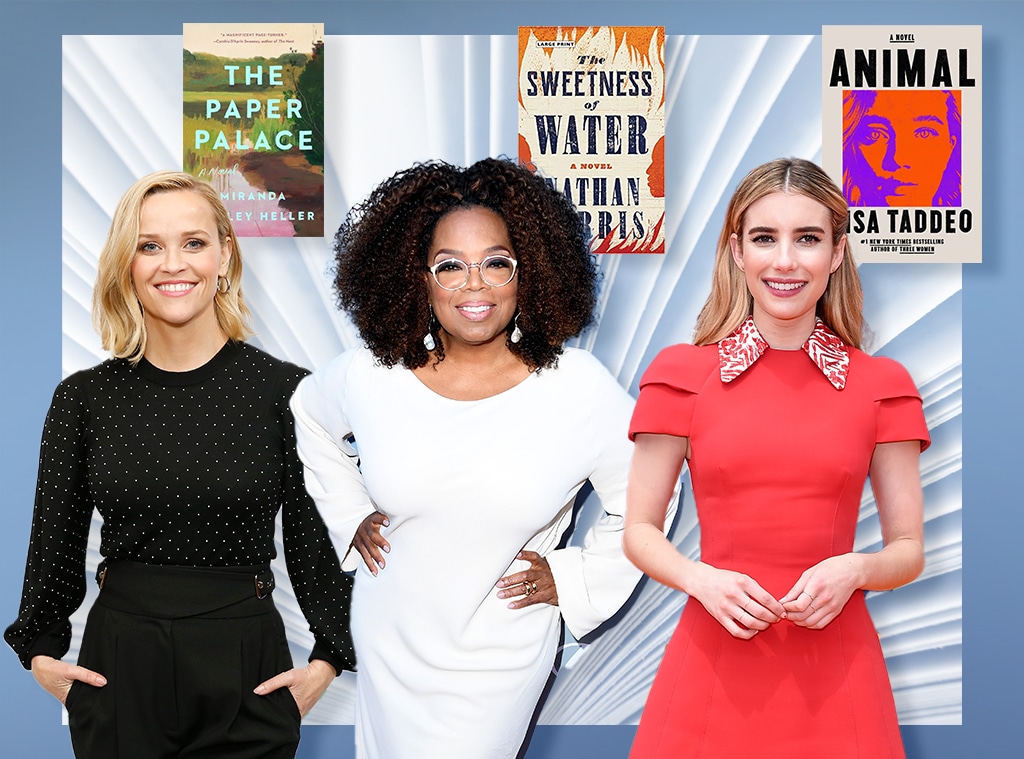 Getty Images
We independently selected these products because we love them, and we hope you do too. Shop with E! has affiliate relationships, so we may get a commission if you purchase something through our links. Items are sold by the retailer, not E!.
Summer is here, which means it's time to find an enjoyable book to read on the beach, in your backyard, in the comfort of central air conditioning, or wherever you enjoy spending time. With so many books to choose from, take the guess work out of researching your next read and just take a recommendation from your favorite celebs instead. This month, we are reading picks from Reese Witherspoon, Oprah Winfrey, Sarah Jessica Parker, Emma Roberts, Becca Kufrin, Emma Corrin, Jenna Bush Hager, and Gwyneth Paltrow.
The Paper Palace by Miranda Cowley Heller
"Are you ready for a summer love triangle?" Reese Witherspoon teased on Instagram before sharing that The Paper Palace is "a deeply emotional love story that follows one day in the life of Elle Bishop as she navigates the unraveling of secrets, lies and a very complex love triangle between her childhood best friend and her husband."
Reese confessed, "I was totally immersed in the fast-paced narrative that seamlessly wove together past & present. And ALL the beautiful details in this book are enough to pull at your heartstrings… every sentence is SO vivid and luxurious you feel like you're transported to a lakeside retreat in Cape Cod with a family you have known forever."
The Sweetness of Water by Nathan Harris
Oprah Winfrey shared, "My next Oprah's Book Club pick is The Sweetness of Water by Nathan Harris. The novel is set in the fictional town of 'old ox' Georgia at the end of the Civil War where we meet Prentiss and Landry, two brothers who have only known life as enslaved people. As they walk off the plantation where they've watched their mother be sold off, they now face a whole new set of problems. What will freedom look like? Where do you go? Who can you trust?"
Oprah added, "This is Nathan's debut novel and I'm thrilled to introduce him to you because you're going to grow to love him and his work."
Animal by Lisa Taddeo
Emma Roberts and Karah Preiss' Belletrist book club selected Animal by Lisa Taddeo for its July 2021 read. It's about a woman named Joan who has "spent a lifetime enduring the cruelties of men. But when one of them commits a shocking act of violence in front of her, she flees New York City in search of Alice, the only person alive who can help her make sense of her past." Belletrist also announced its partnership with the digital platform BookClub, to share interviews and other exclusive content.
Jews Don't Count by David Baddiel
The Crown star Emma Corrin's book Instagram, someb00kswotiread, selected Jews Don't Count by David Baddiel for the July 2021 book, describing it as a "hugely well written and fascinating account of the anti-Semitism continually sidelined by progressives."
People We Meet on Vacation by Emily Henry
Franchise: The Golden Arches in Black America by Marcia Chatelain
Sarah Jessica Parker described Franchise: The Golden Arches in Black America as "absolutely thrilling," adding, "This book a must read, my fellow readers." Marcia Chatelain's book investigates the "long, complex relationship between" Black communities and McDonald's.
The View Was Exhausting by Mikaella Clements
Gwyneth Paltrow's Goop selected The View Was Exhausting by Mikaella Clements to read in July 2021,  praising the book for its "major beach read vibes" in addition to sharing, "The View Was Exhausting is about an actress, Whitman (Win) Tagore, who is in the process of becoming famous. In an attempt to fix her image, Win's publicist sets her up on a date with a charismatic bachelor named Leo Milanowski. At first, perhaps it's just that: a seductive on-again, off-again relationship for media attention. But over the course of several years, it grows increasingly difficult for Win and Leo to pretend there isn't more between them."
Hell of a Book by Jason Mott
Jenna Bush Hager selected Hell of a Book by Jason Mott for her July 2021 read, telling her Instagram followers, "We meet a Black author on a book tour across contemporary America. In a parallel story line, we also meet Soot, a young Black boy living in a rural town in the recent past. These two storylines converge to tell a story about love and family… all as the reader is learning about a recent tragic shooting. Mott will have you weeping and in the same breath you will laugh out loud. An original book with the power to start important conversations about race and justice."
In case you missed it, check out June 2021 book club picks from Reese Witherspoon, Emma Roberts, Oprah Winfrey, Jenna Bush Hager, and more.