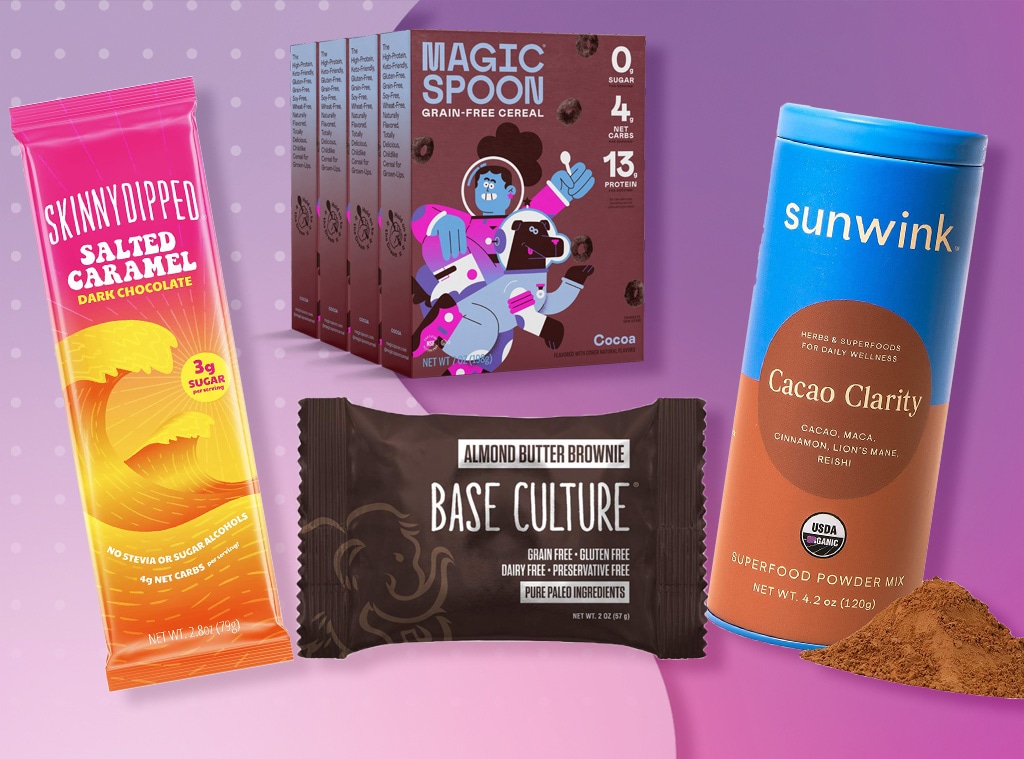 E! Illustration
We love these products, and we hope you do too. E! has affiliate relationships, so we may get a small share of the revenue from your purchases. Items are sold by the retailer, not E!.
Happy World Chocolate Day! 
No, we didn't make that holiday up to justify the candy bar we just had for breakfast as July 7 is really a day dedicated to globally celebrating the deliciousness that is chocolate because—fun fact alert!—it was on this date in 1550 that the product was first brought to Europe. Talk about a historic moment that really should be taught in school. 
So feel free to celebrate accordingly today, but just because you're indulging doesn't mean you can't do so mindfully. We've rounded up the best and healthiest offerings to help satisfy your sweet tooth morning, noon and night—'cause chocolate isn't a food, it's a lifestyle, one everyone can indulge in, whether they're keto or doing Whole30. 
Here are 15 treats that will have you feelin' chocolate-wasted all throughout the day.
Mush Dark Chocolate Overnight Oats (12-Pack)
Studies show there is no better way to start the day than with a Mush in one hand and a coffee in the other. Sure, that study may have been conducted in our kitchen, but that doesn't mean it's not true, especially when it comes to the decadent dark chocolate flavor, which has just six ingredients and will make you feel like you're eating dessert for breakfast a.k.a. your dream meal as a kid. OK, and as an adult, too.
Base Culture Almond Butter Brownie (10-Pack)
Sometimes self-care means dipping your brownie into a smoothie or breaking it up and putting it on your ice cream, which is what we love to do with this paleo treat. It's the drizzle of the brand's almond butter on top for us. (We also highly recommend snagging the Chocolate Chip Brookie when it comes back in stock because you should never have to choose between a brownie or cookie.)
Skinny Dipped Dark Chocolate Salted Caramel Bar (12-Pack)
Have there ever been four more beautiful words than "dark chocolate salted caramel"? Thank you, Skinny Dipped, for gifting the world with this bar of perfection that is keto-friendly, gluten-free and only has 3 grams of sugar. Plus, how Instagram-ready is the packaging? 
Lily's Sweets (3-Pack)
Bakers already know that Lily's is the go-to brand for delicious baking chips and bars with no added sugar and non-GMO ingredients. But snackers, did you know they also have peanut butter cups and a variety of chocolate-covered nuts to satisfy your sweet tooth? Yes, that was the sound of your stomach rumbling.
Gigantic! Candy Bars (8-Pack)
We double-dog dare you to try and pick a favorite flavor after sampling all four of Gigantic!'s goods: Salted Peanut, Banana Pecan, Hazelnut Cafe and Almond Horchata. The best part? Each bar contains just 7 grams of sugar and are entirely plant-based. Translation: Feel free to eat one at your dentist's office.
Siete Mexican Chocolate Cookies
Go on, stick your hand in the cookie jar before dinner because Siete's delicious new offerings are grain-free, gluten-free, vegan and made with almond and coconut flour. The flavor was inspired by the family-owned brand founders' fond memories of their childhood spent sipping Mexican hot chocolate made by their abuela, which is just as sweet as these cookies. 
Hu Kitchen Chocolate Chunks (3-Pack)
Oh Hu, we wish we knew how to quit you. Just kidding 'cause who else would give us our fill of delicious snacks with all legit and no added bulls--t ingredients? We're particularly fond of the cashews + vanilla bean and may or may not mix it into our popcorn. We live on the edge!
LÄRABAR Chocolate Sea Salt Fudge Brownie (4-Pack)
Fans of Whole30 know that LÄRABAR is a lifesaver when it comes to quick, easy and approved snacks on-the-go. And now the brand is offering up the perfect dessert option: A fudgy brownie created with hemp seeds and just six other ingredients, none of which are artificial, so the joy you'll feel while indulging in this treat is 100 percent real.
Vital Performance Chocolate Collagen Peptides
JoJo's Chocolate Bites (4-Pack)
Pro-tip: Stash these low-sugar and low-carb lil' guys in your bag to satisfy any sudden hanger attacks. The four flavors have something for everyone, including Goes Hawaiian: coconut and macadamia nuts; Original: pistachios, almonds and cranberries; Peanut Butter Delight: peanuts and sea salt; and Raspberry Dream: pistachios, almonds and raspberries.