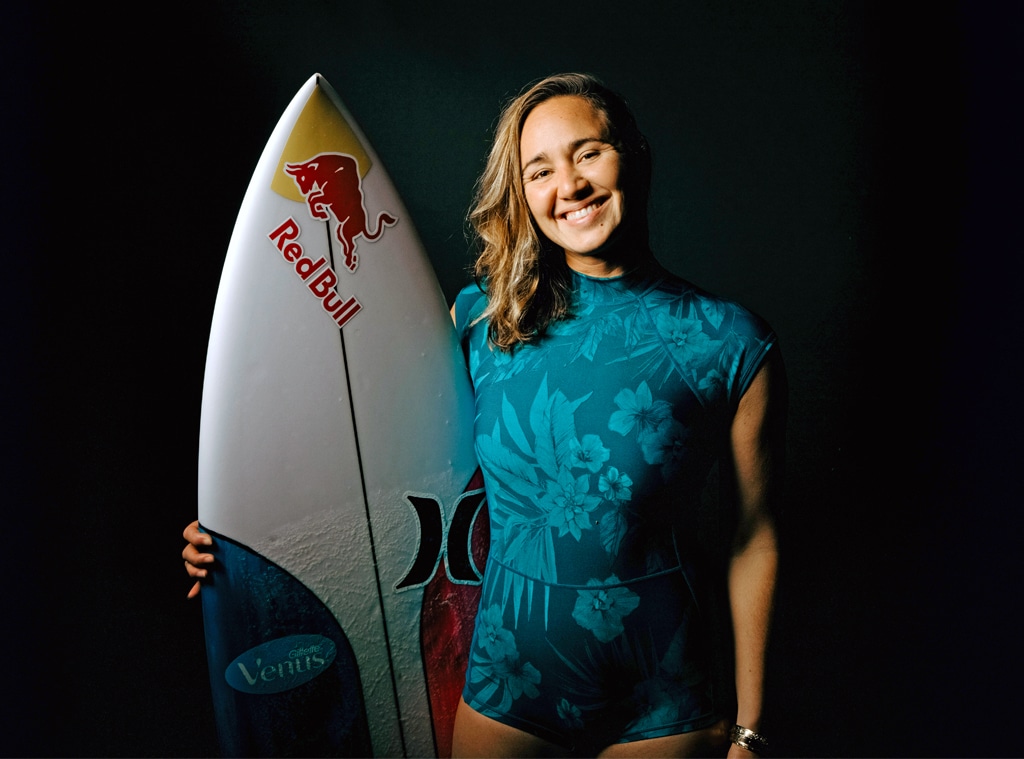 Red Bull Content Pool
This summer's Olympic Games will be featuring plenty of firsts.
Among the never-before-seen moments in our near future: Surfing is making its debut as an Olympic event, the wildly popular sport that has fueled many an Endless Summer dream finally getting its due on the world's biggest competitive stage in Tokyo—a year behind schedule but, as all the athletes who have been training pretty much their whole lives for a shot at gold would agree...
Let's do this.
"As a little girl it wasn't even on my radar because it wasn't a possibility," four-time (and reigning) world champion surfer Carissa Moore, who qualified for her spot on the United States' first-ever Olympic surfing team on Dec. 1, 2019, told E! News in a June 23 interview. 
After the International Olympic Committee voted in August 2016 to add surfing to the 2020 Tokyo Olympics, "that's when it really became a dream and something that I really wanted to strive for," said the 28-year-old from Honolulu. "Just the idea of being a part of surfing's debut in the Olympics and then being able to be a part of the Games— that's the main stage. That's sports, you know. There's been so many beautiful moments that have gone down in history at that event, so I'm really excited to be a part of it."
Hailing from Hawaii, Moore has been immersed in the world of competitive surfing since 2004, after she sat down with her father, Chris Moore, and they discussed whether she should take her favorite pastime to the next level.
"I give the credit to my dad," she said. "I think it was his belief in me, he saw the potential in me that made me believe in myself. It definitely took a bit of guidance and encouragement from him, and," she added with a knowing smile, "a little bit of push at times. I definitely knew I loved surfing and I loved the way it made me feel, but yeah, I think it was around 10, 11 years old when I had that serious conversation."
Chris, a lifelong surfer himself, told her he could see her going far and would love to help her get there, "and that was kind of the beginning," Moore said, recalling how her feeling at the time was, "OK, yeah, that sounds fun! I get to do something with you and you believe in me, great!"
He obviously had every reason to, and then some.
After racking up junior titles, in 2008 at the age of 16 she became the youngest-ever winner of a women's Vans Triple Crown of Surfing event, the Reef Hawaiian Pro. Three years later, she became the first-ever woman to compete in the guys' field—which she mainly did because, between 2011 and 2019, there was no women's division.
The women's Triple Crown returned last year—and Moore, who was inducted into the Surfers' Hall of Fame in 2014, won the whole thing. (Due to the coronavirus pandemic, the contest went digital, with competitors having between Dec. 21 to Jan. 15 to upload six videos: Two apiece from their rides at the three event locations.) 
Her next big stop was Australia in April, where she won the Rip Curl Newcastle Cup after two weeks of hotel quarantine.
"Puzzles, emails, shows, reading and being silly with my husband fills up the rest of the hours of the day," she wrote on her blog on day four. (Or was it technically five? she wondered hopefully.) "I've also strangely been enjoying the simple tasks of washing dishes, folding laundry, taking a shower, making the bed and cooking a meal. Most of the time, I feel like I'm running around and am not completely present when I'm doing these things. It's nice to slow down and do it with care."
Moore—who also was "beyond grateful" to have husband Luke Untermann whiling away the hours with her—gave a shout-out to longtime sponsor Red Bull, as well, for hooking her up with exercise equipment for the room, working out no small part of her stay-sane routine.
Cait Miers/World Surf League via Getty Images
She finished third at the Rip Curl Narrabeen Classic a couple weeks later, but maintained her No. 1 World Surf League ranking, still more than 9,000 points ahead of second-ranked Johanne Defay of France (who will also be making her Olympics debut).
All the while, with every wave crushed and milestone passed, Moore has been helping to build up her sport—one that may be a $10 billion business but still tends to call to mind bronzed dudes in Oakleys and Patrick Swayze pleading for that one last ride—for both her generation and those to come.
Lucas Gilman/Red Bull Content Pool
"I feel like there's no better time to be a woman in surfing than right now," she told E! "It's been incredible to watch the progression over the past 11 years just competing on the Championship Tour and...I really feel like the generation of women that I've grown up with has really continued to push and progress and challenge each other to take it to that next level.
"And look at where we are!" she pointed out. "We're going to the Olympics, that's so cool. I just feel like there's, yeah, a nice respect and camaraderie among all the girls, and a respect for the athleticism we all bring, which is really cool."
(And no small thing: In September 2018, the World Surf League announced equal pay for men's and women's events on the tour, then-WSL CEO Sophie Goldschmidt calling the move "a huge step forward in our long-planned strategy to elevate women's surfing.")
Speaking over FaceTime from her home on Oahu that she shares with Untermann and their dogs, who were snoozing in the background, Moore frequently flashed a 1,000-watt smile—and her face only lit up more when she talked about the sport that's been a part of her life since she was 5 years old, when her father helped her ride her first wave.
"For me, surfing is so many different things. It's my sport, it's my profession, but it's obviously my way of life," she explained. "My escape, the place where I just spend time with my husband and my family." And even though it's her job, one that generally entails getting up before dawn and requires an epic amount of sunscreen (Sun Bum SPF 70, FTW), "I definitely think it's still so much fun," Moore gushed. "It's still a huge passion of mine, I don't think it'll ever change."
In fact, an ideal day would start off with "jumping in the water, going for a surf," no looming competition required. To be followed by more physical activity, such as yoga or a hike. "I like to take our dogs for a beach walk or go skateboarding with them," she added, and then "a nap and eating good food." (She satisfies her sweet tooth with green tea or salted caramel ice cream, or the lemon crunch cake from nearby Diamond Head Market & Grill—or, her "go-to snack," a swirl of vegan soft serve from Untermann's shop, Banan, in Honolulu. "This macadamia-nut honey butter that they make is really, really good," she advised.)
And if that all sounds like the epitome of chill... That's because it is. It may be that surf life talking, but it's how Moore chooses to roll, whenever possible. Even the life-plan-rattling news last March that the 2020 Olympics were being postponed for at least a year, she took in stride.
Ben Thouard / Red Bull Content Pool
"I was still kind of in chill mode at that point," Moore recalled, looking back to that day, which already was five months after she'd qualified for the Olympics, clinching her fourth world title and her spot in the Olympics simultaneously.
"I try to do my best to pick it up at the right time so you don't burn out, you know," she explained, noting that she had already planned to lighten her schedule so she could focus on Tokyo. "So it was still March, and March is a fair way away from July, so I was still in cruise mode and when they're like, 'OK, it's off!' I was like, 'Alright, well, I guess I'll keep cruising!' Cruising, for me, is I still surf every day, I still train a few times a week. It was more just like mentally not putting that pressure on myself. But I was able to kind of surf when I wanted, hang out with the dogs when I wanted…"
The time off "wasn't horrible," she admitted. "I got to have another year and a half to prepare, which is always good."
Watch:
Ryan Lochte Fails to Qualify for Upcoming Tokyo Olympics
But she also noted that having her spot on the Olympic team locked up way in advance made all the difference in the world.
"I couldn't imagine being an athlete that hadn't qualified yet!" Moore exclaimed. "That would have been horrible! Horrible to have to sit with that, not knowing, "OK, when are the trials? When do I have to be ready? When do I have to be in tip-top shape?' It was a huge weight off my shoulders to know, OK, I already did my job, I'm already qualified, all good."
Not that Moore, who radiates warmth and good vibes, is always in cruise control. As has become more apparent in recent years as athletes have felt more comfortable opening up about the less-ideal aspects of their lives, pressure, doubt and issues with confidence and body image affect even the most decorated athletes in the world, and Moore has had her share of internal struggles.
Lucas Gilman/Red Bull Content Pool
"It's a constant battle, body confidence, self-confidence," she told E! "I don't think it'll ever stop, it'll always be a challenge at times. I think one of the things I try to remind myself is, 'Hey, there's not one specific mold that we need to fit. We are all beautiful and unique, and there's things about us that make us special and different that should be celebrated.' So I try to remind myself that."
And while it seems impossible to watch Moore carving up a wave or landing an air reverse (aerial moves will be on tap in Tokyo) and do anything but admire her physique, she didn't always see herself in the same light.
"I also try to remind myself like, 'Hey, this body allows me to do what I do,'" Moore said. "I may not have a six-pack but I have really strong legs that allow me to push and be powerful and push more water. I have arms that allow me to paddle super fast. I can endure a full day of surfing because of this body, you know? So I try to just look as a positive at my strength. I don't know, I kind of look at it too as, everyone has their own insecurities. We all have things that maybe we don't feel the best about. And that's OK."
One of the mottos she abides by these days, she shared, is "It's progress, not perfection."
"Just, 'Hey, if I'm getting better every day, that's awesome,'" she explained. "It's never gonna be perfect, there is no such thing as perfect, but if you can make yourself a little bit better and know that, 'Hey, I'm in the process, this is a journey'—I think that's a nice way to look at it that takes the pressure off."
So, not too surprisingly, when asked what advice she might have for a 10-year-old girl who's venturing into surfing or any competitive sport, Moore offered, "Don't be so hard on yourself."
After all, she speaks from experience. "I'm still extremely hard on myself," she said, "but laugh a little bit more, have a little more fun. Take the time to celebrate other people's achievements, too. Even if you don't do as well as you'd like, you feel good about celebrating other people and lifting other people up. And I think that's a really beautiful thing. I think a lot of the time in my younger journey, I was so focused on myself and so focused on doing what I needed to do, that I at times lost the joy. And the joy comes from sharing it with people."
Nathan Congleton/NBC/NBCU Photo Bank
Speaking of which, with surfing being one of the most individual, self-reliant sports around, getting to compete as a team, as countries do at the Olympics, is "kind of a foreign concept almost," she admitted.
Of course, she'll also be competing against her teammate, 19-year-old Caroline Marks of Florida, who's No. 6 in the world and the second-ranked American, and totally wants to beat her. "She's one of the best in the field," Moore said of Marks (who in an appearance on Today quickly named Moore as her biggest competition). But, "if it doesn't work out [for me] and she's still in, hey, it'll be great to step up and cheer for her, you know?"
And since due to super-strict pandemic rules they'll be going to Tokyo with a bare-bones crew (which means her husband—the one thing Moore said she'd otherwise never travel without—won't be along for the ride), "it'll be a really good time for us to connect and bond," she said.
Rounding out the United States' first-ever Olympic surf team are John John Florence of Hawaii, who edged 11-time world champion Kelly Slater for the spot, and Kolohe Andino—who's from California, but his name means "rascal" in Hawaiian.
Matt Dunbar/World Surf League via Getty Images
Plans to take it a little bit easy aside, Moore did plan to spend more time ahead of the 2020 Olympics (which is still the official year for the ready-and-waiting record books, despite the actual kick-off date of July 23, 2021) getting to know the waves at Tsurigasaki Beach, the official surfing venue, located about 62 miles away from the Olympic Stadium in Ichinomiyaon on the eastern coast of Japan.
"I actually haven't been to the Olympic venue at all," she told E!. "But I did in 2019 go and surf at a place called Miyazaki, we competed in the ISA [World Surfing] Games there, so I did get a little bit of a feel for the ocean and how the swells kind of break there and stuff. So I'll do my best to adapt to the venue."
In their landmark inaugural Olympics, the surfers will be awarded points based on five criteria: Commitment and difficulty; innovation and progression; variety; combination; and speed, power, and flow.
Heats don't begin until July 25 (wave conditions obliging) but the team is flying out 10 days beforehand, "so I'll be in need of content," she quipped as she shared that her last streaming binge was Peaky Blinders (and E! heartily recommended she add Ted Lasso to her queue).
The competition will unfold over four days and, when the points have been tallied and the medals handed out after what will be the most unique Olympics in recent memory as far the mental toughness required to stay focused amid all the global upheaval goes... does Moore have a vacation planned?
"Actually, it's kind of a grind until September," she said, "because our championship tour picks up back again, we go straight to Mexico, then Tahiti, and then California."
Not bad work if you can get it, though, right?
"It sounds pretty nice," she agreed, beaming. "I'm looking forward to it."