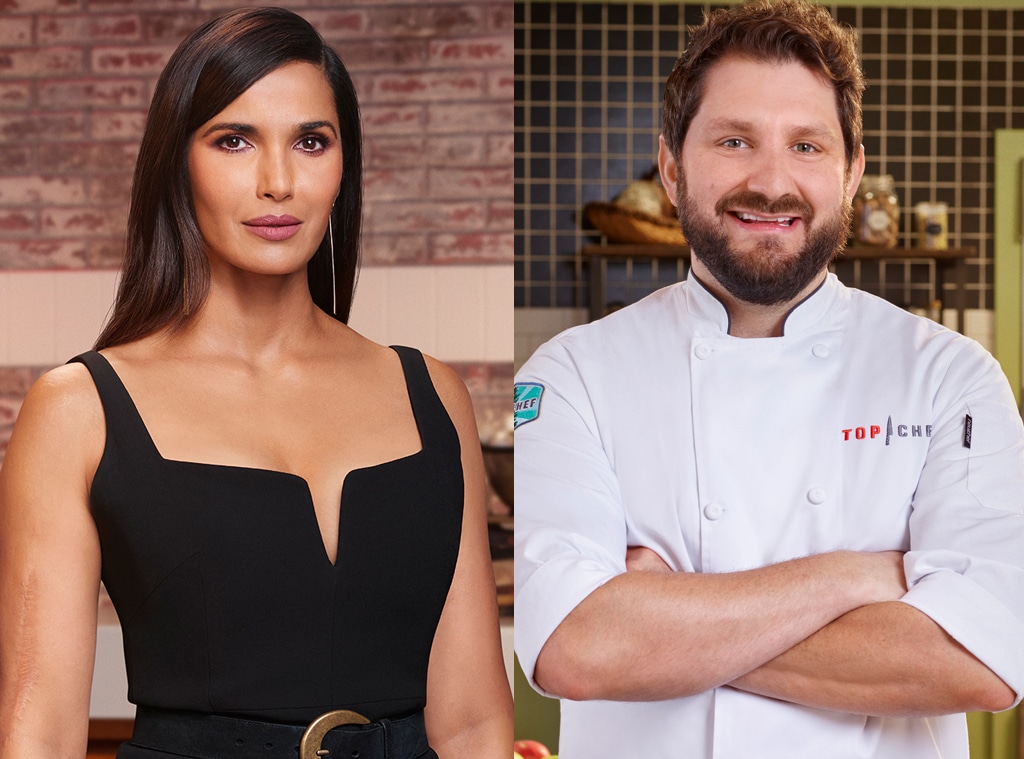 Stephanie Diani/Bravo
Not everyone is celebrating Top Chef's latest winner.
On Thursday, July 1, Bravo's hit series came to an end when Gabe Erales beat out fellow contestants Dawn Burrell and Shota Nakajima and received the $250,000 cash prize in the season 18 finale.
After the episode aired, however, some viewers brought up a December 2020 report that claimed Gabe was no longer working at a restaurant due to "repeated violation" of company policies. Top Chef host and judge Padma Lakshmi appeared to address the controversy in two social media posts.
"As someone who has been sexually harassed, this topic is a serious one and merits openness," she wrote on Twitter. "We filmed Top Chef in October of last year & were not aware of the allegations now coming out about Gabe. This should be investigated & the network should consider its best action."
Padma added, "To be clear, no one has alleged sexual harassment on the record or otherwise to Bravo/Top Chef and we judges didn't have any indication of inappropriate behavior from Gabe during his time on set."
On July 2, a source close to production told E! News, "The production team looked into Gabe's behavior on set and found no indication of anything inappropriate. There have been no official reports of allegations against Gabe." Bravo declined to comment.
Watch:
Padma Lakshmi Gushes Over Yummy "Top Chef" Foods
Back in December, the Austin Chronicle confirmed that Gabe was no longer working with acclaimed Texas restaurant Comedor.
"Comedor Executive Chef Gabe Erales is no longer with the restaurant due to repeated violation of our policies and for behavior in conflict with our values," Comedor's co-owners announced in an email via Austin Chronicle. "In his absence, Chef and Comedor partner Philip Speer will be helming the kitchen. After the New Year, we will begin the search for a permanent replacement."
E! News has reached out to Gabe for comment and has not heard back. Any specifics about his alleged misconduct were not given in the December report.
On July 2, however, Gabe spoke to Austin American-Statesman to clarify the allegations against him and his departure from the restaurant.
Gabe told the outlet that he had a "consensual sexual relationship" with a female staffer at Comedor during the summer 2020 and later cut the woman's hours after returning from Top Chef filming due to an alleged decline in her performance. However, Philip told the publication that he did not deem the staffer's work as a sufficient reason, leading to Gabe's firing for alleged violations of company policies relating to "harassment of women."
"After I returned from Top Chef, I made some business decisions as a manager that affected this employee and were found to be discriminatory and I realized that those were bad decisions," Gabe told the publication. "I've spent the last six months really reflecting on these mistakes and taking the necessary steps to be a better husband, a father, a chef and a leader, through therapy, through spirituality."
For many loyal fans, they are used to seeing Top Chef finalists and winners appear on Watch What Happens Live following the finale episode. Many viewers commented online that Gabe was noticeably absent from the July 1 episode.
But according to a source close to production, Top Chef doesn't always have past winners on post-finale episodes. This year, Watch What Happens Live chose to have Padma along with fellow judges Gail Simmons and Tom Colicchio to mark the season finale instead of the three finalists.
(E! and Bravo are part of the NBCUniversal family)