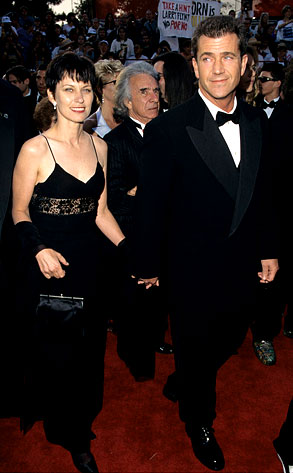 Steve Granitz Archive/Getty Images
Mel Gibson's soon-to-be ex-wife doesn't want anyone peeping at her payback.
Robyn Denise Moore-Gibson has been granted a request to keep the details of the dueling couple's divorce case confidential.
The protective order covers expert witness reports, tax returns and financial records, as well as videotaped depositions and other family-related material. Team Mel backed the move, which also prevents the Gibsons from discussing the case publicly.
In other words, we won't be privy to all the details, like how much the star is actually worth—reportedly upward of $900 million—and how much his missus is requesting to keep for herself.
The pair signed the agreement in April, but it was not granted by Los Angeles Superior Judge Frederick Shaller and filed by the court until June 5.
Robyn initially filed for divorce from her husband of 28 years in April, admitting that the two had been living apart for nearly three years. Gibson's current girlfriend, Oksana Grigorieva, is pregnant with the actor's eighth child.
________
Follow us on Twitter @eonline!