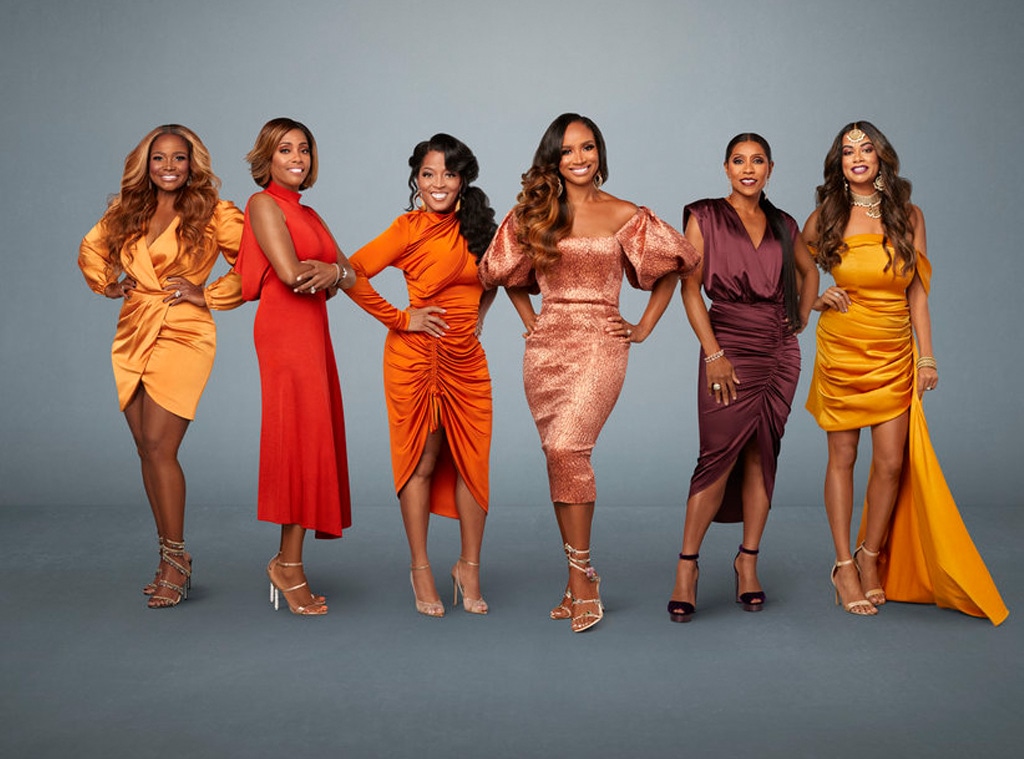 Quantrell Colbert/Bravo
This weekend, the doctors are prescribing a giant dose of Married to Medicine.
After much anticipation, Bravo's hit series is back for part two of the reunion show where host Andy Cohen will continue to look back on another unforgettable season.
While previews show Dr. Contessa and Dr. Scott's marriage taking center stage, Dr. Heavenly believes that's only part of the reason why fans should tune in.
"I think it's a great ensemble cast," the dentist and Heavenly Beauty Supply owner exclusively shared with E! News. "I think that we're real friends. We're really married. We got kids so there is always some kind of drama…I mean, we just have so much to give." 
And while some shows on reality TV showcase cast members that really don't like each other, Dr. Heavenly is the first to admit that the Married to Medicine crew is a true sisterhood. Well, for the most part.
"I think that we just really love each other," she shared. "Even the people that I don't really speak on the regular. If they called me tomorrow, I would do anything for them. It's just an unspoken love for them."
Not everything, however, is peachy for this Atlanta cast. Before part two kicks off on Sunday July 11, E! News gleaned some inside details about what's to come from original cast member Dr. Heavenly. Buckle your seatbelts for a wild ride.
E!: Can you tell us how long and stressful these reunions are to film?
Dr. Heavenly: Oh my goodness, it is kind of stressful in a sense that you have to do so much in such little time…It was exciting. It was the first time the husbands stormed the stage. I love Contessa and Scott and I hope that their marriage continues forever, but it seems like he didn't know that they were separated, or he knew that they were separated, but I think he thought she wasn't going through with it. It was kind of interesting how that played out.
E!: Your husband Dr. Damon was unable to attend this reunion, but what can we expect from the men when they take the stage?
Dr. Heavenly: I think they had a man code a little bit. Dr. Eugene basically held Scott to the fire that you cannot have women with pictures in your phone or DM. And like he said, all the men get inappropriate pictures in their phones or their social media. The thing about Dr. Damon's social media is that I run his social media. He's not on social media so I check them hoes right when it started. If you play with them, it just leads to things you don't want. These women are thirsty and looking for any reason to put you out there.
E! Do you think fans are going to get some answers or some clarity from Dr. Scott in the episodes to come? 
Dr. Heavenly: I think everybody's confused and in season nine, I think we can get some answers.
E! You have really rallied around Dr. Contessa. What is your hope for her and her marriage going forward?
Dr. Heavenly: I think that I speak for everyone when we say Contessa is one of the most beautiful, educated, most compassionate people that we know. Our hearts go out to her because we just want her to be happy. I know she is all about family and her kids. But like Toya and so many other people said, your kids want to see you happy so at the end of the day, I want my friend to be happy. That's all.
E!: Can we talk a little bit about Lisa Nicole and Kari returning this season?
Dr. Heavenly: I don't give a damn about them so really, no. They did not come to the reunion. There is no reason to talk about them. I can't think of anything about them. They weren't in the reunion so what is there to talk about?
E! Are you happy that Quad is still part of the show after her divorce?
Dr. Heavenly: Absolutely. I say it all the time. I think there is a youthful energy she brings to the show and I love her. We love her. The show would not be the same without her. And I just think that she's so intelligent. She's so well spoken and I missed her the first half, but the second half she came with fire. She should be, if I had anything to do with it, she should be cast in this season, next season and seasons to come.
E! In the previews, Dr. Simone and Dr. Jackie appear to have a fight. What's going on with them?
Dr. Heavenly: The tease is I don't think they got any closure. Simone is stubborn and I just think that Jackie does not know what she did. If you don't know what you did and someone's not reaching out to you or speaking to you, what can you do? At some point, you give up. It's been years and I will say this: I did not have anything to do with the breakdown of their friendship. People can put that out there, but I really tried to get them back together. That was true, but I can't bring two grown ass women back together that don't want to be together so I'll just leave it at that.
E!: Who are you closest to in the cast or would remain friends with regardless of what happens with the show?
Dr. Heavenly: Dr. Jackie! I trust her with my life. I will give her my left lung. I'd give her my last dime if she needed it...Dr. Jackie has been solid. She's truly compassionate. She's a wonderful doctor and I'm just excited about her growth. She's doing amazing things and I'm so proud of my sister. 
E!: Fans see you hanging out with Porsha Williams. Would you ever be part of The Real Housewives of Atlanta?
Dr. Heavenly: Whatever God has for me, he has for me. I think that Porsha is a wonderful, bubbly person to be around. I just really like her... All I want is my friend to be happy. That's all. 
E!: Anything else you'd like to tease before part two and three? 
Dr. Heavenly: I think Toya is delusional and I think she probably was drinking the whole time she was doing the scenes, so she really doesn't remember what happened so she can't be held accountable for things she does not remember.
Married to Medicine returns Sunday, July 11 at 10:15 p.m. on Bravo.
This interview has been edited and condensed for clarity.
(E! and Bravo are part of the NBCUniversal family)