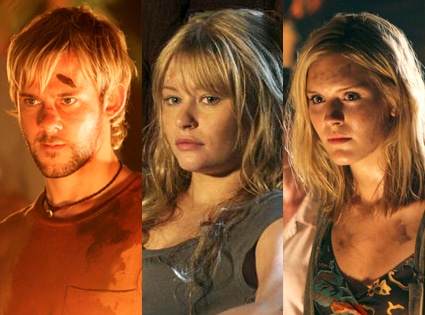 ABC
Update, 3:36 p.m.: For the record, the source of the original report has retracted, saying, "LOST Correction: The source of the Lost casting rumors turned out to be false. I apologize for the inaccurate posting." And now he's nuked his whole Twitter! That sure tells ya somethin'...

And so it begins! The rumors about the shape of Lost's sixth season have begun to circulate, and the first one is juicy!
Writer-inner Minty tells us that noted Lost blogosphere denizen Pacejunkie discovered this guy, who tweets, "Lost Scoop: Charlie (Dominic Monaghan) returns for 4 episodes, Clarie (Emily De Ravin [sic]) for full-season, Shannon (Maggie Grace) for 6 episodes!"
Could it be true? Is Shannon coming back? And could Dom be returning to Lost for a guest gig as well as appearing on new ABC series Flash Forward? We've checked with all the authorities, and here's what we're hearing...
twitter.com/HollywoodAsst
First off, according to sources close to the show, "No deals have been made yet." For that matter, the writers don't get back to work until mid-July, and production begins in late August, so it's entirely possible that everybody in Lost history will rise from the grave for season six (oh, hello, zombie Nikki), but at the moment, all such happenings are still barely a glimmer in Damon Lindelof's eyes. To be clear, they have a plan, they're just not tellin' anybody what it is yet.
Now all that said...
As everybody has known for years now, Emilie de Ravin's Claire was gone from season five but will return full-time in season six to confront friendly babynapper Kate and maybe hang out with half brother Jack or chat up ghost dad Christian. Good times!
What about Shannon? As much as we would all love another return visit from poor dead Shannon, Maggie's people tell us that news of Shannon's resurrection on Lost is news to them—as far as they know, it's not happening.
As for Charlie Pace, Dom's reps tell us, "He might or might not be back on Lost...You'll just have to stay tuned." Relations between team Dom and team Darlton seem fairly good, so we're not just going to stay tuned, we're going to cross our fingers and pray that dead rock star Charlie comes back just long enough to see Claire and Aaron get on that helicopter and escape the Island, fulfilling Desmond's vision. We think that would make dead rock star Charlie happy.
Rebecca Sapp/Getty Images
On a related note, we caught up with Rebecca Mader (Lost's Charlotte) last night at the True Blood premiere and asked about prospects for a return visit to the set. She told us exclusively: "Let's face it, with Lost anything is possible. Never say never with Lost. I'd go back! There's no hard feelings, you know; I had the best time, the time of my life. It was the role of a lifetime. If they wanted me to come back for a couple of episodes, there'd be smoke coming off my heels coming back..."
Now, what do you think? Given that season six is going to be our last ever with the Losties, which long-departed characters do you most want to return? Vote in the poll below and then tell us why in the comments!
(Note: We're leaving Juliet off the poll just because we're like Brezhnev-era Pravda and are perfectly pleased to promulgate the party line that her fate is up in the air.)