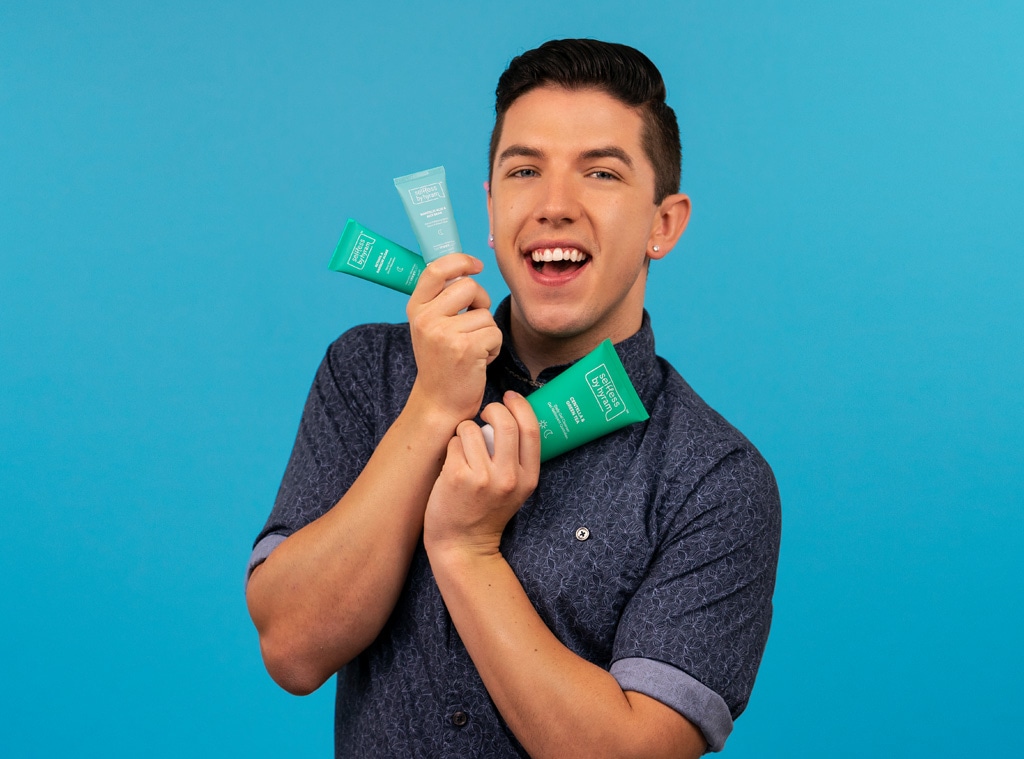 Selfless
We interviewed this celebrity because we think you'll like their picks. The products shown are from the celebrity's own product line or a brand they are paid to endorse. E! has affiliate relationships, so we may get a commission if you purchase something through our links. Items are sold by the retailer, not E!.
It wasn't until last summer that my attitude towards skincare changed. Before coming across "SkinTok," the skincare-obsessed side of the video sharing app TikTok, my skin felt like a battleground and I was losing hope that I would never be able to look in the mirror without being met by the sight of irritated, blemish-prone skin. However, after discovering @Skincarebyhyram on TikTok, all hope was restored.
Between reacting to celebrity skincare routines and giving candid reviews on cult-favorite skincare brands as well as sharing his own inspiring skincare journey, Hyram Yarbro has amassed nearly 7 million followers on TikTok and over 4.5 million on YouTube. The Hawaiian native is basically the internet's go-to authority on skincare. If you had trouble tracking down CeraVe products over the past year, Hyram's viral videos are likely the reason. 
When it was announced earlier this year that Hyram would be releasing his own skincare line in partnership with The Inkey List, a brand we fell in love with per Hyram's recommendation, you could only imagine my excitement. Luckily, E! was able to catch up with the skincare guru to get the scoop on all things Selfless by Hyram, plus how his affordable skincare line is helping enact social change. And most importantly, we put his products to the test to see if they live up to the hype. Spoiler alert: My skin is glowing already!
E!: What inspired you to partner with The Inkey List and create your own skincare line?
HY: When I started my channel, I was faced with the question of, "Are you going to come out with a skincare line?" a lot, and I really didn't know because I didn't know if there was something new and unique I could contribute to the industry because unique formulas or products wasn't enough for me. I needed it to be revolutionary, and really offer something of value and completely different to the industry. It wasn't until I realized that I could combine my passion for social change and making the world a better place with creating products that could direct a measurable social impact on some of the world's most pressing issues. 
Selfless by Hyram Centella & Green Tea Hydrating Gel Cleanser
We've been using this cleanser for a week and probably won't use another cleanser ever again! In addition to cleansing and calming skin with centella and green tea, this cleanser creates the perfect canvas for the rest of our skincare routine. We love how it not only helps get rid of makeup and impurities, but it doesn't leave a film-like feeling on skin.
E!: What do you want people to feel when they use your products?
HY: I want them to experience two different emotions. The first is a sense of assurance with prioritizing the health of the skin more than anything. In the skincare industry, it's so easy to set unrealistic expectations for ourselves like wanting instantaneous results, fast-acting products and for our skin to always be it's best 24/7.
We tend to overlook the skin as an organ that needs nurturing. When using my products I hope people feel like they're nurturing and taking care of the health of their skin because by prioritizing skin health, that removes those unrealistic expectations. It removes the the expectations of perfect skin, dramatic results many of which can you know be unhealthy for the skin in the long run. By prioritizing skin health it's all about self-care, self-assurance, and it's embracing yourself rather than holding yourself to an impossible standard.
Selfless by Hyram Retinol & Rainbow Algae Repair Serum
With a blend of rainbow algae, squalane and 0.2% retinol, this serum aims to reduce the appearance of post-acne marks and post inflammatory hyperpigmentation. Not only does a little bit of this serum go a long way, we've already noticed a positive shift in our skin's texture.
E!: What skincare trends or techniques do you wish people would stop doing?
HY: The biggest mistake I see in people's skincare routines isn't necessarily a stop-doing but a start-doing. A lot of people who don't wear sunscreen will use really harsh treatments, exfoliating masks, retinol products, and be doing incredible stuff for their skincare routine, but won't be using a sunscreen. And it's such an important part of the skincare routine because sun damage can cause so many different concerns that we want to avoid, prevent and repair when it comes to using skincare products. I understand that for a lot of people it can feel like a chore and just not very enjoyable, but it is one of those things that is is necessary. It's only a matter of time before you find the sunscreen that really, really works for your skin.
Selfless by Hyram Mandelic Acid & Rice Bran Gentle Exfoliating Serum
If you've seen Hyram's videos, you know using physical exfoliating methods can do more harm than good to skin. This serum gently exfoliates thanks to a mix of mandelic acid, PHA and salicylic acid to reveal brighter, radiant looking skin without irritating the skin's barrier. 
E!: What is your favorite skincare ingredient?
HY: Niacinamide is definitely my favorite ingredient. Niacinamide is that girl that is just best friends with every friend group. You can just hop from every skin concern, whether it be fading dark spots or reducing sensitivity, oiliness or sebum production, working well with actives, supporting the moisture barrier, there's just an endless amount of benefits to niacinamide, and it's well tolerated by people with even the most sensitive skin.
Selfless by Hyram Niacinamide & Maracuja Daily Support Moisturizer
With maracuja, murumuru butter and niacinamide, of course, this lightweight moisturizer is the perfect way to top off your skincare routine. It leaves skin feeling smooth and less oily while promoting the skin healing process.
E!: How did you incorporate your passion for social change and love for the environment into Selfless by Hyram?
HY: The thing that makes me so happy and drives me when it comes to this brand is knowing that people will be able to go to the store, pick up the product, purchase it and know that they are the reason one person is provided with clean drinking water around the world. Or they are the reason that acres of rainforests are protected from deforestation. I think that knowledge is so powerful. And more than anything, I want this skincare brand to be a representation of each of our individual abilities to make a bigger impact on the world, just by doing so as something as simple as taking care of our skin. And I hope it shows people that you don't need to be the next Greta Thunberg, Malala and Nelson Mandela in order to make the world a better place. You can do it by making small daily actions, and for this specifically, through your skincare routine.
Selfless by Hyram Salicylic Acid & Sea Kelp Pore Clearing & Oil Control Serum
Give your pores a detox with this multi-tasking serum! The blend of sea kelp, niacinamide and salicylic acid will help to decongest pores and reduce oiliness in addition to calming redness.
E!: Lastly, what does your self-care routine look like?
HY: I love skincare. It's definitely my time to unwind, but being that it is kind of my life and career, I sometimes need a bit of a break from always talking and thinking about skincare 24/7, as we all need breaks from what we love doing. And so the way I practice self-care is I'll go on a drive and just listen to music. It forces me to be completely away from my phone. It allows me to just enjoy the views of Hawaii listen to music and almost meditate. Also, going to the beach or going on hikes are definitely self-care for me because it gets me out into nature and reminds me of the bigger world of things going on.
To shop Selfless by Hyram, head over to Sephora and add the entire collection to your cart ASAP!