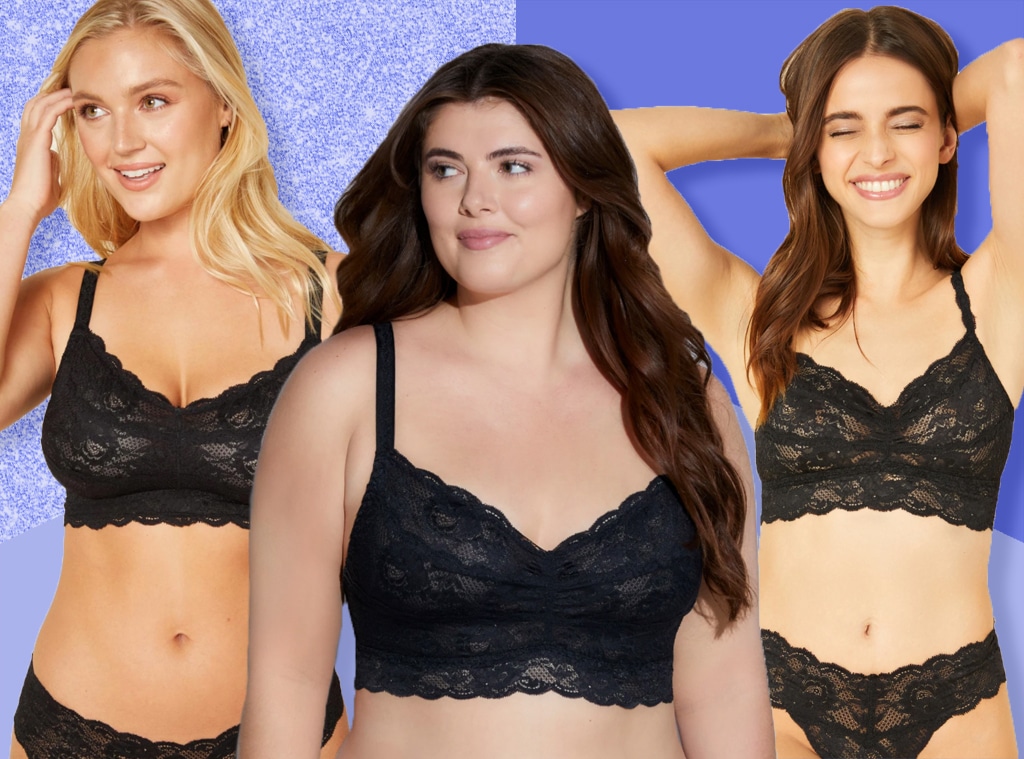 E! Illustration
We independently selected these products because we love them, and we hope you do too. Shop with E! has affiliate relationships, so we may get a commission if you purchase something through our links. Items are sold by the retailer, not E!.
Every woman has a different connotation with the word "bralette." Many revel in the idea of freely wearing a bra without underwire. Some women with smaller chests prefer the boost of a conventional bra. Women on the curvier end may laugh at the idea of a bralette providing substantial support.
It's human nature to make those generalizations, but, just like every body is different, so is every brand, and every bralette, for that matter. Recently, we had three women with different body types try out a version of Cosabella's Never Say Never Sweetie Bralette. The brand makes this style in Standard, Petite, Curvy, Ultra Curvy, and Extended size ranges, with each catering to specific needs to suit each body type. Keep on scrolling to see how our experiment went and why this is possibly the "be all end all" of bralettes.
Tester 1
Age: 40s
Body Type: Plus-Size
Product Tested: Cosabella Never Say Never Extended Sweetie Bralette
Review: I must admit, I was skeptical that what looked like a flouncy bralette could support my plus-size assets. I'm happy to report that Cosabella proved me wrong.
Cosabella's Never Say Never Extended Sweetie Bralette is as supportive as it is lovely. Granted, it's not quite the same lift you get from a more structured underwire bra, but this bra is perfect for working from home, lounging or even out running quick errands. The lace is soft and stretchy with comfortable give, but still holds my girls in nicely. Cosabella's extended size offerings are available up to 3X and come in 18 gorgeous colors. Now that I'm sold, I'm off to buy this in every shade!
Cosabella Never Say Never Extended Sweetie Bralette
The Extended collection has styles with cup sizes ranging from C to F, with bands starting at size 38. This bralette is completely wireless, made from soft, scalloped lace. You can pull it over your head to put it on and the straps are adjustable, allowing you to customize your fit.
Cosabella Never Say Never Petite Sweetie Bralette
This bralette is designed for women who are 5'3 and under. It has shorter straps and shallow/smaller cups, and smaller bust bands. The cup sizes range from A to DD, with band sizes starting at 28.
Tester 3
Age: 30s
Body Type: Curvy
Product Tested: Cosabella Never Say Never Curvy Sweetie Bralette
Review: When the bralette arrived, I was hesitant to try it on. I've had way too many experiences getting excited to order bras and swimwear that didn't fit or just weren't supportive when I tried them on. It's always been tough bra shopping because I have a small band and a large cup size. There are very few brands that accommodate my juxtaposing measurements. I've worn bralettes in the past, but truth be told, I "cheated" and just slipped a strapless bra inside so I could feel secure.
After procrastinating to try on this bralette, I was in complete shock. Trying in bras and swimsuits has always been such an emotionally taxing experience. However, this time, I was emotional in a positive way. It actually fit: both parts, the band and the cups. There was nothing peaking out on the sides and I actually had the level of support that I desired. I had resigned myself to the thought that the only bras that would ever work for me were high-impact sports bras and unadorned, dowdy bras that are only made in nude and black. Now, I found something that is supportive and beautiful, and I couldn't be happier.
Cosabella Never Say Never Curvy Sweetie Bralette
Never Say Never Ultra Curvy Sweetie Bralette
The Ultra Curvy bralettes are an expansion of the Curvy bralette, which is designed to fit fuller cups with smaller bands. The Ultra Curvy bralette is specifically sized for I- L cups, starting at size 30 bands.
Never Say Never Sweetie Bralette