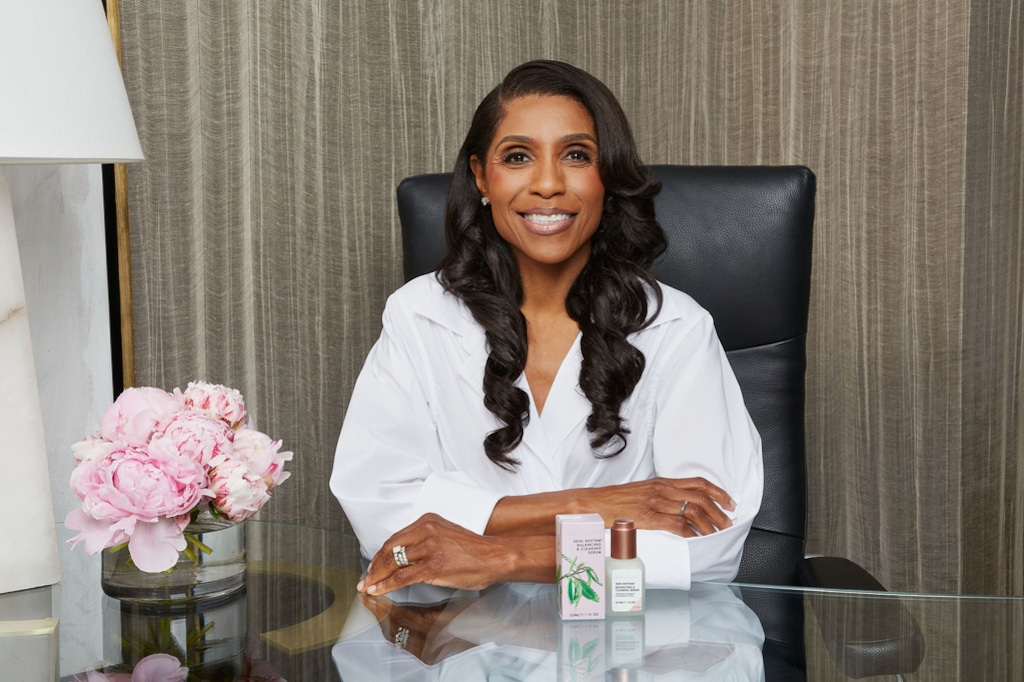 Volition Beauty
We interviewed Dr. Jackie Walters because we think you'll like their picks at these prices. The products shown are from Dr. Jackie's own product line or a brand they are paid to endorse. E! has affiliate relationships, so we may get a commission if you purchase something through our links.  Items are sold by the retailer, not E!.
Clearing up your skin isn't as simple as we'd like it to be. A lot of people have trouble sticking to a routine and even when they do, the results can vary. During an interview about her new Volition Beauty serum. Married to Medicine star Dr. Jackie Walters told E! News, "You'll look at your skin one day and feel good about it and the next day you could be saying 'Why am I so oily?' Hormonally, you're changing. The rhythm of the changes that we go through as a woman is a cycle. Many skin problems have something to do with hormones, from puberty to menopause, it's related to the hormones we produce."
The OBGYN explained, "The change of your hormonal cycle, is normal, but we don't like the byproduct, which is skin changes. You can stick to the same regimen consistently and it's possible for your skin to look different every day because of these hormonal changes. However, we can do something to control the oil production so you're not too dry or too oily, that would be the ticket."
If anyone understands the effect of hormones on a woman's skin, it's Dr. Jackie. Jackie has a true passion for women's wellness in all aspects. She is an award-winning OBGYN and she owns Wow Medi Spa in Duluth, Georgia. With all of her experience, it was only a matter of time before she created her own skincare product. The Bravo star partnered with Volition Beauty to create the Skin Rhythm Balancing & Clearing Serum. Recently, she talked to E! all about the process of perfecting its formula and why she believes it's a necessary product for "people from age 16 to 60."
E!: What makes the Volition Skin Rhythm Balancing & Clearing Serum different than other skincare products?
Dr. Jackie:  The serum has three acids: Salicylic Acid, Azelaic Acid, and Mandelic Acid. Those three acids together will clear up blemishes, help with discoloration, and reduce dark spots and light spots. It evens the skin tone, reduces sun damage, improves skin hydration.
The formula has niacinamide, which regulates sebum, which is that oily product that's in our skin that's supposed to be there, but too much of anything is not good.  Niacinamide helps with that shininess that we might get. And for those who get a little redness, it's going to work for that too.
E!: Tell us about working with Volition Beauty to perfect the formula.
Dr. Jackie: I used to use those ingredients separately on different portions of my face and I would figure out what I liked from each ingredient and what I wanted to improve. And, then Volition would go back and revamp the product. I love Volition because they listen to me as the patient and the creator. We went back and forth... and back and forth... and back and forth, using me as the tester.
Just playing with the formulas, having discussions weekly, if not daily about it got us to where we are. Every time I put it on, I think 'I'm so happy.' I am really just so happy with the results that I personally get. A a lot of other people have reached out to say 'I love this product.' It seems to be working for everybody, all skin colors, all races, it has just been a win-win.
Volition Beauty Skin Rhythm Balancing & Clearing Serum
Clear blemishes, balance oil, and soothe your skin with this serum.
Volition Beauty Skin Rhythm Balancing & Clearing Serum
If you're looking for more places to shop, the serum is now available at Skinstore and LookFantastic too.
E! Aside from incorporating Volition Beauty's Skin Rhythm Balancing & Clearing Serum into our regimen, what else do we need to fine-tune our skincare routines?
Dr. Jackie: "It's not your end-all product. The rest of your routine is important too. You've got to wash your face. You need SPF. But, as a part of your regimen, this is working for myself and a lot of other people."
E!: If you could give skincare advice to your younger self, what would you share?
Dr. Jackie: A healthy diet is important. As a teen, I loved joked food and processed food. Drink plenty of water. Don't pop zits. When we pop zits that can lead to hyperpigmentation, especially for African Americans. Don't pick at your face. What I didn't have then was a true skin regimen. I would undo all of that because skincare should start really early. Now, teens can add Skin Rhythm Balancing & Clearing Serum to their routines. 
While you're looking for skincare products, check out this mask that cleared up my skin and made it oh-so-soft.
-Originally published June 27, 2021 at 4 AM PT.