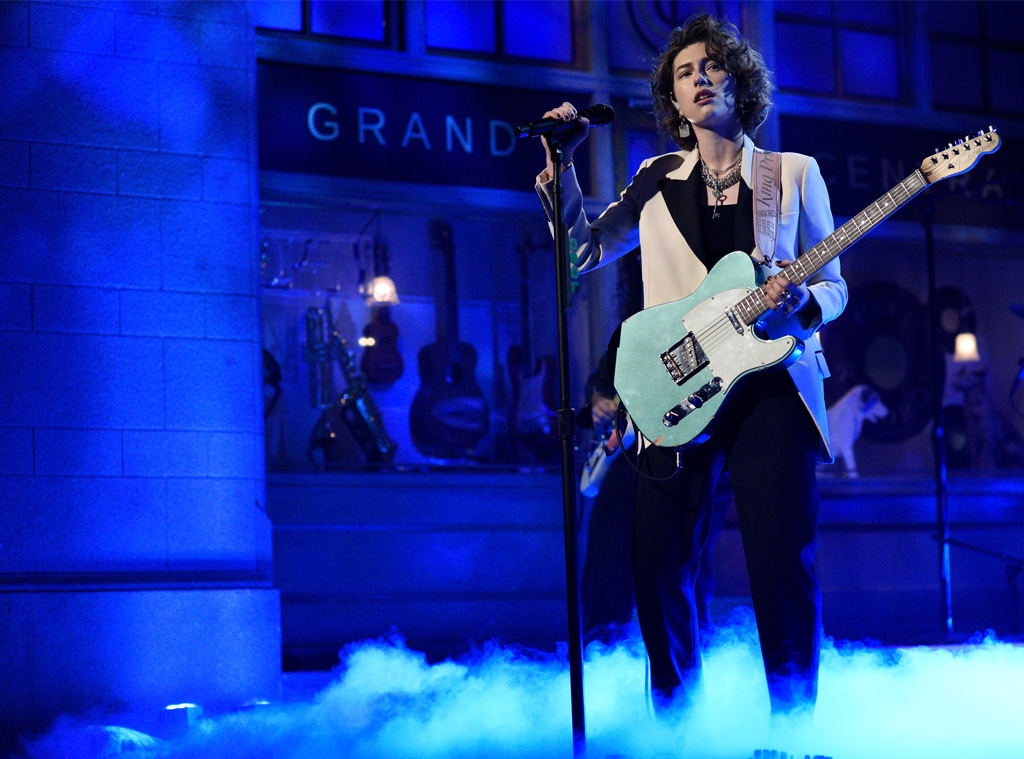 Will Heath/NBC/NBCU Photo Bank via Getty Images
King Princess is unapologetically comfortable being herself in a very crowded pop music scene.
"I don't care about fitting into a female pop scene at all," the singer-songwriter exclusively tells E! News. "I want to be myself and I want to be King Princess and I want to make the best music that I want to listen to."
Born Mikaela Straus, 22, the pop star emerged in 2018 as a clear voice for the LGBTQ+ community with her debut single "1950," which amassed over 300 million streams to date. Being a leader for a young and likeminded audience is something that King Princess takes very seriously, but there's no underestimating the mainstream appeal the enigmatic pop star possesses.
"In my mind, I want to not just be representation but I want to be the best," the "Talia" singer shared. "So I'm going to continue to get better and make really fire art so that we have not only representation, but really good representation. At the end of the day, if it's good, people are going to f--king love it—gay or straight."
The emerging pop star openly identifies as queer and is proud to share it on her own social media when it comes to her girlfriend of two years, Quinn Wilson, who works alongside Lizzo as her Creative Director. "Been all around town together and I still can't get enough of ya," King Princess shared in a Valentine's Day Instagram post showcasing a photo of herself with Wilson.
While the COVID-19 pandemic caused large scale touring to come to a screeching halt and put a pause on the music industry as a whole in 2020, King Princess hasn't skipped a beat. A protégé of Mark Ronson, King Princess has been hard at work throughout the pandemic on her second studio album to follow up her 2019 debut album Cheap Queen. 
Most recently, the "House Burn Down" singer treated fans to a virtual concert coined the Heartbreak Odyssey on Thursday, June 17. "I feel like it's just been so long since I've gotten an opportunity to play for everybody," King Princess admits. "I just thought it would be so great to have a little tasty snack in preparation for the multiple tours that I'm going to be on in 2022."
One of those tours includes supporting Harry Styles on the European leg of his Love On tour, which was originally postponed due to the pandemic and finally has its 2022 dates set in stone. In fact, King Princess and Styles have a history that dates back to the release of "1950" (more on that below) so it only feels right for her to join in on the fun, "If I'm going to support somebody's tour, it better be a legend."
We couldn't have said it better ourselves.
Zelig Records, LLC./Columbia Records
E! News: Why was it important to you to release "House Burn Down" just in time for Pride?
KP: I was pressured into releasing it, which I love. I love being pressured by my fans. I think it's sexy and it encourages me to be more myself. Pride is a way to be young and see yourself in public, in a gathering space and know you're not alone. That is something beautiful. But Pride is all year for most people, honey. We don't stop partying.
E! News: Your music inspires people to feel comfortable with who they are. How does that impact make you feel?
KP: My way of trying to claim my icon-ism, and by turn, help the people of my community feel seen, is to make the best content possible. I really care about these queer kids because I was that queer kid who needed somebody and needed to be seen and needed to see representation in art and emotion. I want to be that emotional figure for people who allows the kids to see that you can be emotional, you can express yourself, you can talk about your feelings.
E! News: Who was that emotional figure for you?
KP: I had the straight divas who just love us. I had Lady Gaga and that was enough for me because it told me I was ok. Because great people of that caliber being so into the gay or the queer or the trans, that can still be super, super impactful to our community. I feel like my diva icons were the Princes and the Freddie Mercurys and the Eltons and the Bowies and the Dianas. The divas were my sanctuary.
E! News: Where do you feel like you fit in with the current female pop scene with artists like Billie Eilish and Olivia Rodrigo?
KP: I don't want to fit in, that's not something I want to do. We're all inundated with social media and wanting to be a part of something. It's unhealthy. And I've struggled with it in the past and I've also struggled with my own understanding of what it means to be me because I'm not a f--king girl. I am something in between. So to put myself up against women in any way feels wrong.
E! News: How did your friendship with Harry Styles come to be?
KP: Harry did a really kind thing by posting lyrics from "1950." It's always nice as an artist, especially a young artist, to have the support of people who are more established than you. And then he asked me to do a show pretty early on and I honestly just thought it was such a big show and I was like, 'I'm not ready for that.' And then when the tour came in I was like, "Well now I'm ready!" So, I think that it all aligned perfectly where I felt seasoned enough to play this size of show and really show my stuff. And it's somebody I'm comfortable with and know and I think that's like the biggest thing too.
E!: Cheap Queen was a breakup album but you seem very happy in your relationship. How will that be reflected in your next album?
KP: Oh, don't worry, it'll always be sad. I don't know if I can qualify or quantify the sound as of right now, but it's written and it's really great. I really focused on my song writing and so that's really what the core of this record is. And then on top of that, because I've had so much time to play instruments and sit around and write, there's a lot of instrumentation that I'm really proud of.
E!: How does Quinn help you navigate the industry?
KP: Quinn is such an incredibly talented creative director. She is, in her own way, my North Star as well. Quinn is the type of person who is so, so knowledgeable and has worked so hard to build her knowledge of her craft and better herself and she's really like a student of her craft, which I aim to be as well. I always go to her when I need help and when I need advice, and I think that's something that I just cherish.
This interview has been edited and condensed for clarity.