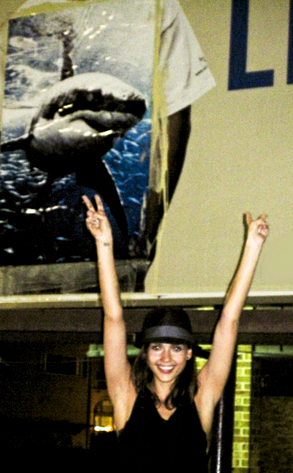 thelostogle.com
UPDATE: Perhaps not liking the idea of returning to Oklahoma City for a different kind of paperwork, Jessica Alba has apologized for hooking up with the White Mike campaign.
"I got involved in something I should have had no part of," the actress said in a statement obtained by E! News. "I realize that I should have used better judgment and I regret not thinking things through before I made a spontaneous and ill-advised decision to let myself get involved with the people behind this campaign. I sincerely apologize to the citizens of Oklahoma City and to the United Way for my involvement in this incident."
______________________________
Move over, Banksy. There's a hot new vandal in town.
Jessica Alba left many citizens of Oklahoma City seeing red white last week, when she blanketed the downtown area guerrilla-style with posters of great white sharks as part of an underground effort to draw attention to the predators' dwindling population.