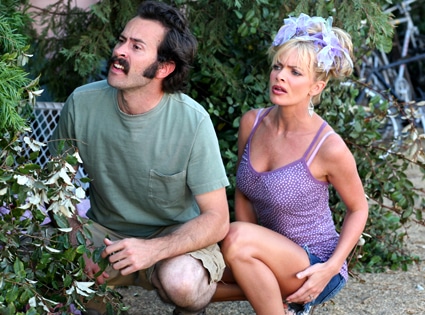 NBC Photo: Karen Neal
NBC ignominiously canceled My Name Is Earl last month, but now there's hope yet for more episodes!
Star Jaime Pressly (who plays Joy, Earl's loopy ex-wife) tells E! News exclusively that another network is negotiating for more episodes of the series. Whoo!
What's the network? What are the realistic chances of more Earl? And when will we know for sure? Here's what we're hearing...
According to Jaime, cable network TBS (home of My Boys) wants to order more original episodes of the series. She tells us, "TBS is actually in the middle of it, and in the next 24 hours we're going to know. Hopefully there are going to be another 13 episodes so we can complete the series. We all want that."
Meanwhile, over on Twitter, costar Ethan Suplee (he plays Earl's none-too-bright brother, Randy) is waxing quasi-philosophical about the possible return of Earl, wondering, "Will TBS answer the most important question since 'Does Chachi love Joanie back?' "
And what if TBS' negotiations with studio 20th Century Fox Television are successful? When might we see new episodes of MNIE? Says Jaime: "In the middle of August."
Meanwhile, Jaime tells us that she's just taking it easy and enjoying time with her kids: "I rented a beach house and am going to just relax and be a mom—I have been working for four years nonstop."
Are you stoked for more Earl? If yes, let TBS, Fox and the Earl producers hear you in the comments, before that 24-hour negotiation window closes and it's too late!