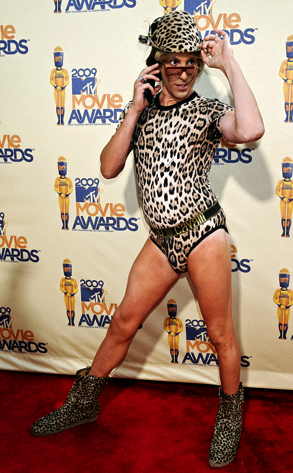 Picture Group/MTV
Apparently, there is a line you can cross with Brüno.
Just in case their public denial of Richelle Olson's wheelchair-bound bingo claims against Sacha Baron Cohen & Co. wasn't enough of a deterrent, lawyers for the studio launched a second offensive against the plaintiff, demanding she formally withdraw her lawsuit or face the wrath of the Hollywood heavyweights. (Something we're guessing not even Eminem would voluntarily endure.)
"If you do not file a voluntary dismissal of the complaint with prejudice, and if you do not do so by this Monday, June 8, our clients will avail themselves of every legal remedy against you and your clients," reads a letter fired off by Cohen's legal team and obtained by the Hollywood Reporter.
While it doesn't appear as if Olson has moved to dismiss her case, the missive presents a markedly different version of events than her suit, claiming if anyone was victimized by the encounter, it was Cohen.