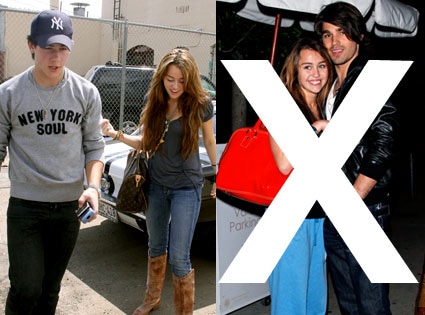 RIV/ Fame Pictures, INFphoto.com
Gone are the times of romantic, helmet-free bike rides and sweet sushi lunches. Miley Cyrus and Justin Gaston are so over.
The 16-year-old starlet has ended her nine-month romance with the 20-year-old underwear model, sources close to the duo exclusively confirm to E! News.
The Hannah Montana star called things off last week as she prepared to leave Los Angeles for two months to shoot her Nicholas Sparks movie, The Last Song, in Savannah, Ga.
Speculation of trouble peaked yesterday when the two simultaneously twittered about tears and goodbyes.
A source close to the couple says both of them are really heartbroken over the split.
However, word is distance may not have been the only thing to come between the two. A certain famous ex-BF may have exacerbated the rift...
Gaston, a Louisiana native, has told pals that the star's resurrected friendship with Nick Jonas this spring was his Achilles' heel.
"She obviously has been hanging out with Nick again a lot, and Justin was cool with it at first, as long as it was just a cool, friendly thing," says an insider. "She didn't cheat, but I guess Nick was trying to get her back the whole time."
In fact, photos of the former pop power couple goofing around during a video shoot surfaced just yesterday. And Saturday, Cyrus left a mildly mysterious message on her Twitter account.
"I'm in a dark theater 'writing' a song with nick j who is rockin a faded eggplant shirt! :)"
"Writing" is a euphemism for what, exactly, Miles?
Not only will Cyrus have a new man soon, she also has a new agent.
E! News has learned that the starlet dropped her agents at United Talent Agency and is now represented by CAA. Cyrus's music career has long been handled by CAA, but UTA represented her TV and film acting projects.
A rep for Cyrus had no comment.
(Originally published June 9, 2009, at 8:14 a.m. PT)
________
We Twitter about happier things than goodbyes @eonline!