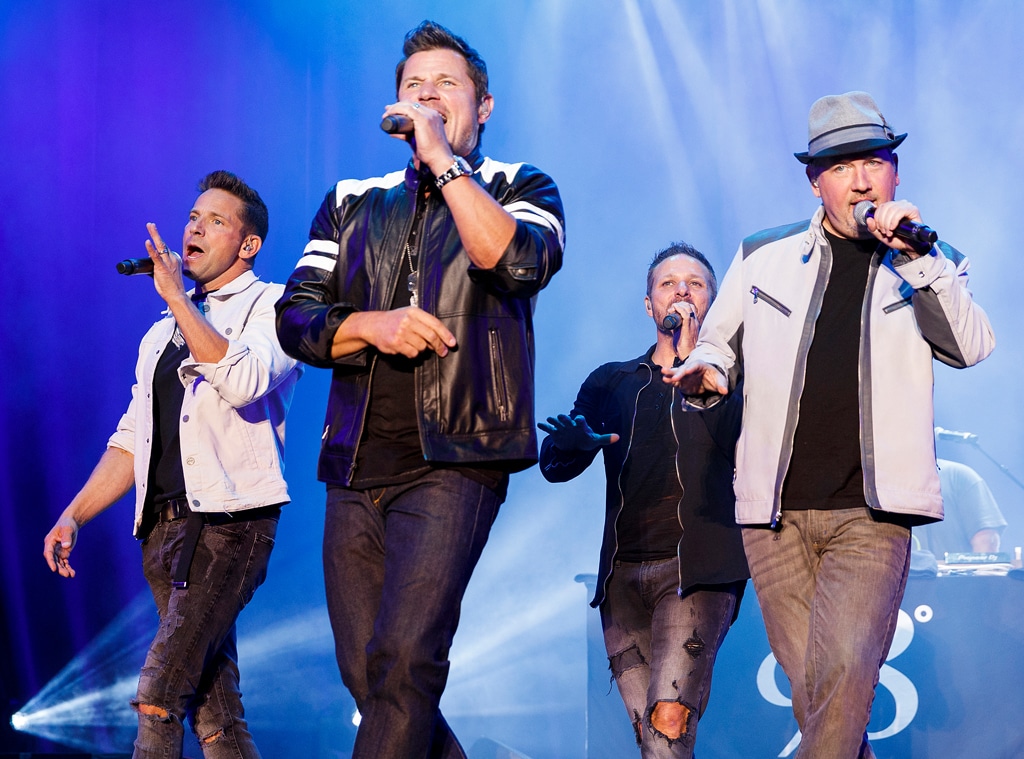 Andrew Chin/Getty Images
No need to take the temperature of the room: 98 Degrees is officially fired up about getting back out on the road.
"We were so used to performing together and being together that it felt really strange not to be doing something," Nick Lachey told E! News in a recent interview with the whole group as their 98 Days of Summer campaign got underway (hello, epic '90s throwback pics!). "As soon as we could possibly get together, we created a little bubble in Vegas and went and recorded there and started recording some new music for the first time in a long time. I think we were all just itching to do it because it had been way too long."
They had planned to be performing all throughout last year, but...music fans know how that went.
"We were all excited," agreed Jeff Timmons, who founded the group in 1995 with fellow Ohioans Nick and Drew Lachey and Justin Jeffre. "We all appreciate each other and the journey we've been through together. But with the pandemic, as crazy as that was for everybody on the planet, you're like, 'Wow.' You really grow more appreciative for the opportunities you have to do stuff like this, especially like this, right? So, we kind of all talked to each other and were like, look, let's not go back and just do the dates that we were supposed to do in the past, let's try to do some new music and put some new stuff out there for our fans.
"I mean, they've been so loyal and they've turned out for us better than we expected after being gone so long and have been more loyal than ever, so we were like, let's give them something that's new and exciting from us."
The first fruit of their creative labors will be the single "Where Do You Wanna Go"—a "summer fun song," Justin described it—dropping July 9. 
"Honestly, I think we sing better and we sound better than we probably did back when we first started," Nick said. "I think we've all worked really hard to be where we're at and we come together really well, we're having more fun than we've ever had. So, I think what we're doing now is better than what we've ever done, frankly. We're excited."
And let's remember, it's no small feat to still be psyched about going to work together after 26 years, when so many bands scatter to the four winds after a tiny fraction of that time. (98 Degrees did announce a hiatus in 2003 but, just as they assured their fans, it was not a breakup.)
"I mean, anybody who tells you that being in a group is all rainbows and butterflies is lying to you," Drew said. "It's just like any relationship. You have to work at it. There are going to be times where you need to just step away from it and calm down. But I think ultimately what works for us is we all respect each other, we all respect what each of us brings to the group as individuals and I think that we each share a common goal. And as long as we stay united in that goal and focus on that goal, and we have that in common, then we're good."
Nick compared it to a marriage, explaining, "As long as you respect each other as human beings and as brothers, you're not always going to get along but at least you respect that person enough to say this is not the time for that, take a step back. And it didn't come easily. Like any group, we've taken our lumps and had our fights and arguments and whatever, but you get to a place, especially now later in life when you have better perspective, and we truly appreciate what each other brings to the group and, more than anything, respect our journey together."
The elder Lachey brother, who branched out as a solo artist and TV host during the group's decade-long hiatus, said, "I can speak for myself that I'd much prefer being on stage with these guy. It's much more fun. It's a brotherhood, it's a comradery that we've formed over 27 years, is that what you [looking at Drew] said? Crazy."
They're so close they couldn't quite remember how long they'd known each other, Nick echoing Drew that it was 27 years and Jeff suggesting 24 before Drew remembered that 1995 was 26 years ago. "See, we're not good at math, that's why we sing," he quipped as they all laughed.
But taking their jobs seriously and focusing intently on how to make 98 Degrees great likely saved them some angst in the early days, back when the public couldn't help pitting boy bands—and countless other artists—against each other.
"Who are they?" Drew cracked when asked what it was like angling for a slice of that pop heartthrob pie with Backstreet Boys and 'N Sync.
"Really, we're all type-As so we put so much pressure on ourselves internally, individually and collectively as a group on our own," Jeff said. "While we knew that those groups were out there and that we were being compared to them, we were already in that lane putting a ton of pressure on ourselves."
Being on a different label, Motown Records, while the other two groups came up on Jive, "it really took a little while to figure out how to market and promote us there for a little bit," he recalled. "So, we had some challenges. And all groups and all artists have challenges, but we had some extra challenges that some of the groups didn't. So we already had that pressure on us before we started getting compared to Backstreet and 'N Sync. And then, look, they burst onto the scene, TRL came out and then we pointed out to our label, we're like, 'That's the kind of stuff we need to be doing!'
"So, it was more like joining into that sort of lane with those guys. And the comparison, while we did think we were different than them, we sort of welcomed it because they were selling millions and millions of records and performing all over the world."
Margaret Norton/NBCU Photo Bank/NBCUniversal via Getty Images via Getty Images
Which 98 Degrees proceeded to do as well, starting with their 1997 self-titled debut album, which was certified 3x platinum.
"I think it makes good media to make it seem like there were these hard-core rivalries," Nick observed. "We were friends with those guys. But I'm saying, there was room for everybody. Those were incredible days where you're selling tens of millions of records. It was awesome! It was awesome to be a part of it. We would do shows with those guys and we toured with 'N Sync all over the U.K."
He added, "So, we were competitive, to Justin's point, more with ourselves and I think more about staying where you were. Like, we had established ourselves but there were constantly new groups coming out and it was like, how do we stay where we're at, how do we continue? We have to make the next record better than the last one and continue to up our game because, you know, there was a lot of competition still coming at that point. But as far as those other two groups [BSB and 'N Sync] it was never really like that."
Drew then recalled, "There was a group in the U.K. called 5ive that we..."
Nick quickly cut in with a laugh, "Yeah, we didn't like those guys. Put that on the record."
"We hated those guys," Drew agreed. 
Ok, so they had time for a little feuding back in the day. In 2014 on Watch What Happens Live, when asked to name the worst pop group of the 1990s, Nick was pleased that Andy Cohen himself brought up 5ive.
"It's so funny you call them out," the singer said. "That's exactly who I was gonna say." Explaining why they had a "big-time beef" with the then-five-man group, Nick recalled, "We were on the Smash Hits tour in the U.K. with a bunch of pop groups at the time, and 5ive for whatever reason just had it out for us. So we used to battle every night." 
Reached for comment straightaway after WWHL aired, 5ive member Abz Love (real name Richard Breen) told TMZ that 98 Degrees "sucked ass" then and "probably still do." But admittedly, he said, if they were giving the American group crap on tour years beforehand, "To be fair, we were the bad boys of pop so we were always looking for trouble. They just happened to be in the way." (Five months later, Abz announced on Twitter that he was no longer a member of 5ive.)
But if you slighted 98 Degrees 20 years ago, prepare to still feel the burn in 2021.
Talking about whether or not any of them had any individual beefs, à la the animosity that once existed between Chris Kirkpatrick and AJ McLean that recently came to light, Drew mused, "I don't think there's anybody that we really hated."
Nick reminded him, "Not in this country."
So, for the most part they kept their heads above the fray in a time when the media coverage could be merciless. But, the guys admitted, they didn't have it anywhere nearly as bad as their female fellow artists.
"I think females in general have it harder as far as scrutiny goes," Drew said. "I think we were able to kind of operate without being, like, 'Oh, oh my goodness, he has a beer belly now?!' You know what I mean? We're not constantly being scrutinized for if we change our hair or if something happens or who we're dating or anything like that. That's just a broader male versus female sexism issue, not just late '90s, early 2000s pop artists."
Jeff concurred. "Frankly, behind the scenes, it wasn't as exposed as it is now with social media and camera phones, and all this stuff that people could get away with in the past, they can't get away with it as much now. They still do it, but it's not as prevalent, hopefully."
Kevin Mazur Archive/WireImage
And perhaps no one got more crushed between the gears of the machine that was also making her one of the biggest stars in the world than Britney Spears.
"She was a sweetheart," Nick recalled. "We did a lot of shows with her early on, she couldn't have been sweeter. And you saw the talent, I mean we all could see it coming. I haven't seen her lately so I can't speak to what she's going through later in life, but she was nothing but a doll, a total sweetheart, and couldn't have been nicer to us and all that good stuff."
He added, "Being in a group you can kind of shoulder all that pressure on each other, and if you're a solo artist, you're out there on an island sometimes. And it can be a tough road."
Justin remembered, "We were all still in our 20s, too, so I can't imagine the pressure of being a young female and really still not even grown up. So, having to deal with all that pressure all by yourself..."
To which Nick said, "I can't imagine going through some of these experiences at a younger age, it would've been really, really tough."
Despite their paths crossing over the years, they never recorded with Britney—but not for lack of opportunity.
While thinking back on some of the songs they passed up (a little tune called "Bye Bye Bye"; almost "The Hardest Thing," which they only did at the label's request and it turned out to be one of their biggest hits; a collab with a then-unknown rapper named Nelly, leaving them wondering what might have been), Jeff recalled Britney's manager Larry Rudolph showing them "...Baby One More Time."
Originally written by Max Martin for TLC, which turned it down, Britney's team was hoping to capitalize on some proven boy-band success. 
"And [Larry] was like, 'We're trying to get 'N Sync to do something and they won't do it!" Jeff said. "And we were like, 'Well, if they're not doing it...'"
Britney, of course, emerged with one of the biggest songs ever, ranked last year by Rolling Stone as the No. 1 best debut single of all time.
"So apparently we made a couple of bad choices," Nick cracked as the members of 98 Degrees, once again, shared a laugh together.
But while maintaining the mandatory chemistry that makes a boy band go round and the requisite enjoyment that they need to keep going after all these years is important, they've also had to readjust here and there to keep pace in a rapidly evolving pop landscape. Social media, which wasn't around when they first came together, obviously helps, both with major announcements and connecting more consistently with fans—who nowadays expect a little peek behind the curtain.
"So we want to be relevant in the music scene today, but we also want to stay true to who we are as artists and the sound that we've created that our fans know, love and expect to hear from us," Justin explained. "So you have to try to, in a sense, reinvent yourself but also keep the magic that is our sound."
Added Nick, "Yeah, I think you get in trouble trying to chase something you're not, tying to chase a trend or trying to chase a sound, and there's probably even times where we've gotten caught up in that a little bit." For their latest, "Where Do You Wanna Go," we really tried to approach this as, hey, let's make sure this is true to who we are and kind of in our wheelhouse. We all feel really good about where it ended up and excited for everybody to hear it on July 9th."
Another little something that's different from when they first started out: Nick, Drew and Jeff now have 10 children among them, plus Justin has nephews who are old enough to have witnessed a few 98 Degrees concerts in their day.
"Do they sneak into the corner and listen to 98 Degrees on their phone?" Drew said with a smile of his two kids with wife Lea Lachey. "No, I don't think so. But they appreciate what we accomplished. At least my kids are getting to the age now where they understand it. Jeff's kids are obviously that age as well. Nick's are probably still—"
"My oldest definitely understands, like, 'OK, people know who my parents are and know who my dad is,'" Nick said of 8-year-old son Camden, the eldest of his three children with Vanessa Lachey. "And I always tell him, I say, 'I'm just dad. Don't think of what I do.' But I do think at some age they start to, and he's starting to get to that point where he's putting it all together."
Drew said, "Some people have parents that are doctors, some that are custodians, some that are teachers. Every person has a job and a story and ours is just a little different."
And jumpstarting 98 Degrees in 2012 also meant a lot to Nick because his kids could then see for their own eyes what Dad did for a living. "Otherwise, they just have to take my word for it," he joked. "And now they can actually come to a concert and see you do what you love to do. And hopefully it inspires them on some level."
Or, as father of five Jeff might put it to his brood, "I swear we were cool at one time!"
Catch 98 Degrees' new single "Where Do You Wanna Go" and the premiere of the song's music video on Friday, July 9.