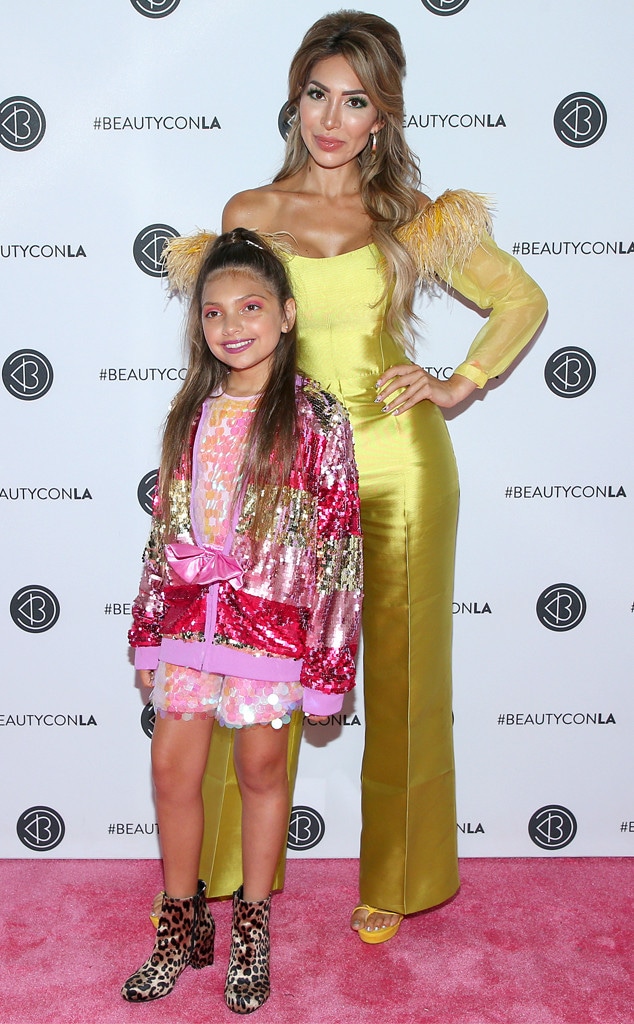 Phillip Faraone/WireImage
Farrah Abraham knows her daughter has experienced an extraordinary childhood.
From the moment she was born, camera crews and strangers across the country watched Sophia Laurent Abraham grow up on 16 and Pregnant and Teen Mom.
While her days filming for MTV have come to an end, the 12-year-old social media star continues to document her life on Instagram for her 629,000 followers. And as Sophia walks red carpets and explores the latest beauty trends, her mom doesn't think she is growing up too fast.
"She still has a bunk bed. I've got to say that," Farrah exclusively shared with E! News when supporting her memoir Dream Twenties, available now. "And I'm like, are you getting too old for that bunk bed?"
"She's ready for a car, but she's not like 16," the reality star continued. "We have all sorts of talks in this household and I support my daughter with like her hair coloring and being creative, of course. She takes piano lessons. She does sign language, but I keep my daughter real close because I don't want her growing up too old."
At just 12 years old, Sophia has already been able to attend various award shows and other star-studded events. She's even gone viral on TikTok with creative music videos and stories.
And instead of going to a traditional school, Sophia has chosen to pursue an education online for close to five years, according to her mom.
In her new book, Farrah discussed moments on social media where she was shamed and criticized for the way she parents her daughter. But according to the single mom, she's too busy to focus on the haters. 
"I'm always busy, like guys, I'm a single mother. I'm a one-man band and I take on so many companies and so much work and so much that I love the life I live," Farrah explained. "I don't think negative comments are real and if brands can't handle talented people with negative comments, well then, I don't have to work with them."
Watch:
"Teen Mom OG" Stars Give Updates on Their Men
In 2008, Farrah was selected to appear on 16 and Pregnant and share her journey in becoming a mom. In the episode, fans learned the father of her child Derek Underwood died in a car accident.
She would continue documenting her life on MTV's Teen Mom until 2018 when she was replaced by Bristol Palin.
As Farrah prepares to reveal new personal stories with her loyal fans, the author says she's focused on being the best mom to her only child. As for Sophia's hope at gaining a sibling, Farrah joked that it's "wishful" thinking.
"She has always been hoping for a sibling," Farrah shared. "She is always asking me, for weird reasons, if I'm pregnant or not, and this is like out of the blue. Like I could be getting a salad today and it's like, 'Are you pregnant?'" Like, she does it almost every day."
Celebrate Farrah's new memoir with her book tour, "Books and Botox," hosted at Flawless Aesthetics by Melanie Speed in Beverly Hills on June 19 and at Beauty Lounge Medical Spa in San Marcos on June 21.