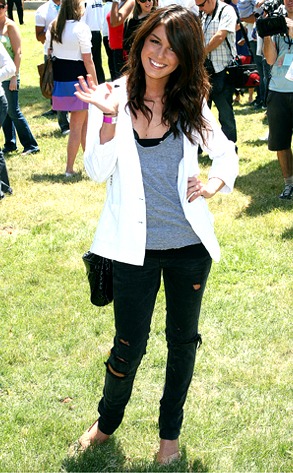 Derek Steele/BuzzFoto/Getty Images
If they're anything like the old shows, the new 90210 and the upcoming Melrose Place revamp will have some characters crisscrossing between them.
Right now, however, it doesn't sound like anything definite has been decided.
"I don't know," said Shenae Grimes, who plays Annie on 90210, when I recently asked her about the possibility. "I've heard rumors, but you know, rumors are rumors."
What's not a rumor is Annie's turn from a Goody Two-shoes to a bad girl. Grimes said there were never any plans for her character to get darker, but one day…
"My producer sat me down and was like, 'Shenae, there is just some sort of intensity behind your eyes. We've got to bring it out somehow,' " Grimes recalled. "I was like, 'All right! Cool! Better challenge for me. I get to stir up trouble at work, awesome.' "
And speaking of trouble, Grimes said recent tabloid reports that she was kidnapped as a child are rubbish. "Don't believe everything you read," she said. "There was a very minor incident that was blown way out of proportion."
Child abduction, she said, is not something that should be sensationalized. "It's a serious subject," Grimes said. "It should not be made light of. My heart goes out to anyone who that has happened to, but it has not happened to me."
________
Get More Marc on Twitter @marcmalkin