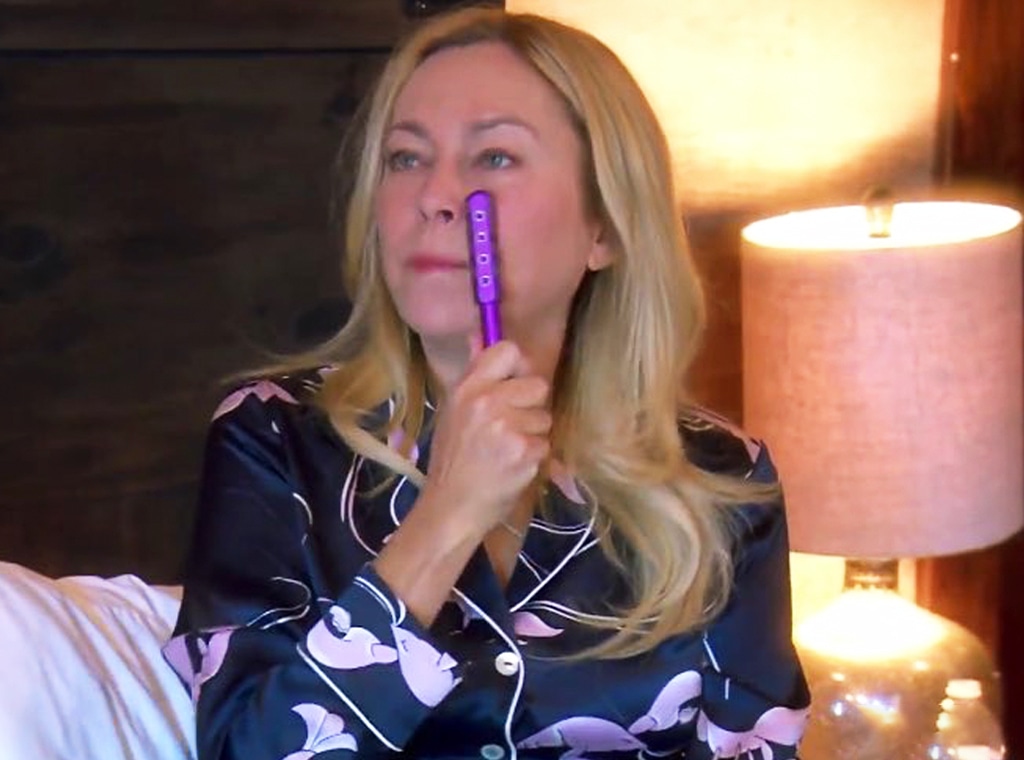 Bravo
We love these products, and we hope you do too. E! has affiliate relationships, so we may get a small share of the revenue from your purchases. Items are sold by the retailer, not E!
To put it mildly, Sutton Stracke didn't have the best time during The Real Housewives of Beverly Hills cast trip in Lake Tahoe. Following some drama with new cast member Crystal Kung-Minkoff, Sutton told Lisa Rinna, "I'm carrying my roller with me. It's giving me anxiety relief." In response, Lisa shared, "Oh, I love the roller." Later in the conversation, Lisa asked Sutton, "Are you rolling when you feel like you're gonna cry?" That's when Sutton shared, "I really feel sick of crying. She's coming with me all day." And by "she," Sutton means the Nurse Jamie Instant UpLift Massaging Beauty Roller.
Later in the episode, Sutton told Crystal, "This helps me because I feel so uncomfortable." Sure, there is definitely a calming effect that comes with using the Nurse Jamie roller, but it's not technically an "anxiety roller." It's actually a game-changing skincare tool that firms the face and creates a natural lifting effect, without any pain.
The device has a rotating head covered with 24 precious tourmaline stones that "temporarily energize, enhance and lift your skin." Using the roller helps improve the tone and texture of your skin. It's suitable for all skin types, it's non-invasive, and it's an anti-aging tool that actually works. You can roll this over your face, neck, décolleté, and quite honestly, the rest of your body if you want to. All you have to do is massage each area for 30-45 seconds a day to start seeing these anti-aging results.
Nurse Jamie Instant UpLift Massaging Beauty Roller
Sutton and Lisa aren't the only people who adore the Nurse Jamie Roller. If you're still wondering if this is beauty tool for you, check out what these Revolve customers had to say about it:
"I am super surprised. This really works. My skin feels taught and lifted and my skin looms better. I know it isn't permanent but if you use everyday it will look good everyday. Plus it feels great."
"I bought this for my face and neck but I have fibromyalgia and polymyalgia and I have found it wonderful to massage all my sore spots as well. Fantastic item, should be advertised for multiple uses."
"I'm an esthetician and I can honestly say this is worth it and works!"
"As a mom with very little time for self-care in the mornings this to me is a one-minute power self-care and I'm loving it. It helps my skincare essentials sink in, helps remove puffiness (so good for the under eye too) and helps make my skin glow."
"Love this handy tool. Clear away bad vibes with this and enhance skin tone. Super easy to use."
"I don't know how or why but my eye bags (not severe eye bags, right eye more prominent) almost disappeared after only using it only once. Like magic!! I really can't explain why, but it worked for me."
"My boyfriend thought I was ridiculous when I bought this, but now even he uses it! It's like a massage for your face."
If you're looking for more beauty tools to add to your skincare routine, check out some of our other favorites.