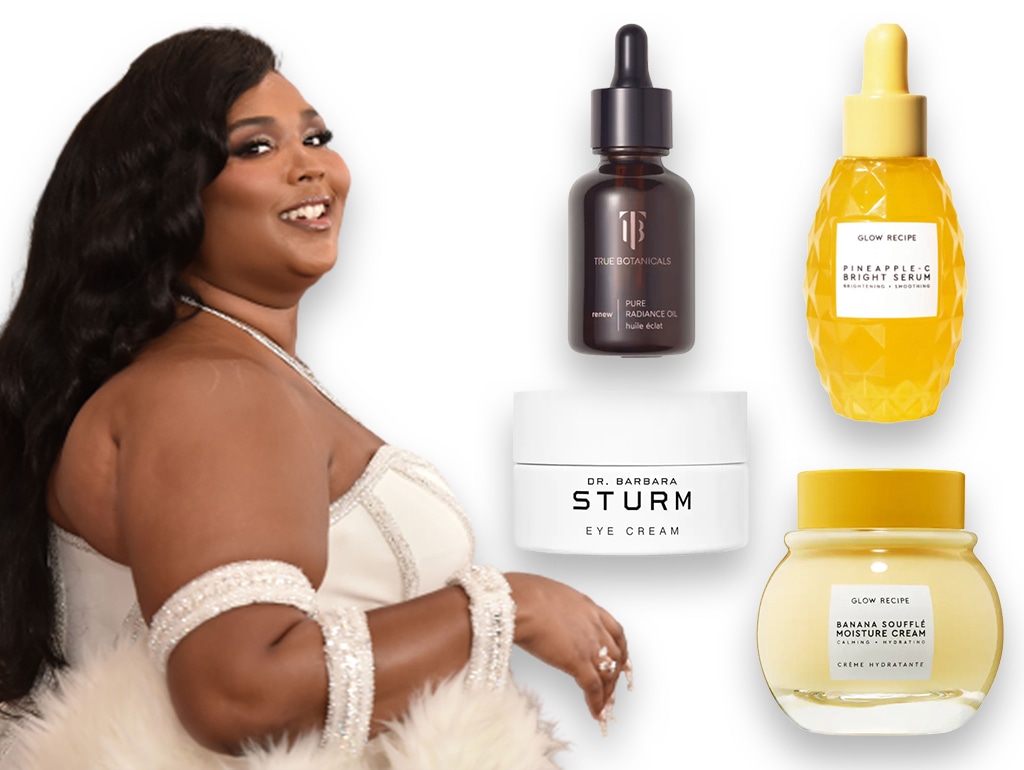 David Crotty/Patrick McMullan via Getty Images
We included these products chosen by Lizzo because we think you'll like her picks at these prices. E! has affiliate relationships, so we may get a commission if you purchase something through our links. Items are sold by the retailer, not E!. Prices are accurate as of publish time.
You're far from the only one who scrolls through TikTok looking for beauty tips. Celebrities do it too. Just ask Lizzo. The Grammy Award winner posted, "I saw a TikTok about the order in which you put your skincare on. I can't find it. It got lost in my favorites, but I'm gonna try it right now." After seeing another person's TikTok, she was inspired to share her own skincare routine with her followers.
She washed her face before the video and used an unspecified toner, but after that, she revealed the 5 products in her current beauty regimen, eventually admitting, "Wow, if I did this every day, I would be unstoppable." That is a very relatable sentiment. She also fessed up to some confusion about how to use the gua sha skincare tool, which is also understandable.
How does Lizzo maintain that glowing skin? Check out her recommended products.
Glow Recipe Pineapple Vitamin C Serum
After washing her face and spraying on some toner, Lizzo applied the Glow Recipe Pineapple Vitamin C Serum, which won an InStyle Readers' Choice Beauty Award in 2019 for best serum. This bouncy, lightweight formula gives you smooth, glowing skin, according to Glow Recipe. It's also great to combat acne scars, dark spots, and hyperpigmentation. And in case you were wondering, Lizzo confirmed, "It really smells like pineapples."
Rosense Gülsuyu Rose Water Face Toner
Lizzo remarked, "I love rose water." This spray has no preservatives, additives, fragrances, or chemicals. Incorporate rose water into your routine to regulate your pH balance, hydrate, prevent irritation after shaving, remove makeup, and more, per the brand.
True Botanicals Clear Pure Radiance Oil
If you want more luminous skin, less fine lines and wrinkles, improved hydration, and a decrease in the appearance of pores, you need the True Botanicals Clear Pure Radiance Oil. This best-selling product does all of that in addition to plumping your skin, according to the brand. Not only that, but it's hypoallergenic and non-comedogenic.
Deayoka Rose Quartz Gua Sha Tool
"Shout out to everyone who's been on my gua sha journey with me. I still be doing it wrong. Y'all still love me and support me. I haven't been able to gua sha in like a week because I was sick and I had a cold, but I still feel like I've had the best results and I love it," the singer shared. 
This simple tool is effective to move lymphatic fluids so the skin can function better and improve blood circulation, reduce puffiness, ease muscle tension, tone sagging facial features, smooth lines and wrinkles, and promote increased hydration. This tool has 9,300+ 5-star Amazon reviews.
Glow Recipe Banana Soufflé Moisture Cream
This lightweight moisturizer has banana to restore the skin's hydration, magnesium to calm and give balanced to irritated/inflamed skin, and Cica to heal dry, irritated skin, according to the brand. And, yes, Lizzo confirmed, "It smells like bananas."
This cream has 67.5K+ "Loves" from Sephora shoppers.
Dr. Barbara Sturm Eye Cream- Hydrating, Depuffing Eye Cream for Targeting Dark Shadows and Bags
Lizzo concluded, "Eye cream, last, but not least." She uses the Dr. Barbara Sturm Eye Cream, which is great for hydrating, depuffing, and targeting dark circles underneath your eyes, according to the brand.
-Originally published June 16 at 3 AM PT.