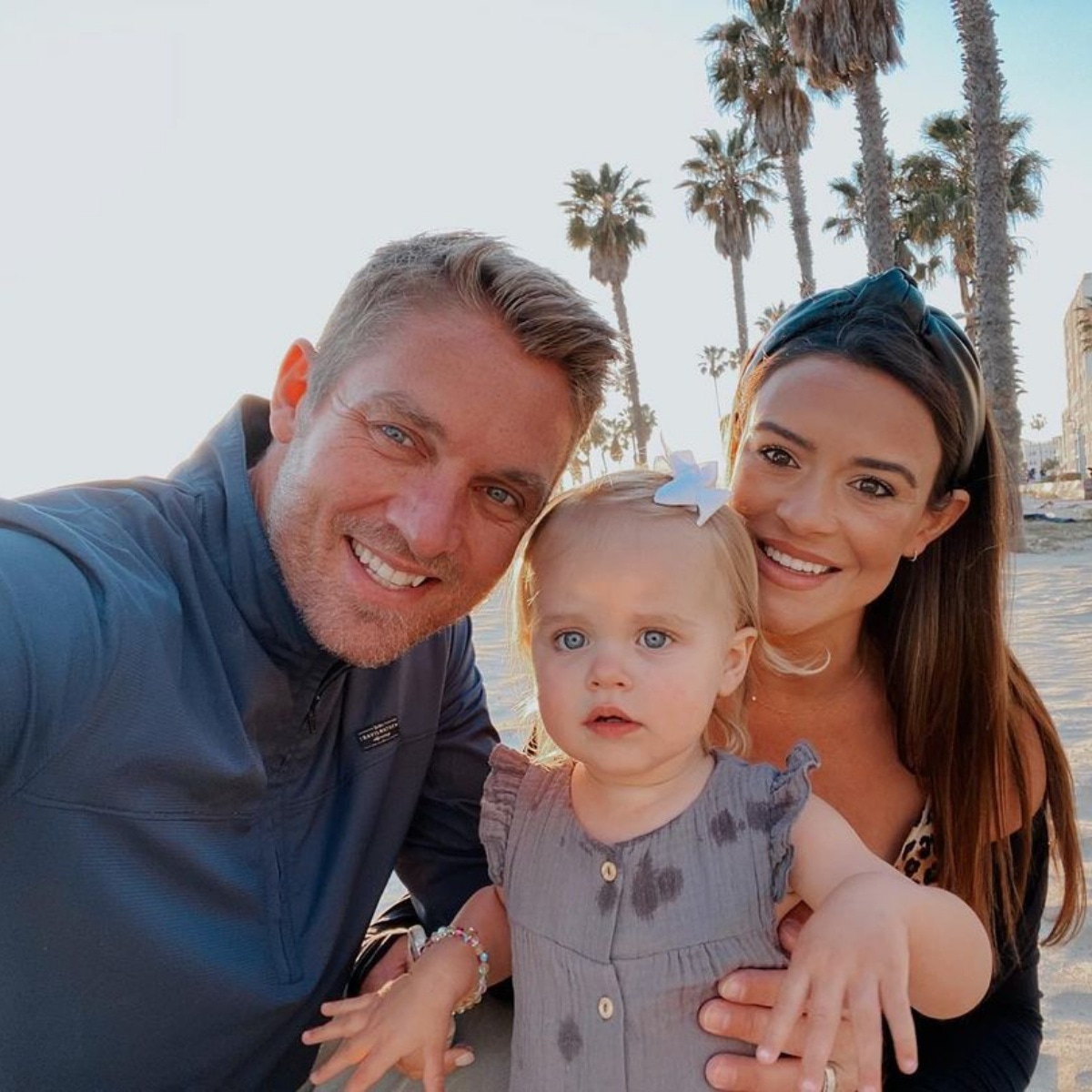 Instagram
We interviewed this celebrity because we think you'll like their picks. Some of the products shown are from the celebrity's own product line. E! has affiliate relationships, so we may get a commission if you purchase something through our links. Items are sold by the retailer, not E!.
In case you didn't know, Brett Young is crazy about fatherhood.
As the proud dad to 19-month-old daughter Presley Elizabeth, the country singer has found himself falling in love with Disney movies and children's books all over again. And with another baby girl on the way later this summer, Brett and his wife Taylor Mills Young have a lot to look forward to.
"My favorite thing about being a dad has actually been watching Presley experience the world," Brett exclusively shared with E! News ahead of Father's Day weekend. "I feel like I didn't know how jaded I was becoming with everyday things whether it be nature or a bird flying by. The things you get used to or see so many times like, oh there's a bird, but she's like cracking up and chasing it across the sky."
The musician added, "Seeing the world through a 1-year-old's eyes and watching the joy they get from the things I didn't even realize I was taking for granted." 
That joy and excitement for life can be heard in his new collection of music available now called Weekends Look a Little Different These Days.
The fresh tracks including "Lady" and "Not Yet" explore love, family, loss and everything in between. And with Brett serving as a co-writer on all eight songs, fans will be allowed to get a look inside his life today.
"If I wasn't careful, fatherhood would have inspired all of them and we would have had a lullaby record," Brett joked. "In terms of the song writing, it put me in a position where I had to actually stretch myself pretty far and not just write about what today was like or what I'm feeling right now. It made me realize that there was a huge audience of people who had fallen in love with the first record, specifically songs like 'Mercy' where it broke their heart."
Watch:
Brett Young & Taylor Mills Hit CMAs Red Carpet as Newlyweds
The Orange County, Calif., native continued, "I don't want those people to stop being a fan because the new record is about blissful family life. It stretched me as a writer in a really good way, but it also allowed me to explore a completely new fan base of people and parents because I didn't have those songs either." 
While the topics of his songs may be changing, one thing remains the same: Brett's faith is still an influence on the tracks he makes. In fact, he wants music fans of all ages to feel comfortable singing along to his hits.
"I've never once seen the necessity for art to cross that PG line in order to be art. If you have something interesting to say, you can say it for everybody," he explained. "You don't need to say it to the NC-17 crowd and I've never understood why that was necessary. I don't draw a hard line for myself about how I go enjoy stuff like that. However, I don't want a 35-year-old woman to not feel comfortable bringing her 12-year-old daughter to the same concert."
He continued, "They should be able to have a mother-daughter night and if I start having questionable content and lyrics in my music, all of a sudden, she's not bringing her daughter and they can't have that experience together and I feel like, if you're a good enough writer, you can make it acceptable for everybody and I've always tried to walk that line."
Speaking of concerts, Brett is just one of the many country artists looking forward to being back on the road this fall. Before launching The Weekends tour with Maddie & Tae, Ryan Hurd and Filmore, the 40-year-old Nashville resident will host a special Labor Day weekend music festival in Palm Springs, Calif., called Caliville Weekend.
While he is more than pumped to see fans in person again, Brett can't help but admit it's bittersweet knowing he will have a little less family time for a couple of months.
"I didn't miss my daughter's first steps. I didn't miss her first words. There's a very obvious silver lining to be at home for the past year and a half," Brett shared.  I was very productive with my time. I made a record. I made a baby. I was home and I did it right, but I miss being on the road and I'm excited to get back out there."
He's also excited to turn one of the biggest hits of his career into a children's book. Titled Love You, Little Lady, the kid-friendly project was a collaboration between Brett and his wife that resulted in a "cool legacy to leave to our kids." Shop the book and items from Brett's Caliville line below.
Love You, Little Lady
Brett's debut children's book shares the wonder of becoming a new parent and the passionate love dads and moms share for their children. "Our daughter was getting to the age where she wanted to read books all the time so it was a really fun process," Brett shared with E! News. "I hope this is something we're not only excited about for a long time, but something that can become more than just one book." 
Caliville Button-Down Shirt
"The idea behind Caliville now is just the same thing I try to do with my songs: pulling back the curtain and exposing myself as a person to people who have invested in me as a person and my career," Brett shared. "You go to the arena and see me on stage and you can go into Kohl's and basically buy what I was wearing that night within reason." 
Caliville Text Cap
"Kohl's became a really great partner and their goal is to understand who are you as a person and make a clothing line that represents that," Brett explained. 
While dads across the country will be celebrated this weekend, Brett couldn't help but praise his wife for her skills as a parent. According to the "Sleep Without You" singer, Taylor deserves so much credit for handling parenthood with ease. 
"The craziest thing was how natural she took to being a mom immediately: understanding what her child needed and understanding how to go about it, understanding how to manage her frustration and exhaustion and the grace that she had going about all of it," he explained. "When they say, moms are superheroes, I feel like I got to watch that."
And that's how to be a lady.