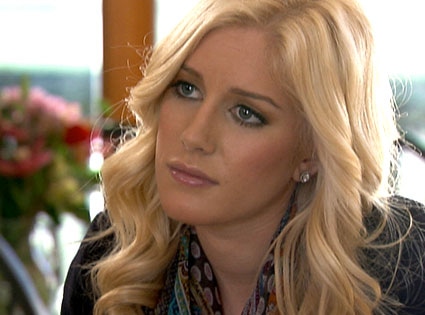 MTV
Were Spencer and Heidi Pratt deprived of food and water for almost three days while being forced to live in blacked-out seclusion on I'm a Celebrity…Get Me Out of Here?
That's what their family is claiming. A show insider, on the other hand, says all reports that the pair were mistreated have been greatly exaggerated.
"They kept them locked up and through the roof they were dropping spiders the size of [Heidi's] hands in on her in the black," Spencer's sister, Stephanie, just told me at the Elizabeth Glaser Pediatric AIDS Foundation's A Time for Heroes Celebrity Carnival in L.A.
"They treated them like they were criminals or terrorists," she added.
Stephanie said Heidi, who was reportedly rushed to a local Costa Rica hospital yesterday, was transferred to another medical facility today. She said she wasn't sure what the final diagnosis was. But it sure doesn't sound pretty...
"She was throwing up 30 times with nothing in her stomach," Stephanie said. "She was really sick. She thought she was dying….I know they pulled such shitty antics," she said. "But being treated like criminals or terrorists? It's insane!"
The newlyweds will likely return home sometime this week, according to Stephanie.
A rep for NBC declined to comment, but ITV Studios, producers of I'm a Celebrity, deny any wrongdoing.
My show insider insists the newlyweds were not only fed, but they were only in the lost chamber for about 14 hours. "They slept most of the time," said the insider, who asked not to be identified. "And when they weren't sleeping, they were laying side by side praying."
As for the Speiders, the insider said, "There were no bugs added to the chamber. Maybe there was a small one that Spencer tried to kill."
The insider also said Heidi was not vomiting: "They were in happy spirits when they came out of the chamber."
We'll get to see everything tomorrow night when the latest I'm a Celebrity airs. "Everything is documented because there are cameras on them all the time," the insider said. "There are interviews, too."
Now, sources say, Spencer is considering suing NBC for its treatment of him and Heidi, while NBC is threatening to sue the newlyweds if they don't live up to their contract and bail in the show.
Who do you believe, if anyone? Let the Speidi vs. I'm a Celebrity debates begin.